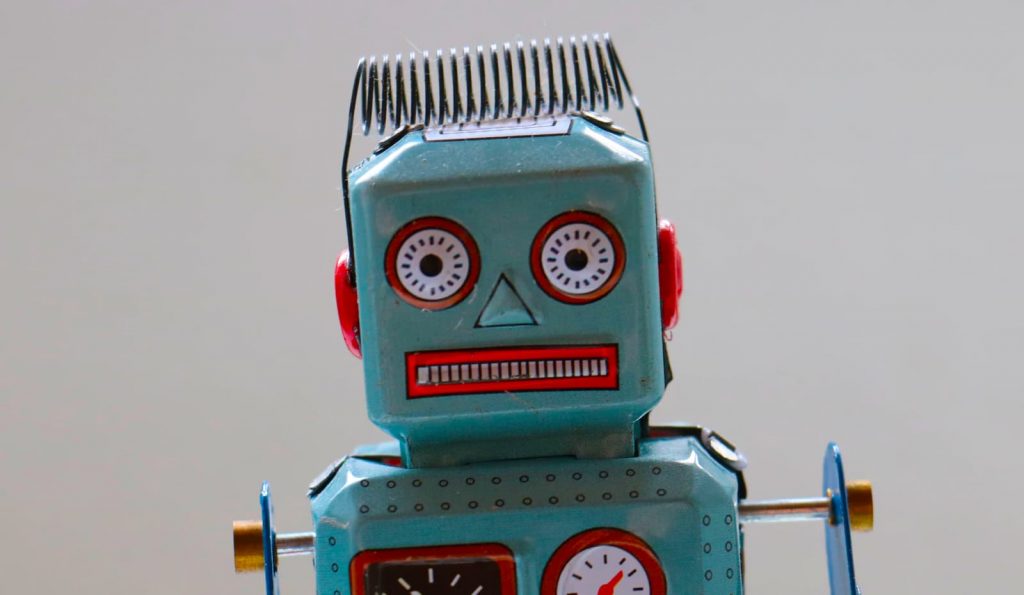 Back in the 50s, the pair that birthed the concept of AI, Minsky and McCarthy gave us a vague task-based description of what they thought artificial intelligence is.
As this definition is the oldest when it comes to AI, it has been used and reused throughout the many technological revolutions that happened. However, it is a broader concept of AI and has been the reason why, even to this day, we see many arguments over if something is genuinely AI or not.
However, as machines became more and more intelligent and advanced, things started to change. As machines became more capable of doing the most that were initially considered as AI, the concept of AI was revised to remove everything that has been done and accomplished.
According to Tesler's Theorem, today, "AI is whatever that hasn't been done yet. Our sole responsibility is to produce something smarter than we are. Any problems beyond that are not ours to solve."
Now that you think about Artificial Intelligence, you might imagine a synthetic technological advancement straight out of a sci-fi movie. But AI is not fantasy and very much a reality nowadays. To put it simply, AI is a system that performs tasks that usually require human intelligence like problem-solving, development, marketing, etc.
The relationship between AI and digital marketing
Many years ago, if somebody talked about artificial intelligence, it was considered a concept of the future. But the future is now.
How AI-Powered Content Marketing Will Improve Your Business
Marketers are no longer hesitant to apply AI powered strategies to their marketing realms. Many famous brands have undertaken AI and are successfully utilizing the concepts it has to offer. Hence, one of the significant AI trends that are being observed nowadays is AI and Machine Learning in marketing. Many key marketing technology forums are making use of AI for:
More efficiency
To analyze a large number of data sets
To automate the many processes that were performed manually
As for research conducted by IDC in 2019, IDC says that 40% of digital transformation initiatives, in addition to all 100% of IoT initiatives, were AI supported.
Tips to improve social media and digital marketing strategies
This goes on to show that AI is rapidly becoming a centralized tool for everyday digital marketing strategies and tasks without any exception. AI is a part of digital marketing now as a reality-based concept is offering a wide array of options and benefits. Major companies like Amazon and Spotify have now incorporated AI successfully.
How is AI transforming digital marketing?
The ability to collect data, conduct analysis, application, and reaction – all of this is revolutionizing AI for digital marketing. As the amount of information generated for potential consumers' increases, AI will gain more recognition for its data-based decision making more quickly and efficiently. Following are some ways artificial intelligence has become the core essence for the evolution of digital marketing.
1. CRM & AI
Customer relationship management or CRM refers to a business concept of establishing a consumer-based approach and maximizing customer information. That collected database of information is then filtered for relevancy and utilized for business profitability.
CRM and AI come together to maximize all the aspects of CRM and AI individually. With the two business concepts combine, they cover all bases to provide:
Maximization of user information of different forums
Attain accurate insights for targeting the correct customer market
Identification of customer needs for implementing an appropriate marketing strategy
The key takeaway point from gaining behavioral insights about your customers is that now you will make use of the collected information as a source for AI analysis. All this collected data allows the marketers to analyze a potential customer's demands easily and incorporate AI to boost sales based on the strategy curated.
Hence, businesses are better able to predict the customer interaction journey with the product or service. They tend to predict the potential outcome, prepare if something goes wrong, and provide the right solution to make up for it. It adds value to the overall shopping experience, customer recommendations, and feedback.
2. Automation & Personalization
As mentioned earlier, AI is a data-driven approach for businesses. It puts the business at ease to collect relevant information and insights. Marketing and decision-making processes integrate data from different platforms that store and collect all types of analytics.
It is all a part of analyzing customer behavioral patterns to develop and automate systems and customer profiles to target particular industry markets. It allows personalization and gives businesses an upper hand to create their own outreach aligned with what they have conceived from the customer data.
Automation and personalization have now become the norm for doing business. Organizations have understood that customer is the king. Investing time to develop strategies that focus on customer-centric data is the go-to approach.
Whereas AI allows efficient automation of the processes, making it a cost-friendly step in the right direction that guarantees profitability based on the statistical analysis being conducted.'
In addition to this, consumers find it easier to communicate demands as robots and AI technology already assists them with their needs by providing relevant product or service suggestions.
3. AI in combination with AR/VR
Remember the time when we used to feel AI is the future? Well, that future is now, and as new technological advances happen, AI is used in corporation with those. According to Gartner, by 2021, 80% of emerging technologies will be built upon AI foundations.
Like now, AI, combined with the new visual techniques such as AR and VR, brings about more modern consumption experiences. Many mainstream brands like Coca-Cola and Amazon have already incorporated the two to make it easier for their technicians to receive information even from remote areas. It allows them easy access to determine, diagnose, and repair issues.
The best part of AI in combination with augmented and virtual reality is that it works both ways. It also works on the customer's behalf to provide exciting ways of customer interaction with the product. It helps in learning about the brand, forms a connection, and refreshing the overall experience.
Due to this, AI succeeds in creating a presumed bond of the consumer with the product. Therefore, a customer tends to form a greater sense of loyalty right from the get-go, sometimes even before they have used the product itself.
4. Machine Learning
Machine learning is also a branch of AI technology, which is exactly what it means. It is a process through which machines are made capable of figuring out how to solve a problem on their own without any manual aid. However, machines require pre-drawn data sets to help in making them learning on their own. In the context of marketing, one can have many applications like:
Ad targeting
Lead generation
Search optimization
However, as much as technology has advanced in machine learning, there is still a long way to go. It is the rise of the new decade with the year 2020, but the past ten years, no matter how successful, couldn't integrate decision making in machine learning fully. As machines start to make more business decisions, it will hugely impact the business and market domain.
Theoretically speaking, it will free up time and space for corporates and workforces to focus on more skill-based aspects of doing business. The focus will shift to the more creative and financial side of things instead of everything being manually conducted. 
5. Consumer Behavior-based Marketing
Understanding consumer behavior is not an easy task. With rapidly progressing trends and technological advancements, consumer demands are ever-changing. There is no fixed demand or need that can be fulfilled by a specific niche market to satisfy the consumers.
How to Convince Management to Implement Content Marketing
It is why artificial intelligence and machine learning both works as a means of understanding the buying behavior and for decision making at its core. It helps the advertisers target the right content and marketing strategies as to what the current consumer preferences are.
Mostly there is a lot of guesswork involved when it comes to digital marketing. It requires constant testing, reassurance, adjusting and experimenting to come up with the most profitable strategies. But our analytical tools are far more accurate as compared to the days gone by when advertising was done within the traditional realms of doing things. Having decision-making tools that have a built-in ability to learn as they go are optimal for this type of marketing.
Using AI to mark consumer behavioral patterns is an efficient way to understanding how the market trends work, how to follow them for optimal results, and to develop products accordingly.
6. AI-Enhanced Digital Advertising
Gain Rapid Success on Instagram with these Incredible Instagram Marketing Tools
Digital marketing has quickly become one of the most successful fields to have adopted artificial intelligence. AI being used across many major social media platforms like Facebook, Google, and Instagram has made the user marketing experience even better.
The platforms analyze user data like gender, age, interests, demographics, and other information connected to the consumer to show them the most relevant advertisement according to their preferences. This helps in improving the performance of digital ads. People tend to give more watch time and usage to platforms that cater to their personalized needs and current trend demands.
Therefore, many corporate organizations are now readily investing in a pre-conceived advertisement budget. The finances are decided right from the get-go of a project with marketing and advertising, getting their fair share of amount to be procured in the right way.
According to eMarketer, global digital ad spending has gone from $273.29 in 2018 to $316.42 in 2019. And it will continue to rise in the upcoming decade given more technological and AI marketing advancements.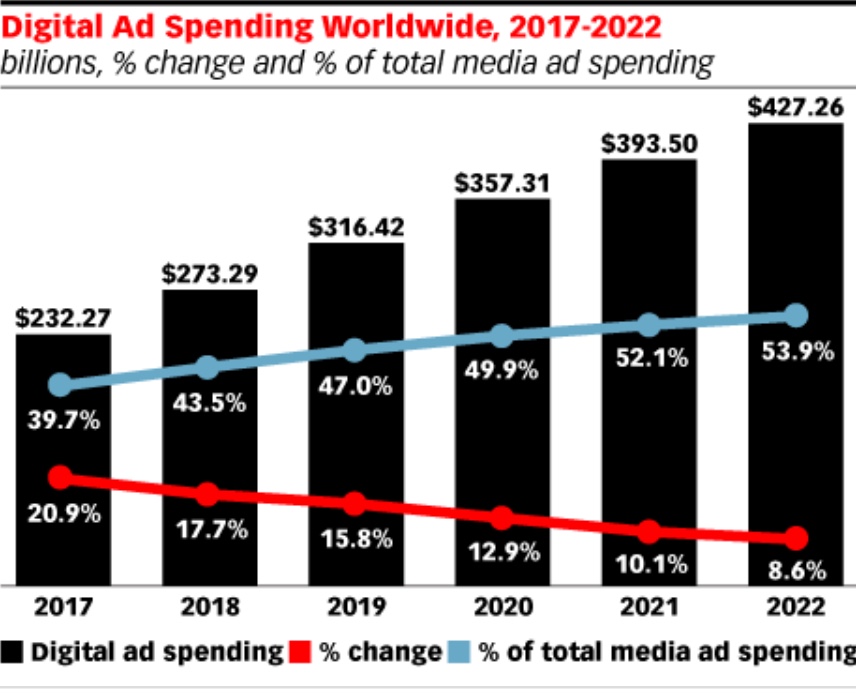 7. Integrating Insights
AI can be extremely useful for gathering data and its integration from a different type of software. Many collection tools work in synchronization with AI to fulfill the purpose of developing effective targeting and customization of digital ad campaigns according to customer style and buying experiences.
Meta-analysis can be conducted to capture and analyze data sets that are more complex through AI. Using tools directed towards gaining insights into the platform in regulation is excellent for innovative automation techniques.
If we take an example of Facebook insights, then only recently, we have seen the domain resurface as probably the stats were initially designed as part of the business model but not made public. Today, the social media platform makes excellent use of the details, shares it with the advertisers on the platform, and works both ways for optimum profitability.
How to Use Video to Get More Conversions
The same goes for video platforms like YouTube, where ad revenue has become the primary source of income for so many people. The ads are placed throughout the video roll, depending upon the type of audience the channel caters to. Not only have the people shown significant responsiveness, but it has worked milestones for content creators and business owners.
8. Semantic Searches
As mentioned above and taking from machine learning and meta-analysis, semantic searching refers to the ability of machines to initially understand user searches in context to offer a set of customized results.
5 Tips For Successful Local Search Marketing
AI does this by understanding more about the core context of a particular search phrase or pattern. It also has the ability to understand more detailed and complex relationships among different data sets, like combining a user's local search marketing history and cookies on to the results page.
For SEO, this means that semantic searching is more about understanding the core reason as to why a person might be searching for this particular topic than to just show what they are searching for. It involves the incorporation of long-tail keywords to be a made part of the online content.
AI has actually given a perfect way of working for SEO renders to understand better consumer patterns of searching things and include them in accordance and relevancy in their content. It is why many product websites incorporate content that is SEO friendly. Blogs, videos, and even images are now part of semantic searching.
9. Creating & Curating Content
AI is an excellent tool to generate leads in the context of content creation. It is beneficial for gathering and reporting on data that focuses on more seasonal and public markets like sports and festivals. Market products that focus on a said time period require more attention to detail that is somewhat more spontaneous and relatable then thought put and uninteresting.
The most prominent example of such a situation is the Super Bowl. The Super Bowl season incorporates the most amount of content that otherwise is created throughout the remainder of the year. With products like premium jackets and their sales sky-rocketing, ads revenue goes for the ultimate boom, and content curation can be seen at its best during the season.
10. Speech Recognition & Voice Search Integration
Voice search integration is the most popular derivation of AI right now globally. As AI gains the capacity to handle a number of different types of searches, voice recognition is being incorporated in each and every aspect of our online lives. The search results can easily be customized and optimized to integrate speech recognition.
This Is How To Adapt Your Content For Voice Assistants
But the fascinating part of AI is the personal and home assistants. The huge success of Siri, Amazon Alexa, and Google Home can be seen throughout the world. One cannot help but appreciate the amazing advances of having a home voice assistant to simply ask to from cooking recipes to syncing your thermostat and lights with it, a home assistant is a thing of tomorrow.
11. Lead Generation
Like an automatic recruiter, AI sifts through a whole collection of data to find the best consumer, client, customer, and even a colleague under the information provided. What is more efficient is the fact that AI can be used to predict and also rate how valuable a lead is.
So when it comes to building a B2B relationship, AI lead generation can save a lot of time and energy for just necessary searching, leaving you more time for sales pitching and client calls.
12. Chatbots
Chatbots are automated tools that are solely responsible for client interaction. Right now, they are only programmed to answer basic FAQs on the websites, fill orders accordingly like fill in detail when you want to buy dissertation for an online platform, and provide site navigation aid, etc.
However, they are being used by big names in the industry by companies of all sizes. And a prediction of being further developed to be more efficient.
Why Every Digital Marketing Specialist should learn about AI
Is Artificial Intelligence science fiction to you?
Do you find it is more freaky than cool?
Does it scare you when an ad pops up of the exact thing you had been talking about?
If you are still not sure how to answer these questions, then maybe you need to learn more about AI because it is not a futuristic business approach anymore. It is becoming more and more integrated into the real world today. People may take it as an invasion of privacy, but as a digital marketer is crucial to understand that your first priority for doing your job is to do it ethically right.
As more and more AI tools direct buyer's journey for being rightfully predicted and conducting analysis, a digital marketer's work becomes more efficient.
AI tools are becoming extremely commonplace and useful. Hence, if you are thinking of joining the fields of digital marketing as a beginner or you have already made up your mind and are fairly new to it, and then becoming a specialist is a long journey for you.
It is complex and math-based but mainly requires a solid grasp of how AI needs to be fully incorporated into every aspect of marketing. AI is going to encompass all marketing activities in the near future. Therefore a digital marketing specialist must have a keen understanding of AI as it shapes the digital marketplace on every level.
As a specialist, you would be required to shape your strategy according to the rapidly advancing technology of artificial intelligence. More and more brands are understandably undertaking AI as the profitability of strategies increases by AI interpretation.
Therefore, it makes AI an important domain to invest time in understanding it for digital marketing specialists.
Bottom Line
Artificial Intelligence is now more accessible for businesses all around the world. It is a valuable tool for digital marketers. It influences customer choice by providing relevant recommendations and timely customer service while enabling you to gain profitable insight for your organization.