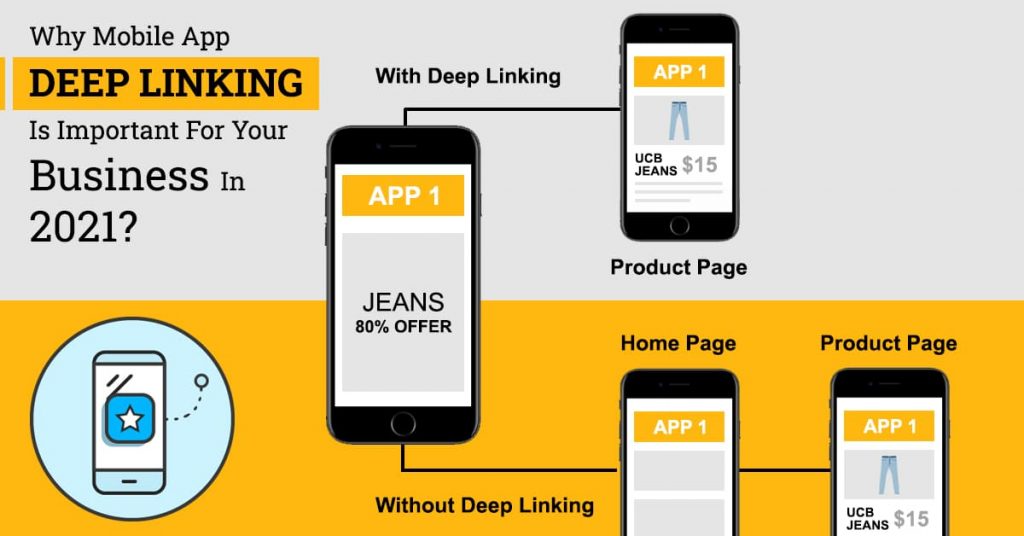 With the growing number of mobile apps, it can be difficult for consumers to choose the most appropriate application for their needs. From a small business to a multinational company, everyone is trying to build a mobile app that improves their business efficiency these days. However, this will not solve the problem of your company's mission. Your qualitative, comprehensive, and integrated mobile application will be useless until you deliver the right message to your target audience. 
To retain your business leadership and beat the competitors, you must keep up with the latest technology and the most effective advertising and marketing tactics that work wonders in real-time to maximize the rewards of your investment. Here Mobile App Deep Linking comes into the picture. 
But what is it? And how can you implement it? Don't worry; we have answers to all your questions. This post will guide you with the concept of deep linking in mobile apps and its benefits. But to unlock the benefits of deep linking, you need to hire dedicated mobile app developers first.
So, let's get started- 
Mobile App Deep Linking: Everything You Need To Know
For those unaware, Mobile deep links are URIs (a cousin to URLs) that could be used anywhere a URL would've been, including paid ad placements and owned content. Mobile deep links, rather than leading consumers to a web page or resource, direct them to an application on their mobile device. Even better, they can be designed to include variables that applications can take (provided they've been developed to accept them) to route visitors to specific views within the program rather than the traditional main page. 
Conditional and contextual links are extensions of the regular deep linking capabilities, allowing developers to apply basic if/else logic to a single link.
How Does Deep Linking Work?
Whenever a user taps a link in a mobile browser or app, the link should ideally open in that app. Deep linking is a method for accomplishing this that may be used on both iOS and Android devices. Instead of forcing web URLs to open in the default browser, mobile application developers can utilize deep linking to force users to open a link in the app's appropriate location. 
Conversion rates are substantially greater when firms employ deep linking because people are more likely to interact with an application than a browser.
What is URI?
In layman words, a URI is nothing more than a connection. A web link (http://www.google.com) is the most frequent type, which instructs the browser to render a web page when clicked. A mobile application URI is a form of link that, when clicked, launches an app rather than merely a browser. 
For example, youtube:dQw4w9WgXcQ will open a video in the YouTube app if one is installed. So any mobile app can declare that it handles URIs on both iOS and Android; URIs are an appropriate approach for launching mobile apps from the web.
What Is Deep Linking in Mobile App?
Deep linking in mobile apps is a URL that launches an application and takes the user to a specific area within it. It uses a unified resource identifier (URI) to link particular locations within a mobile application rather than just launching it. Even though the mobile application isn't installed, the content can be deep linked. After the program has been created, the programmer can register a URL scheme with iOS.
Let's have a look at deep linking in a mobile app- In a straightforward term, it involves inserting a link to a document that leads to a specific page or portion of an application. 
Let's use an example to comprehend this concept better: imagine you're a service provider with special offers from time to time. You only require one thing, and it is critical, namely, that your organization has a mobile application.
So, in simple terms, when a user receives an offer or discount message, they should click on the link mentioned, which will take them to the appropriate page of the mobile application. 
Now the question arises: What if the desired software is not available for download on the mobile device? The reason is straightforward: after receiving news of a promotional price or discount, the user clicks on the provided link, and the algorithm directs them to the download application link or page. For example, deep linking to your mobile app from your website
can carry your users directly to the app's content. 
In the below actions, deep links allow the user to be transported immediately to app content:
Web to application
Application to application
Social media to the application
Search result to the application
Smartphone search to application
Ad to application
Email to application
SMS to application
Types of Deep Linking
Traditional deep linking: It uses your app's URL to direct people to a specific screen in your mobile app. It only works if your application is downloaded on your mobile device; otherwise, an error page will appear.
Deferred Deep Linking: With deferred deep linking, the user's phone does not need to be installed with an app. When the user opens the link, it takes them to the app store to download the app. The user can access the desired content after the download is complete.
Contextual Deep Linking: The user is routed to a specific piece of material. It also saves contextual information like who shared the link, where it came from, and where the users want to go. This information allows consumers to have a more personalized experience by providing them with relevant material based on their choices.
What Benefits Deep Linking Offers In Mobile Apps?
Deep Linking in mobile apps is designed to make a user's content consumption or transaction flow easier from one step to the next. Deep linkages are especially beneficial for bringing user experiences together.
For example, A retailer might send a user an email about a recent offer. In the application's email app, the user sees the message. The user becomes interested in a specific product and clicks on the email's deep link. If deep links are correctly configured, the user will be directed to the eCommerce application and then directly to the product description. 
Users are more likely to complete their purchases if the transitions are smooth. Companies may miss out on possible conversions if such parameters aren't correctly specified for the app, as the flow effectively breaks down.
Other Benefits of Deep Linking In Mobile App Development
#1 Improves Customer Engagement, Usage, And Retention
Customer engagement and utilization are improved via deep linking. Deep-linking applications are two times more likely to be visited than apps that do not have deep links. It also aids in re-engaging customers who have downloaded the app but haven't used it in a while.
Users are contacted via push notifications, which link them to sites with various intriguing items and services, allowing them to re-engage with both the application.
#2 App Marketing 
App marketers have a difficult job on their hands. It takes a lot more effort to get people to download an app than it does to get them to visit a website. It necessitates a higher level of planning, and the risk of lackluster results is always present.
Why? Apps aren't only downloaded. They must be addressed until they are finally persuaded. In this case, deep linkages can be helpful. A deep link offers a clear path to take the intended audience if the application content is engaging enough to attract their attention.
When customers download the software without deep links, they are left stuck. It becomes difficult for them to find the stuff they were looking for previously. They eventually remove the program owing to discovery issues.
Deep linking has become a priority for app marketers in recent years. Deep linking can help increase the findability of material for content-based websites transitioning from WordPress to the app with an app maker online. The same is true for those developing eCommerce apps and attempting to market their wares.
#3 Enhances User Retention Rate
Active app users, not just downloads, will provide value to your business. As a mobile app developer, we realize that you want every mobile application you deploy to be actively used by users. Regrettably, the reality is somewhat different. Typically, individuals install a new application out of curiosity to see what they can do as they become more familiar with the app's functions, excitement, and interest wane. So, once you've figured out why your users are abandoning your app, do you let them go? You don't want them to be active, do you?
Deep linking is a method of gaining more active users by regularly addressing the same audience with an improved user experience. It allows you to follow up with users after a particular amount of time has passed to keep them engaged with the app. 
According to many studies, a deep-linked mobile app has a better chance of regaining consumers than a non-deep-linked app. User retention can be improved by using deep linking.
#4 Effect Of Deep Linking On Marketing Activities
Deep linking is the strategy of assisting customers in increasing conversion rates rather than manipulating them through repeated advertisements. Apps had two ways of communicating with clients before deep linking. Either a link linked to the regular home screen where the app could be downloaded, or the link opened the application home screen if the application had been installed (not the specific content). Customers were unable to access critical data as a result of this. Deep linking enables marketers to target particular clients and tailor ad-links to detailed information. Consequently, instead of being directed to the default home screen, each visitor is directed to a specific landing page, improving the odds of further engagement.
#5 Social Sharing
In today's world, social media is an excellent marketing tool that can increase participation by providing positive reinforcement from friends. You may easily share and reward your app by embedding it in users' social circles. People will have a far better user experience if you deep-link to your social network. Deep links allow visitors to open a social media page (or even a specific post) within the relevant application, which can be extremely useful for social media strategy.
#6 Re-engagement Campaigns Should Be Improved
As inactive users aren't opening your app, you'll have to reach out to them through other means, like push notifications. Use deep links to direct these people to your most engaging in-app content or urge them to do actions that have been shown to re-engage users.
#7 Allow For Collaborations With Other Apps
Collaboration with other apps can assist you in providing a better user experience. Yummly, for example, has collaborated with Instacart to allow users to add recipe components for delivery quickly. Yelp and OpenTable used to work together to make it simple to reserve a table at a popular restaurant. Users who may not have the partner app loaded can be sent to the correct location by postponing deep links through a service like Branch.
#8 App Analytics
Deep links give you a better handle on analytics because you can track your users' real-time app usage habits, bounce rates, involvement, and more, giving you a more accurate conversion rate. You can focus on the sections of your app that need to be improved by using in-app analytics.
#9 Improve Engagement
You can offer your users what they want in just a few clicks, and keeping them informed about everything your app can do for them is a great way to maintain their attention. Not to mention how straightforward it is when consumers already have the application. You alert them of the value of your application, and they express their gratitude.
#10 Increased In-App Sign-ups
Getting active people to download an app among a sea of them is a difficult task. The majority of consumers download the app but never use it. Incorporating a sign-up feature into the app development process via contextual deep linking aids in identifying active users rather than just program installers. Because simply increasing the number of app downloads will not increase your company's growth rate. Many studies have revealed that consumers who receive the first contextual encounter are more likely to be active app users.
#11 Better Search Results
Have you ever in the past done a web search for a product and received relevant results that directed you to a smartphone device? Because Google indexes mobile app deep connections, this is the case. When you click the link, you will be taken to the website where the sought-after goods are offered.
Let's say you want to start an app-only business. You won't be able to shut down the website right away. Deep links can aid in the gradual migration of your consumers from your website to mobile. You can let consumers browse goods, check out descriptions, prices, and more by transforming your website links into deep links, and then take them to the smartphone app for further processing. You'll be able to engage users on the current platform while also increasing app downloads.
Who Can Take The Benefits Of Deep Linking?
Applications like Shopping, Music, Travel, Fitness, and hotel booking applications can send users to the specific product they are searching for. The offers or promo page can affect conversion rate, as the user can be taken to a particular page rather than to the homepage, eliminating the whole navigation process.
Deep linking is also utilized to re-engage users and attract them back to the app, resulting in increased conversion rates and ROI. It could also help to strengthen your advertising. For instance, a retailer could use a push campaign to offer 20-30% off to an intended audience; with the help of a deep link, these target users could've been taken to a page in which they could purchase the product/service directly from that page, rather than going to an external website.
Conclusion
Deep linking is an effective way to increase app engagement. Offering customers value and convenience can help you keep and even increase the interaction you get from your applications. You may develop a user flow that showcases all of your goods and introduces them to what you aim to offer if you use deep linking strategically and efficiently. Mobile app developers can profit from incorporating deep links into their apps in practically every category. The implementation procedure might be time-consuming, but the advantages justify the additional effort once the platform-specific needs are applied.
Deep linking and postponed deep linking are unquestionably essential aspects of mobile marketing. When done correctly, deep linking can generate more traffic and convert those traffic metrics into purchases. 
We believe you now have a better understanding of deep linking and how it might benefit your business. With this in mind, it makes the best sense to correlate links with your application rather than forcing them to open in a mobile browser, which may or may not result in better app engagement and conversion rates. However, rather than attempting to deep link on your web resources, it is highly recommended that you seek the assistance of experienced experts. And besides, when it comes to something as crucial as deep linking, no one wants to make mistakes.
So what are you waiting for? Implement mobile app deep linking today in your business process to get the maximum benefits and revenues. Be it a deep iOS linking or deep linking for Android, hire a mobile app development service provider, and start your project. For more assistance, connect with our experts; whether it is a deep-linking requirement or URL shortening APIs, you will get perfect solutions for all.