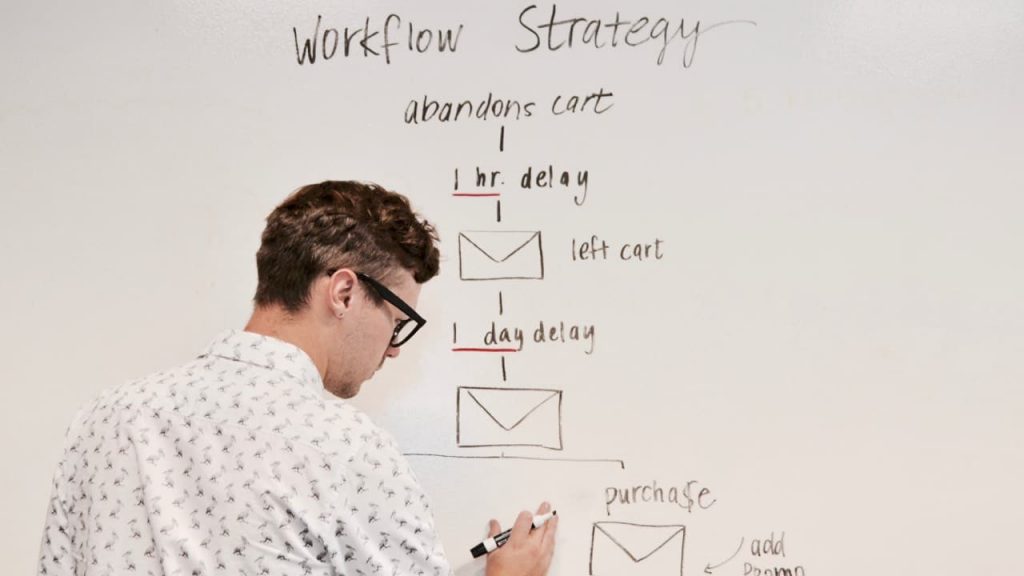 6 Ways Your Growing Business Can Benefit From Email Marketing
More than 51% of the people in the world, close to 4 billion, use email. This number is projected to rise to 4.6 billion over the next three years. Data show that about 293.6 billion emails are sent daily; business emails account for 124.5 billion of those. Email marketing is a very powerful way to connect with people. Consider the people in your immediate vicinity. Do you know someone who doesn't have an email address? With the help of email marketing, you can reach your potential customers. The best effect is achieved when these emails are personalized. 
The first marketing e-mail was sent in 1978, 20 years before most Americans got their first e-mail addresses. It was received by 400 users and brought revenue of an incredible $13 million. The goal of Gary Thuerk, the marketing manager who sent that email, was to reach as many people as possible and make those people hear about the new product. Sounds familiar? Even today, for many of you who are involved in marketing, the goal is to reach as many people as possible and inform them about your product. Email marketing is still a great way to achieve this. Even after all these years, it's one of the most effective forms of marketing.
Here are 6 reasons to convince you that email marketing isn't a tool you should ignore and that your growing business can benefit from it.
1. Greater Effectiveness Than Social Networks (For User Acquisition)
Don't get us wrong, social networks are an extremely important component in every company's marketing strategy. Social networks are a great channel for interacting with your audience and strengthening personal connections with them. Therefore, social networks are an important first step towards achieving the ultimate goal – conversion.
But when it comes to converting people into members, users, or followers, email marketing is the right thing to do. The data show that 7% of online customer acquisitions take place through email marketing.
Let's dig deeper here. You might be shocked to learn that email often yields better gains than social media in terms of performance overall. Although outcomes will vary significantly by industry, the following email marketing benchmarks will make you understand better:
The typical email open rate is from 15% to 25%.
There are around 2.5% of clicks through on average.
The typical click-to-open rate ought to be 20-30%.
On the other hand, Facebook has a pitiful click-through rate of just 0.07%. Because since an email subscriber already has decided to opt into your clients' register and is aware of their brand, this makes sense. Given that email marketing earns an estimated $36 for every $1 spent—a staggering 3,600% ROI—it often yields a larger return than other channels. On the contrary hand, social media is thought to yield $2.80 for every dollar invested.
2. Cost-Effectiveness and Cost Savings
Email marketing is easy, efficient, and inexpensive. It allows companies to reach a large number of users, and the costs are very small. For small businesses in terms of budget, this is a much better choice than traditional forms of advertising such as TV or radio. With email marketing, there are no costs such as printing or fees for TV commercials. 
On the other hand, you can still place very interesting content with your users with another benefit – to visit your website with a single click and learn more about anything that's of their interest. If you maintain your email list in the right way, the cost benefits increase, as well as the return on investment by establishing a closer connection with the recipients.
3. Personalization and Adaptability
In email marketing, you divide your audience into lists and then send each list a personalized message containing relevant information. When you post something on social media, you're addressing your entire audience, while with email marketing, this may not be the case. If you use it the right way, you'll be able to address people by name or, for example, share certain topics only with special members of the list. Emails with the recipient's name in the title are more likely to be opened than others.
Spam email isn't a rule—and it never should be. Used carefully, it's a great way to build relationships with potential and current users. Email marketing allows you to reach out directly to customers at a time that suits them.
While many people have accounts on Facebook, Twitter, and LinkedIn, everyone also has a work-related email address that they check frequently throughout the day. According to market studies, there are currently an astounding 4.26 billion email addresses. That has very broad potential. Every single person you wish to contact, including CEOs, marketing directors, and operations directors, will have a professional email account. To contact someone on LinkedIn may require a lot of careful effort, but if you create a few useful landing pages that are linked to some useful information, you can easily get them to provide you with their email addresses. How about that for clever work?
4. It Encourages Action
Either way, everyone will do something with the email they receive: reply, forward, sign up, or even place an order right away. Through email, you can significantly increase traffic to your website and, thus, sales. At this point, we must stress that increasing traffic to your website won't happen if you've established it poorly. You may create a respectable website using a number of free website builders, but none of them will grant you a custom domain. Many consumers mistakenly believe they need a premium plan if they want their website to appear professional and stay true to their brand. Not quite accurate. Several of the more well-known website builders have already been tried and tested and have been shown to allow you to create a fully-functional website at no cost, as opposed to just offering free plans with too few features.
Now that we've clarified this, we can sum up for the time being that, by using email marketing, you'll be able to see the results of your activities immediately. Email also has a very high delivery rate. Contrast this with other marketing strategies. Because Facebook changes a user's feed frequently, just roughly 2% of your following will ever view your postings. This number is even lower on Twitter. In contrast, email has a 90% delivery rate. Of course, this does not guarantee that the receiver will open the email, yet they're 88% more inclined to do so when presented with email material as opposed to Facebook stuff they may not have been aware of.
5. Measurability
When you use email marketing, you can keep track of who opened your email, which links were clicked, and so on. You can easily get a picture of your campaign's performance, make adjustments, and increase efficiency.
Contrary to what many people believe, e-marketing has an exceptionally high conversion rate. According to a DoubleClick evaluation report this year, the average click-through percentage for all types of digital advertising was 0.17%. It's true that this is a broad field. Real CTRs differ significantly by nation, sector, channel, and paid/unpaid links. But it does provide some helpful context for comparisons.
6. Mobile Devices Allow People to Check Their Emails Anytime, Anywhere
Given that mobile devices have become an integral element of everyday life, individuals check their emails constantly and under all circumstances. Some people believe that with the growing popularity of social networks, email should be forgotten and pushed aside. However, research shows something else: 85% of people use their phones to access emails, which is only 13% fewer compared to people who use their phones for social networks.
If you don't use email as part of your marketing strategy, you're missing out on the channel that most people use. Just keep in mind that you don't want to be a spammer, so design your messages carefully and send them, using online resources to better design them.
The Power of the Newsletter
As you become more familiar with email marketing, you'll realize how powerful a newsletter really is. When you start applying it in practice and using it in campaigns, no one will be able to convince you that it's an outdated communication channel that doesn't give results. And, the more you meet clients and projects, the more you'll be surprised by the fact that email marketing is used very little and that this communication channel is completely unfairly neglected. We advise you to be on a permanent mission to promote email marketing wherever you have the opportunity and include it in projects aimed at growing your business whenever possible and adequate (which, on numerous occasions, it is).
Then why is sending newsletters the way to go less often? The trends are partly to blame, but so is our tendency to use tools automatically. Now social networks are considered obligatory elements of every campaign, so you add Google promotion, influencers, combine all that with an event, and you think that's enough. Sometimes it is, but there's almost no situation in which email marketing doesn't play a role.
That's why we tend to conclude that this path is less frequent because it's not known enough to many. You're not aware of the power of email marketing, you don't know where it can be applied or in what way, so you turn to the 'terrains' that are more familiar to you and give proven results. However, if you want to grow your business using digital marketing, you'll need knowledge beyond running social media accounts. If you learn to use the potential of email marketing, but also all other online communication channels, it will be a big plus for your business.
Another situation is that you've tried to send a newsletter, but you're not satisfied with the results. We responsibly claim that if you employed email marketing and didn't have results, you didn't do something properly. It's important to understand that email marketing is a form of direct marketing, i.e., that it's an opportunity to address the audience more directly in an environment that's much closer than social networks. Someone left you their email address, let you contact them directly, send them your message to the inbox—and if you do it properly, you'll be well on your way to developing a relationship with the individual reading an email you sent.
What Would the Price of Email Marketing Be in 2023?
If you manage your own email campaigns, you'll pay a small and midsize business (SMB) email marketing software between $0 and $99 per month for a list of 5,000 email addresses. The cost rises as your email list gets bigger. You can anticipate paying about $270 once you reach 50,000 subscribers, for example.
The relationship between list size and the price bracket of SMB email marketing software is summarized in the table below. 
| List size | Price Range | Average Cost |
| --- | --- | --- |
| 0-1K | $0 – 39 | $18 |
| 5K | $0 – 99 | $62 |
| 10K | $25 – 155 | $100 |
| 50K | $45 – 345 | $270 |
| 100K | $65 – 540 | $420 |
Depending on the functionality, several email programs will offer different subscription tiers.
This is a list of some of the most well-liked email marketing programs, together with information about their free versions and starting monthly costs:
| Email Marketing Tool | Free Trial / Free Version | Monthly Starting Price |
| --- | --- | --- |
| Moosend | 30-day free trial | $9 for 500 contacts |
| MailerLite | Free for 1K contacts | $10 for 1K contacts |
| SendinBlue | Free for 9K emails | $25 for 20K emails |
| ActiveCampaign | 14-day free trial | $29 for 1K contacts |
| Omnisend | Free for 250 contacts | $16 for 500 contacts |
| Hubspot | Free for 100 contacts | $50 for 1K contacts |
| ConvertKit | Free for 1000 contacts | $15 for 300 contacts |
What if you intend to hire a full-service email agency to handle your email marketing tasks? The average hourly rate for agencies is between $100 and $200. You should budget approximately $2,500 every month.
It could seem prudent, given the price, for a small firm that is new to email marketing to not outsource email marketing to an agency. You have the option to start out modestly or significantly. As a result, the price of email marketing is affected by your goal. Let's focus on the agency case study for a while.
It can be overwhelming to manage your campaigns for email marketing internally, but instead, an email marketing firm can assist. They offer services for email marketing. You may have to pay a full-service agency $2,500 each month. Depending on their offerings and level of competence, you can employ agencies for less. Be sure an agency has the email marketing know-how, abilities, and caliber to support their cost before hiring them.
Several organizations favor working on a retainer. It is a commitment made by a business as well as an agency to collaborate for a specific period of time, typically for longer than a year, on multiple projects; 95% of email marketing companies have some client projects on retainer, with 41-60% of such work on retainer on average.
Digital companies provide various services related to email marketing that come under the following headings:
services for creating content;
services for analytics;
strategic services;
platform and technical services.
Within their initial 12 months, email agencies typically sign contracts with values ranging from $5,000 to $49,000.
Conclusion
Like any other communication channel, email marketing has its advantages, but also its challenges. First of all, you should generate a quality user base, so make sure that the open rate (percentage of opened emails) is high, which largely depends on the email address title. Then you should create such content that the recipient of the email is interested in and clicks on links, but also stays on the list and does not unsubscribe after only a couple of received emails. 
It sounds difficult, but it's actually enough to know your audience well and put their needs first—to justify the trust that someone has shown you by leaving you an e-mail with quality content. No one leaves you an email to send him content that's monotonous, boring, and of no value, or identical content that's already on the site and on all other communication channels. For example, if you have announced everywhere that a discount has started in your stores, through the newsletter, in addition to that information, add information about the items that are at the best possible price or are the most appealing at the time.
The bottom line, those who apply to the list should have some extra benefits compared to those who haven't yet subscribed. The benefit doesn't have to be just an additional discount, but also information, free content, or some other benefit, depending on what you're doing. It's important that there's that difference and the reason for someone to sign up for the list, but also to stay on it. If you send the newsletter to work with the same information that the user can find on other channels, there's no reason for them to open an email or remain subscribed to the mailing list. This leads to the conclusion that for email marketing, as for any other channel, a strategy should be created.