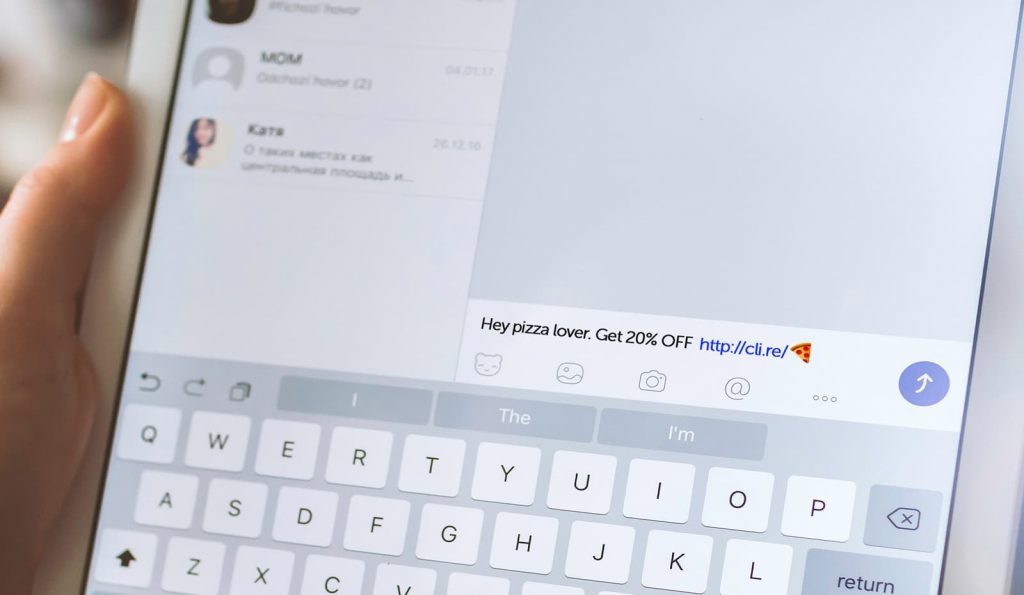 Emojis are a part of the internet culture that is understood all over the world – even if you don't speak the same language with someone, there's a high probability you could still communicate through emojis. These funny visual symbols are used by people & brands all over the globe for many years now, so much so that it has become hard to imagine the Internet without them, right? Some brands even go as far as creating domains using only emojis, e.g. Norwegian airline promoted flights to Las Vegas on www.✈️🎰💸.ws. Some of the first brands that created emoji domains created links like ♨.com, ♨.net and ☮.com. Pretty easy to remember, huh? 
According to Adweek 92% of online consumers use emoji, so it's pretty safe to say that emojis are a way the modern consumers express themselves online, and brands should adjust to that. Even so, there has been lots of research done that proves that brands benefit quite a lot from using them in their communication: 
Leanplum and AppAnnie teamed up to test what happens to CTR when an emoji is added to a push notification. Engagement rates increased by 85%. That's huge and was achieved by the simple addition of the emoji – nothing more.
Experian reported that over 50% of brands using an emoji in an email subject line had a higher unique open rate.
Wordstream split-tested adding emoji in their Google adwords text and found that not only did Google serve the ad 10% more frequently the ad including the emoji had 4 clicks whereas the one without emoji had 0 clicks. 
Here are a couple examples of how they look: 
http://linkmoji.co/🍒🍞🤣🌏🛴😜🌊🚀
🏹.to/🚘🔌
💩.la
I❤️tacos.ws
How to make custom Emoji short links using Capsulink?
Nowadays emojis seem to be everywhere, and now they're even in custom short links. Following the internet culture trend of using emojis to express yourself, Capsulink now allows users to turn any link into a link with an emoji. It's a creative way to personalize your custom links & have a better chance of being remembered in the cluttered online space. 
Follow these easy steps in order to make your own emoji short URLs.
Emoji link compatibility with different social networks
Please keep in mind that emoji links are not universally compatible on all platforms. Before you share the link anywhere, please double-check the compatibility on your chosen platform to make sure the emoji is visible in the URL. 
An increasing number of apps now support links with emojis. Here's a list of some:
Full support
Google
WordPress
Medium
Github
Skype
Wikipedia
Telegram
Trello
Partial support
Facebook
Twitter
LinkedIn
ProductHunt
Gmail
Reddit
WhatsApp
YouTube
No support
Slack
Stack Overflow
Pinterest
Quora
Trip Advisor
Register a custom Emoji domain
You may have noticed one thing that all emoji domains have in common – they all end with ".ws", and that's not a coincidence. You can only register an emoji domain on a specific ccTLD (country code top-level domain). ccTLD refers to endings like .co.uk for the UK, .fr for France and .de for Germany. The most commonly used – .com – stands for top level domain and is generic, meaning it doesn't represent one single country. Unfortunately, emoji domains cannot be registered with a .com tld. You may still see some emoji domains using .com or .net, but it's only because they did so before it was banned and the registrations are not canceled, yet if they expire, they will disappear forever. 
Currently it is possible to register emoji domains in the following cctlds:
.ws (West Samoa) – Price/renewal
.fm (Federated States of Micronesia) – Price/renewal
.cf (Central African Republic) – Price/renewal
.ga (Gabon) – Price/renewal
.tk ( Tokelau, a territory of New Zealand located in the South Pacific) – Price/renewal
.to (Tonga)- Price/renewal
.gq (Equatorial Guinea)- Price/renewal
.ml (Mali)- Price/renewal
The cctlds are quite obscure domain extensions and can't be registered easily at the well-known registrars like Name.com, GoDaddy, Enom, Network Solutions, etc. 
Three of those that allow emoji registrations make it onto Google's list; .ws, .fm and .tk
After you register your emoji domain, you can connect it with Capsulink branded links and start sharing links with emojis online. 
Who and why should consider using emoji links? 
Let's be honest, not all people approve of emojis and not all businesses are suited for this type of communication, like you wouldn't expect your lawyer to use emojis to promote his/her business, right? However, there are people and brands who would benefit greatly from using emoji links if it suits their communication style & audience preferences e.g. content creators – filmmakers, vloggers, storytellers, influencers, bloggers and so on. 
Even Gary Vaynerchuk believes that emoji domains are going to be huge and that promoting a great product or service could put an emoji domain to very good use. Obviously, an emoji domain wouldn't make your business a success just by itself, but it is a creative way to promote a business. 
7 Steps to Professionally Target Competitor Keywords on Google Ads
You could use emoji links to get more attention to your business' discount deals & product or service categories with relevant emojis like 🍔, 🛒, 🎳 and so on. There's a high chance your competitors aren't doing it yet, so why not be the first one? 
Pros
When users interact with an emoji domain they'll experience similar positive psychological effects as when they interact with someone they know, leading to higher engagement
More easy to remember
More clicks. You can check this for yourself by using link track stats so you can see how your marketing strategy is performing
Cons
Takes more time to register one
Limited compatibility – support depends on browsers, social networks and messaging platforms 
Little support among domain name registrars for emoji domains 
Emojis may appear different for users depending on the operating system, apps, and the fonts they use
Frequently asked questions
How to create Emoji short links?
Once you've decided on which link you'd like to "emojify", you can customize it similarly as you'd do with any other link. Simply go to the Capsulink dashboard, shorten the URL and edit it. 
Are Emoji URLs supported everywhere?
Unfortunately, no. Although hostnames and URLs with emojis have been around for quite some time now,  some of the most popular platforms and apps still do not fully support them yet. However, the number of services that do support emoji URLs is rising day by day.