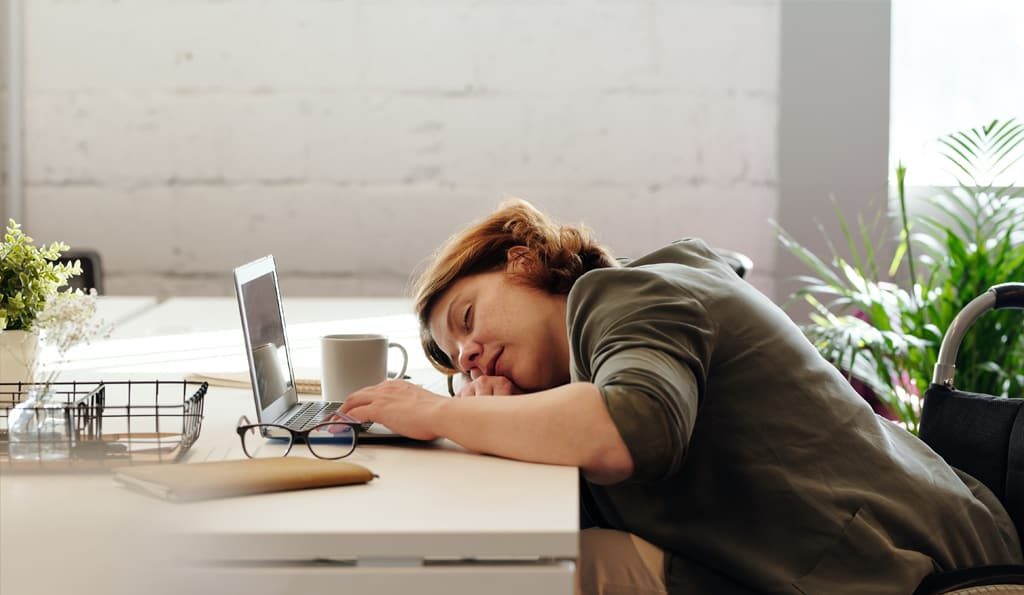 For a content marketing strategy to truly benefit a business (instead of being a waste of resources), it must follow a couple of essential rules. Firstly, each published piece must be unique. Secondly, it must be valuable to its target audience.
Of course, there are also a few other things that can help you get the best bang for your buck when writing blog posts (or producing video and audio). You want to always stick to a well-thought-out content calendar. It's also essential to remain consistent and pay attention to visual branding, tone, and voice. 
These are all excellent ways to maximize your chances of success. But so is paying attention to your word count.
Over the years, there have been several interesting studies that looked at the relationship between word count, SEO, and conversions. And most of them came to the conclusion that longer articles work better than short ones.
But why is that the case? And is it really a must-follow rule, or are there instances where a shorter post might work better?
This article aims to explore why you should or shouldn't invest in long-form content and what you need to do to get it just right.
The Statistical Data
Let's start with the same thing that should be at the core of every single one of your digital marketing strategies – empirical data.
Many thought leaders in the digital marketing world have attempted to pinpoint the perfect word count for different goals. Generally, their conclusions seem to be similar – longer posts work better.
But here's the tricky part. Most resources tend to be in disagreement about how long is long enough. Some stand by the standard 800-word format, while others propose writing as much as 4,000 words for pillar content.
There are two distinct reasons for such discrepancies:
Most studies looked at word count from different perspectives. Some ventured to see how it affected backlinks, while others preferred to study its impact on reader engagement. Clearly, these two outcomes have very different benefits for brands.
Many of the studies only go as far as correlation without looking into causation.
That's why marketers have to take all of this data with a grain of salt. Meaning, it can be a great starting point when planning a content marketing strategy, but it should in no way be taken as a must-follow rule.
The following are three of the most oft-quoted studies exploring the concept of word count in content marketing.
The Optimal Post is 7 Minutes – by Medium
In a 2013 deep-dive by Medium, it was revealed that the platform's posts that got the longest average total time spent across all visitors amounted to approximately 900-1,000 words.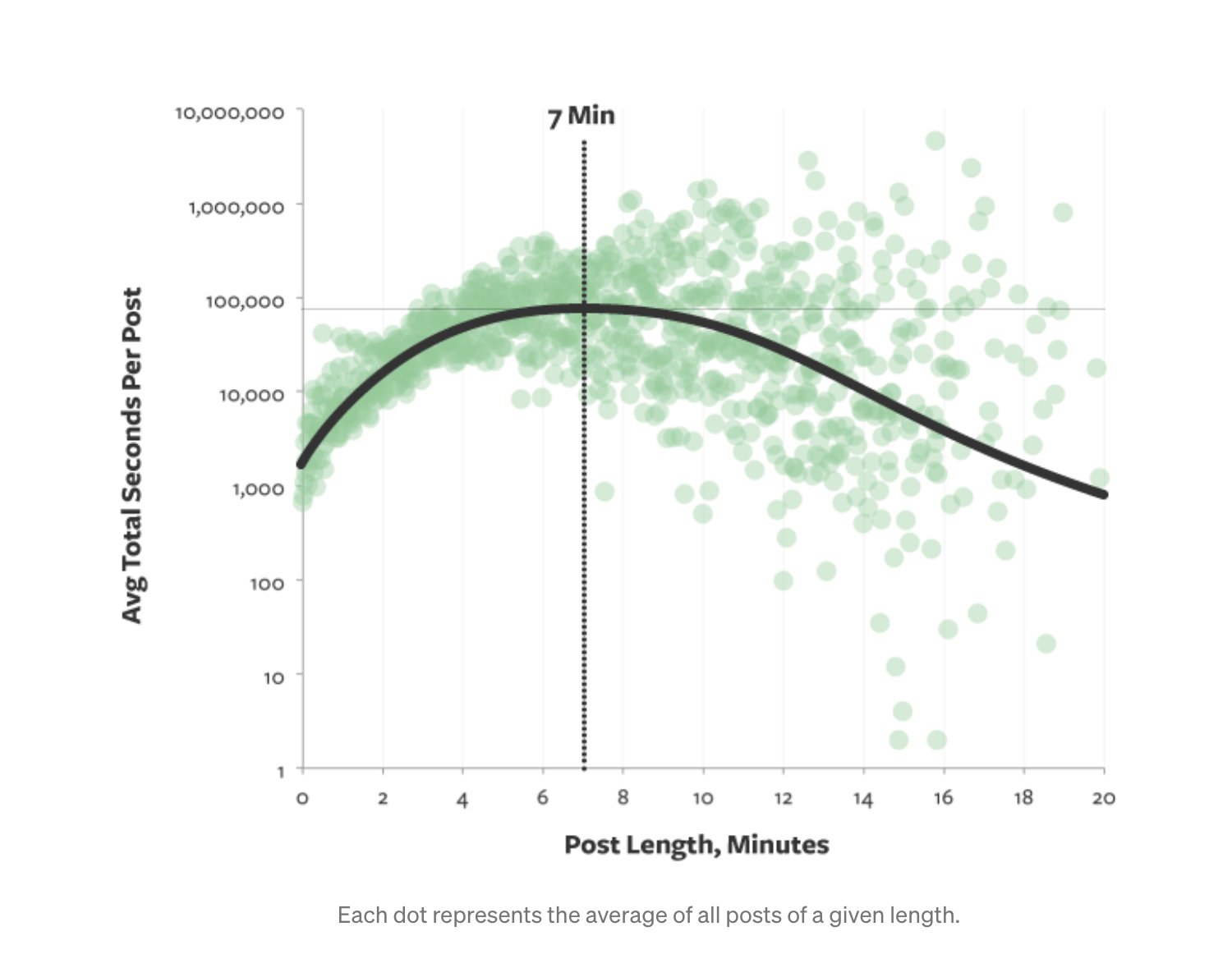 Interestingly enough, these weren't the posts that got the greatest number of views. In fact, articles that got the most clicks had significantly shorter word counts, of just under 400 words (3 minutes reading time).
Content Study – by Backlinko
In February 2019, Backlinko published the findings from a study performed in collaboration with BuzzSumo. The analysis looked at over 912 million blog posts and ventured to see how different criteria affected social shares and backlinks.
The findings, again, showed a strong preference for longer articles. The study revealed two interesting facts:
Content longer than 3,000 words generated 77.2% more links than short articles
Articles with word counts between 1,000-2,000 got 56.1% more social shares than those with fewer than 1k words (but longer than 2,000 words didn't perform better).
How Long Should Blog Posts Be in 2021? – by HubSpot
Finally, we get to the most recent exploration of word count by an authority in the field of digital marketing. In 2020, HubSpot chose to analyze its own content and came to some pretty interesting conclusions.
The brand's findings were that:
Blog posts between 2,100 and 2,400 words long performed best for SEO, while those with word counts of 2,500 excelled at lead generation.
Pillar pages performed best when they were around 4,000 words long.
For listicles, they came to the ideal number of 2,300-2,600 words.
How-to posts showed the best results when word counts ranged between 1,700-2,100 words, and what-is posts did best with 1,300-1,700 words.
Looking at these three studies, it becomes clear that internet users prefer to spend their time reading articles that cover a topic in depth. 
Does that mean that there's no place for shorter blog posts? Or that you need to stretch out every asset on your company blog? Far from it. 
Instead, it's best to take these numbers as an indicator that content needs to be original and valuable if it's going to have any chance of succeeding.
How to Write Amazing Long-Form Content
So, you've decided to start investing in the production of long-form content. If that's the case, your best course of action will be to stop thinking about word count. Instead, you'll want to put your energy into making your blog posts as good as possible.
The following are some of the ground rules for writing articles that exceed the standard 800-word mark.
Define Your Audience & Goals
Regardless of the length of your written content, the first thing you'll want to do is define three things: why you're writing, who you're writing for, and how you plan to measure success.
Think about it. A long-form blog post that aims at building brand awareness cannot use the same format, keywords, or language as one that's meant to drive lead generation or build loyalty among your existing customers.
Furthermore, you must remember that a great article requires precise targeting. Think about the intended reader's position in the sales funnel. Are they in the awareness phase or someone on the brink of making a purchase? Then, consider the person's profile. Do you address them formally or in a more laid-back manner? 
To produce high-performing content, you must understand that every decision you make impacts the results you can expect. Even something as simple as using the appropriate terminology plays a part in getting the most out of your investment.
Let's take a quick look at two articles on the same topic, intended to achieve different goals. 
The first article, published by Remodelista, aims to serve people who have decided to purchase new kitchen appliances but still don't have any insight into the topic. 
The second post, published by Appliance Buyers Guide, targets people who have already decided on the type of product they want to purchase and have a predefined budget. It goes into detail about three particular gas cooktop models, covering pros and cons, and offering readers actionable advice on how to get the most out of their money.
Now, imagine if a person who already knew what they wanted landed on the first of the two articles. More likely than not, they'd do a quick scan then close the page, seeing how it offers no valuable information to someone in the lower stages of the sales funnel.
Aim for Engagement & Clarity
A common mistake marketers tend to make when producing text-heavy content is that they often let the topic slip away. Sure, the likes of James Joyce and Leo Tolstoy may get away with a bit of digressive text. But it's unlikely that your readers will grant you the same patience.
So, instead of sitting down to write and typing absolutely everything that pops into your mind, make sure that you start the production process by creating an outline. A good plan will help with the writing process, keeping you on point. Most importantly, it will help order your ideas into coherent wholes, which you can then organize into headings.
When writing and editing, pay special attention to the opening of your article. To win over your readers right off the bat (and prevent high bounce rates), come up with a good hook that will engage and intrigue.
Your title can serve as a hook as well, but don't fall into the trap of turning it into clickbait. Instead, use it to set expectations. That way, your website visitors will get precisely what they were looking for.
Don't be shy about cutting out any excess, either. Yes, a longer word count may benefit your business. But that's only true if the content you write satisfies user intent. Sometimes, it's better to publish something short and to the point than to waste readers' time with never-ending sentences and irrelevant information.
Use the Right Layout
One of the downsides of long-form content is that massive word counts don't necessarily make for the best user experience. 
Long blocks of text don't meet most people's online reading preferences and can even seem overwhelming. Moreover, it's easy for writers (particularly experts on niche subjects) to get carried away, using complicated sentence structure and subject-specific terminology, minimizing a post's readability score.
Fortunately, however, implementing a few design practices can help your pillar and evergreen content go from unnecessarily chunky to highly engaging.
On the whole, the formatting process for winning long-form content fits into a few relatively simple steps.
Make use of H1, H2, and H3 headings. The great thing about applying pre-formatted paragraph styles in your copy is that they help visually structure your articles. So, H1 headings indicate the title of a post, H2 separate text sections based on the ideas they cover, and H3 help create sub-sections of those smaller wholes, helping readers gain a clearer picture when going through long posts.

Place keywords in highly visible places. Most marketers think of keywords as something that drives SEO. But they can also help your readers receive a better experience. By placing them in paragraph headings, you can actively attract (or direct) web visitors' attention, ensuring that they have insights into what a section will cover even if they're not reading but scanning the text.
Shorten paragraphs and sentences. Regardless of your targeted word count, one great rule of thumb is to write as simply as possible. Aim for a high Flesch-Kincaid readability score by shortening paragraphs, breaking up long sentences, and avoiding complicated language. Then, once your first draft is finished, check the end result with a tool such as Hemingway or Yoast to identify any additional improvements you can make.
Utilize boldface type for emphasis. When there are important words or phrases in your text, make them stand out by using a bold typeface. This will help your readers zoom in on the most relevant parts of your text, grabbing their attention and preventing them from overlooking something important for their overall understanding of the subject.
Use bulleted or numbered lists. Another easy way to retain reader attention is to use lists, which divide paragraphs into focused sections.
Consider ending your article with a FAQ section. With long-form content, it's always a good idea to summarize at the end of the article. A FAQ section, such as this one used in Newsweek's best mattresses post, is a great way to end a text. Especially if there are any relevant bits of information you couldn't fit into the main text body.
Don't Limit Yourself to Just Text
One well-known user experience study by Adobe found that 59% of people prefer to consume well-designed content over something plain. And what better way to prevent losing user attention than to add multimedia assets to your long-form blog posts?
Images, for example, register faster and more efficiently than text or words. According to Brain Rules, adding an image to a piece of information boosts retention from 10% to 65%. That's an impressive 6.5x!
Keeping this data in mind, it's not a bad idea to enrich long-form content with visuals. An attention-grabbing or emotion-provoking header image can tickle readers' imaginations. And, an infographic can make for an excellent summarising asset or social distribution vehicle. 
For example, this interview on the Ulysses writing app blog uses imagery to illustrate parts of the article. It's not only a great way to break up chunks of text but also an excellent strategy for allowing the readers to become familiar with the subject matter.
Of course, if you've got the resources, you'll do even better with videos than images.
According to Wyzowl, 69% of consumers prefer to learn about products through video than text. Furthermore, the average person watches 18h of video per week. Plus, people are twice as likely to share a piece of content if it's in a video format.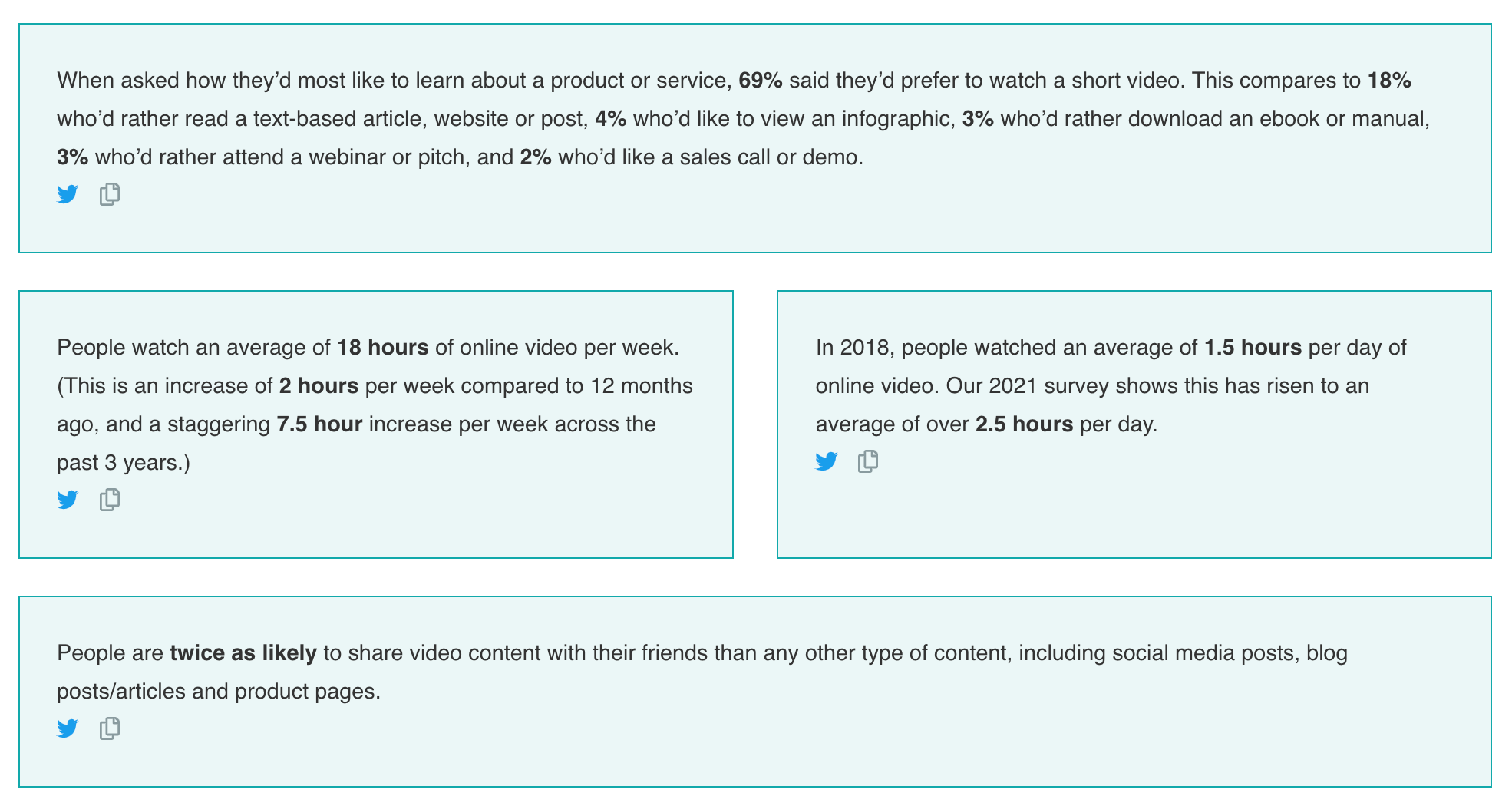 So, does that mean you need to completely forego text and focus on producing video instead? Absolutely not. Text content is precious in many ways. However, if you have the budget, consider creating video content to drive your point home better.
Know When the Work Is (Not) Done
One of the biggest mistakes you can make when investing in content (long or short-form) is to think that the work is over once you've hit the publish button.
Yes, there's a bunch to do with research, drafting, editing, and formatting. But the best way to get winning results is to keep an eye on your content even once it's out in the world.
For one, the right distribution strategy will help you maximize organic traffic, automatically boosting your post's SERP position. This, in turn, will increase the chances of your target audience finding you without having to invest in paid advertising.
For example, pillar pages, educational posts, and deep-dives into niche topics make for excellent assets you can use for boosting your site's authority.
Alternatively, you can choose to share your long-form content on social media. Seeing how it's long and likely to cover more than a single aspect of a topic, it can be easily reposted with alternative captions, ensuring that you attract as many readers as possible.
Then there's the fact that you can use analytical data to further your content marketing strategy. 
By keeping an eye on how your blog posts and pillar pages perform, you can identify topics that get you the best results. Then, you can write articles about related subjects, establishing your company as the go-to authority in the field.
Finally, don't forget that evergreen content requires updates at least once in a while. As your long-form blog posts make for some of the most valuable pieces of content you have on your website, make sure they're always up to date by going back to them at least every six months.
When You Should Go With Bite-Sized Articles
Now, before you put hours of work into writing long-form content for the sake of getting more shares, backlinks, or conversions, consider the following: Will the potential benefits of publishing something long outweigh the drawbacks?
Because, in truth, the price of producing high-quality content isn't exactly low. Even if you take the DIY route, you're looking at hours of writing, editing, formatting, distribution, and updating. And it's very well likely that you could get the same (or even better) results with a bite-sized article.
So, when planning your content strategy, ask yourself these three questions:
How much time do my readers want to spend on this topic? If you're composing a news article or press release like this one, chances are, your clients will prefer a shorter piece. The same goes for newsletters. Don't waste anyone's time. Instead, give them the info they need and move on.
What's your budget? If you're outsourcing the writing process, which you definitely should consider, be prepared to pay hundreds of dollars for a decent piece of writing. Now, if you only need one article, then you may be able to make it work. However, if your content marketing strategy is still in its beginning stages, you'd do better to start with several shorter articles and focus on keeping to a consistent publishing schedule.
What devices are your readers using? When writing, keep in mind that long-form content doesn't work particularly well with mobile devices. So, if your analytical data shows that most of your traffic comes from handheld devices, you're likely to do better with shorter pieces that use an accessible layout.
Wrapping Up
Based on empirical evidence, long-form content offers many benefits for brands looking to boost awareness, SEO, conversions, and customer loyalty. However, getting it just right isn't always easy.
Long articles have to target the right keywords, follow a strict narrative, and employ a user-friendly design. On top of that, they also require quite a bit of maintenance. That's why marketers need to carefully examine their goals before deciding whether to invest in massive word counts.
Yes, pillar pages and evergreen articles deserve generous website real estate and attention to detail. However, for most published assets, it's much more important to meet user intent, provide relevant and concise information, and ensure a great reading experience.