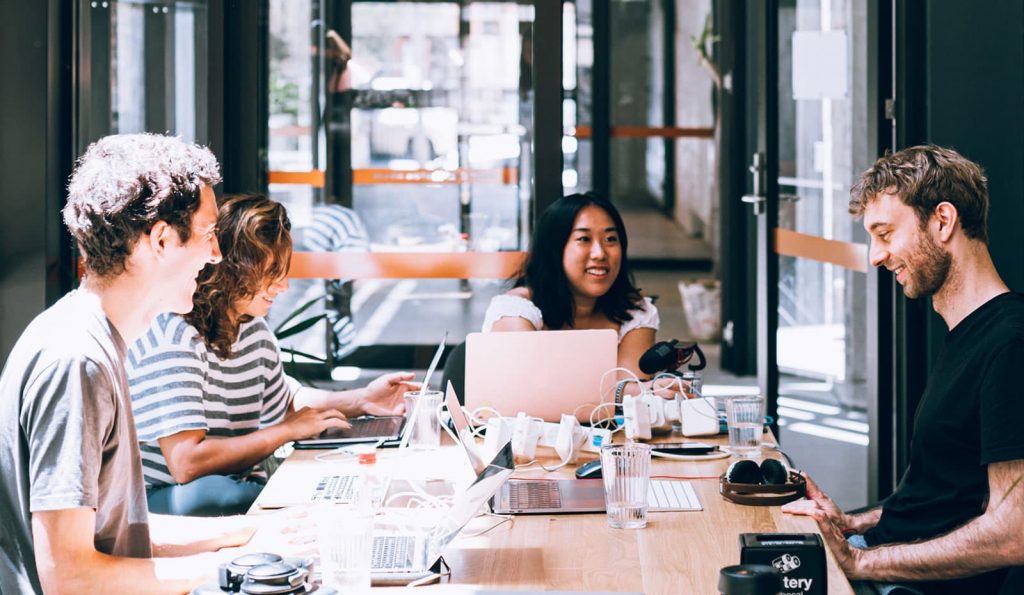 More businesses develop content marketing strategies over time. Search engines turned content into a powerful lead generating tool. Content helps companies to find potential customers and extend an already existing audience.
In this post, we'll go through the benefits of content for your website and take a closer at best web analytics tools that track content statistics.
Content and Web Indexing
Modern search engines are complex systems that have to deal with a lot of tasks. In the early stage of development, search engines were meant to show web pages that match a user's request. However, things have changed, and now search engines have to ensure that sites are trustworthy, display helping content, and have a good user interface. Programs that make it possible are called web crawlers (some call them web spiders). This software scans and indexes web pages on the Internet. Web crawlers index web pages with the help of algorithmic factors and conditions predefined by engineers. 
Some of the most popular cases are indexing by the number of incoming links, the number of keywords on the page, the frequency of updates, and the author's page. By the way, you can use a smart link shortener in case you need to insert links in posts with a limited number of symbols. Search engines index every page, that's why every link is valuable. 
The frequency of updates strongly affects indexing in search engines. Let's assume that you have a blog. If you consistently post content to your blog, search engines will rearrange search results. Thus, your website will more likely get SERP (search engine result pages) top positions. On the other hand, volatile posting may lead to a downgrade of your position. 
However, the posting frequency is not the only thing to focus on. Your site will drop down the SERP even faster if you post a lot of low-quality content. Non-unique content leads to punishment from search engines. So, it's better to develop a schedule and find a middle ground between quality and frequency.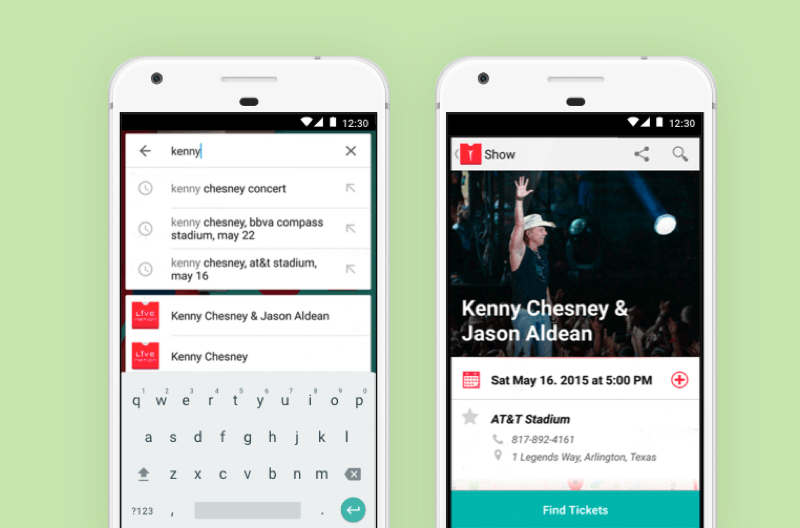 Google Values Your Content
According to Statista, Google is the most popular search engine in the world. So, it's not a surprise that other search engines are trying to follow Google's "preference".
We've already mentioned the main preference. Frequent updates on your site are the best way to get top positions on Google's result pages. Google's web crawlers constantly scan the Internet to find updated pages and adjust the rankings. 
The most optimal schedule for making updates is to post content 2 or 3 times a week. That's why businesses have blogs on their websites.
How Blogging Influences Your Business?
To get even higher positions, you have to use the words that users will type while searching for a particular product. These words are called keywords. Search engines constantly gather and analyze them, so content creators can find these words with the help of software for keyword research. 
People may search for the same things on the Internet with different intentions. For example, while some may be interested in how the product works, others want to buy it. With the help of keywords in articles and regular posts, distributors target the audience that is ready to pay and exclude other types of users. Thus, the conversion rate grows, and businesses gain more potential customers. 
Let's imagine that you run an insurance agency with your own website. A blog allows you to write posts on different topics, like various insurance types. Your content creators can use relevant keywords for different keywords. Thus, users that are interested in life insurance will find your post. Besides, keywords help search engines to identify your website as helpful to users. 
Still, don't overload your content with keywords. Search engines are smarter than you think, and they won't put web pages with no useful information to the top. 
While running a blog, you have to think about your target audience and what will be interesting to them. The only way to see the benefits of blogging is to build an SEO strategy, attract the audience's attention, and cover your customers' questions.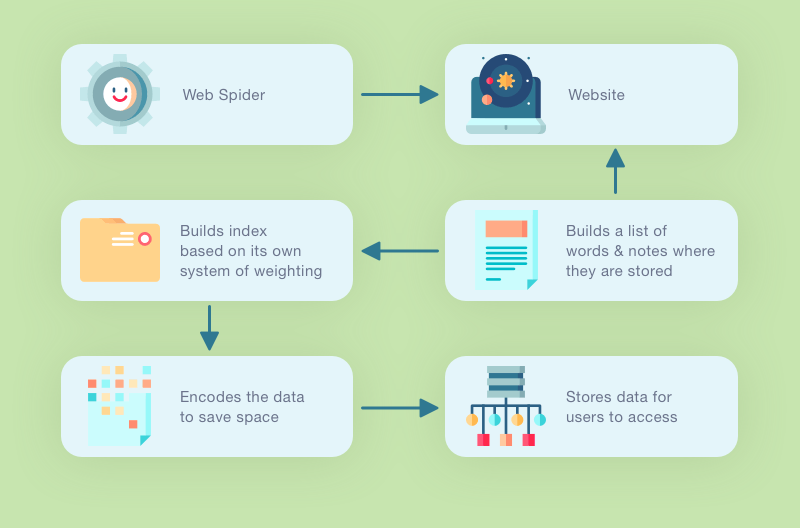 Content Influences Your Website's Authority
Page authority is a term that describes the trust with search engines. Your content is the key factor that boosts this process.
Top tier companies in every niche have a vast number of pages that were indexed by every search engine. Google evaluates the relevance of every web page based on the website's filling. That's why you have to add valuable content to each page of your website. 
Apart from gaining authority from search engines, there's another significant component. Take care of the trust of your customers. Useful articles, comprehensive guides, and user-friendly interface are the components that win people over. 
Your website should have high-quality content with frequent updates without regard to the scope of your activities. Articles aren't the only way to gain trust from your audience. Answering users' questions on different websites, leaving comments on other posts makes an image of an authoritative source and attracts the new audience. 
Best Content Analytics Tools 
Knowing the theory is not enough for gaining all the advantages of content marketing. To learn the behavior of your customers and understand the metrics your website produces, you have to conduct a content analysis. Let's go through some of the best content analytics tools that will help you in this process.
Google Analytics
A popular platform for content analytics developed by Google. It's absolutely free and has a wide variety of features. With Google Analytics, you can track stats, like clicks on pages, user's page time, clicks on advertisements, and more. 
One of the most useful features for monitoring conversion is Goal Funnel. It allows tracking customers' routes on the website before making a particular action or a purchase. This feature is especially interesting for the retail field because this analysis allows you to improve user experience and understand the customer's decision-making process.
Moreover, Google Analytics provides frequent updates of keywords that bring users to your website. As you remember, the proper use of keywords significantly increases the flow of targeted traffic to your website. Also, you can know the location of your visitors and even the browsers they use. 
Google Analytics provides you with detailed data. You can create custom reports, track ads that bring customers to your website, build customizable charts, and more.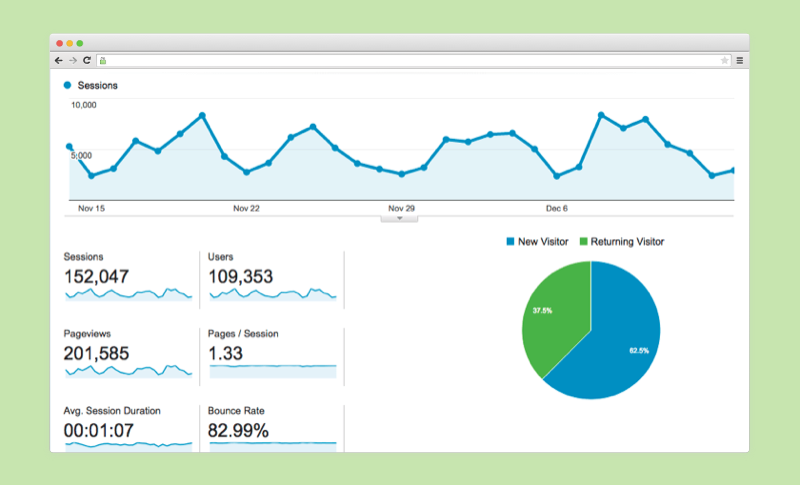 Piwik
Piwik is another free content analytics tool. The software can be downloaded from the official site and hosted on your server. In general, Piwik's features are similar to Google analytics or any other content analytics platform. Still, there are some clear advantages. Piwik gives you unlimited data storage and provides a mobile app, so you can track stats on the go. 
'Row Evolution' is the feature that brings more understanding to content analysis. It allows you to monitor the differences in metrics over time. In this way, you can track the traffic change after launching an ad campaign, or adding new keywords. It also may come in handy for tracking the efficiency of pages for specific periods of time.
Open Web Analytics
This service is also used for content analysis. Unlimited data storage and a variety of websites accessible for measurements make this software a great tool for content creators. OWA counts unique visitors, page views, visitors' country, and more.
A highly efficient feature for analyzing user behavior patterns is a so-called heat map. It shows the exact spots where users make clicks. This feature is useful for tracking popular buttons, and weak points of your website that need to be updated so that the web development cost will be slightly lower. OWA is also capable of tracking mouse movements. This helps to optimize user interface according to users' navigation across the website.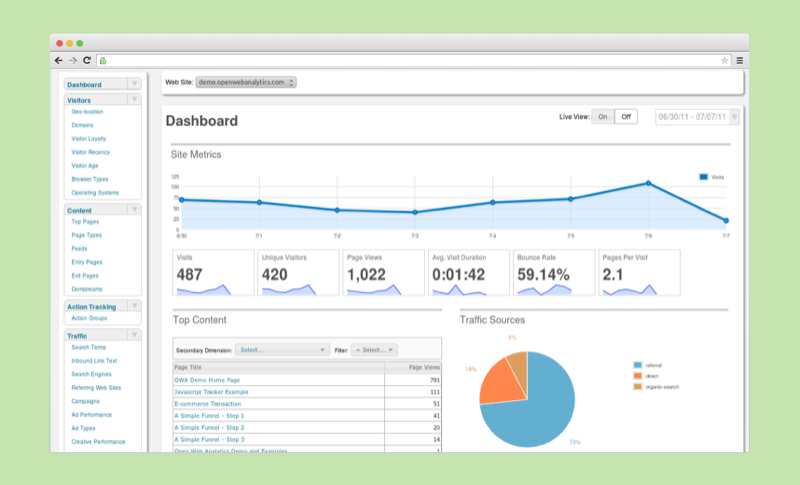 Clicky
Clicky is a shareware tool for content analysis. If you can use it for free for a single website with no more than 3000 views per day, in any other case, the price starts from $9.99/month, but it varies depending on your needs. 
The features of this tool are similar to Google Analytics. However, there's something that Clicky can boast about. Clicky's interface is less overloaded, thus more clear than Google Analytics. This makes the understanding of information easier for SEO specialists and content creators. 
Clicky can also monitor stats, like page time, visitor location, performed actions, and so on. As Open Web Analytics, this tool also has a heat map in real-time mode. Unlike other services with this functionality, Clicky allows you to build maps for every user that visits the website.
Top 7 tips that will help you to generate leads through social media
Finally, Clicky has third-party integration with Twitter. So, you can track the mentions on social media and monitor the traffic that comes from Twitter. This feature is helpful for social media marketing.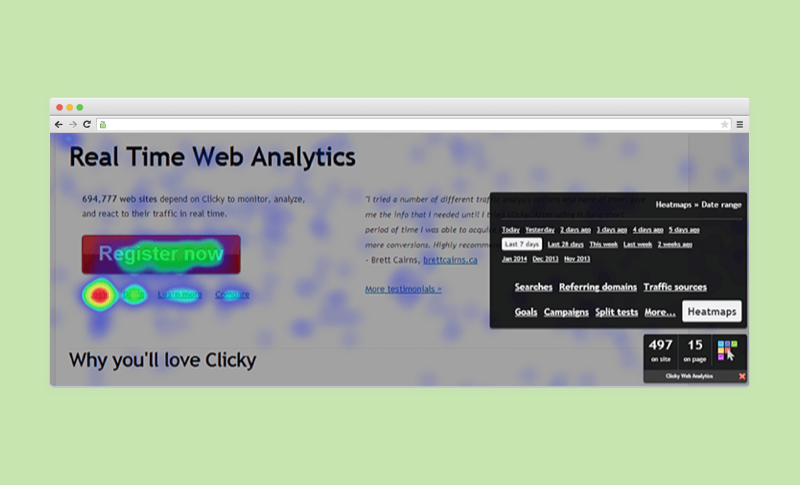 SimilarWeb
The last solution on our list allows you to analyze your rivals. SimilarWeb provides insights about traffic, rankings of websites, and even mobile apps.
The analyzing process is as easy as an ABC. The only thing you have to know to see your competitors' rank or traffic is their URL. Just enter it on SimilarWeb, and it will show all the information. Besides, this service shows all the metrics listed before, like visit duration, bounce rate, and more. 
SimilarWeb not only shows the rank but also displays the traffic channels of your competitors.
Pitfalls of Content Marketing
The benefits of content marketing and analysis are obvious. Every business needs new leads and more attention to their brand. However, this marketing approach has some drawbacks that you need to know beforehand. 
Difficult Implementation Process
If you want to see the real profit that content marketing brings to your business, you have to gather a team of professionals. Unfortunately, one person can't manage all the duties and processes of this strategy. The marketing team has to come up with the concept of promotion, analyze sites, write interesting content, manage SEO, and create the content plan. One person simply doesn't have enough time to perform all these tasks.
However, the marketing team can cost you a fortune. Experienced content marketing managers are quite hard to find, and their salaries are high. Taking into account the expenses for copywriters and SEO specialists for promoting, the overall cost of the marketing team becomes quite high. 
Long-Term Investment
Content marketing isn't a strategy that blows up in a few days and brings a new audience. It requires a consistent creation of content, promotion, and a well-drafted content plan. The longer SEO specialists promote your content, the more leads this content generates. Thus, content marketing isn't an option for those who seek an immediate return of investments. 
However, if you're a patient entrepreneur, this strategy definitely pays off. Simple strategies like placing advertisement banners and targeted advertisements are simpler to perform, but they aren't even close to content marketing in terms of efficiency.
On top of that, unlike conventional ads,  content marketing brings new clients even after you stop investing money in it. 
High Initial Expenses
In the planning stage, it may seem that content marketing is suitable only for large companies that can invest in the marketing department. This misconception discourages small companies from a great idea. However, reality differs from expectations. 
In the first stage of forming a marketing department, the CEO of a company can be a content marketing manager yourself. The content plan is very much dependent on the company's development vector. Therefore, no one, except the CEO, knows the vector better. 
As for the rest of the team, you can hire one copywriter and one SEO specialist. Thus, you can verify the concept and develop it if everything works the way you want. Of course, the small team won't show striking results, but you have to start somewhere, right?
Another option is to hire a marketing agency that will perform content marketing for you. This strategy is more financially beneficial. However, you'll have less control over the team and less influence on the overall process.
Limited Options for Some Businesses
Even though content marketing has great potential, it's still inappropriate for some niches. For example, local stores or any other local establishments won't get all the benefits of content marketing because of the low audience coverage. It's evident that the wider your audience is, the more potential customer your content attracts. The locality makes your efforts go to waste. 
The same thing happens to products or services of some narrow scopes of activities. For example, some complex industrial equipment that has no competitors on the market. It's better to use targeted ads for these purposes. They can bring quick results, so you can analyze the demand for your product among the customers. 
Challenges With Results Tracking 
Digital marketing has some conventional metrics that can tell a lot about the effectiveness of marketing and advertising campaigns. The most well-known are coverage, conversion rate, cost of conversion, and more. 
However, when it comes to content marketing, things become more complicated. Content marketing brings a lot of non-obvious benefits, like the growth of trust among customers. In this case, content marketing managers take into account rates, like reposts, comments under the posts, and likes. 
Another issue concerns distributors of some products and services. The thing is customers can have a long route across your website before making a purchase. Moreover, they can even leave your website and make a purchase a few days later. Still, you have to track every customer to have a full picture of your strategy and understand what exactly leads customers to your website. Tools that were mentioned before show you clients' entry points, conversion pages, and more. However, these tools require a decent level of proficiency to adjust them right.
Wrapping Up
To come to a conclusion, content marketing is a powerful tool for attracting leads, establishing the brand image, and gaining new distributing channels. Content marketing provides a lot of statistics that may come in handy for e-commerce and distributors of different services. 
A complex of tools listed above will improve the efficiency of your marketing strategy and simplify the life of your marketing department. 
The only thing you have to bear in mind is not to blindly follow the trends. In some cases, your company may not need content marketing, so it's better to think about some alternatives. Don't forget about conventional targeted ads and social media marketing. Keeping up with these tips will lead you to success in the digital marketing sphere.