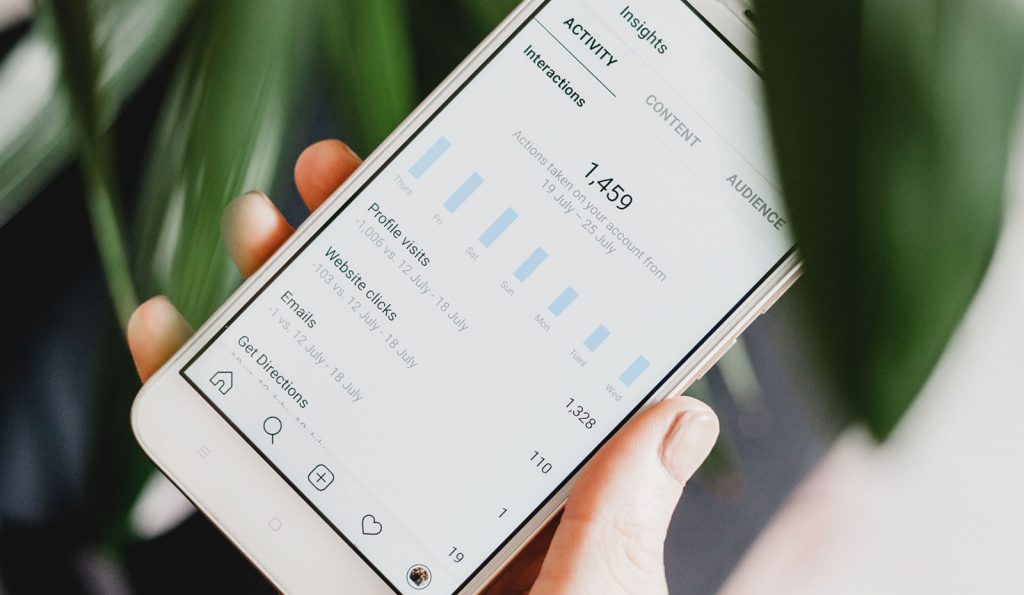 Did you know that a whopping 60% of Instagram users (which roughly amounts more than 600 million people) search and discover new products on the Instagram platform? Indeed, Instagram has become the leading social media platform for running ad campaigns and publishing sponsored videos.
When it comes to digital campaigns for mobile apps and games, Instagram happens to be one of the most popular social channels for app marketing. Instagram offers a variety of ad formats, it's a great platform for attention-grabbing visuals and video content as well as a level playing field for apps of all sizes and potentials.
Let's first have a look at the key reasons behind the success of Instagram. 
Why Instagram ads succeed? 
Instagram has emerged as the most successful social media channel for ads and media campaigns because of the following reasons. 
Mobile-first Platform
Instagram is a mobile-first platform which ranks it on top in terms of user engagement. Mobile app developers always look forward to organic installs, and Instagram ads have the potential to draw the audience naturally. The display of the native ads on Instagram offers the look and feel of regular or standard posts, and it's for this reason that Instagram posts receive high traction and engagement. 
Power Editor Tool
Power Editor Tool as an advanced tool for ad creation allows you to create sophisticated ads on both Instagram and Facebook. 
Top 5 Ways To Ensure That Your Native Ads Succeed
The tool allows you to create a consistent campaign for two platforms simultaneously. 
It empowers you to do a lot of creative experiments. 
It allows reusing the most performing ads from Facebook to Instagram or vice versa. 
Focus on the Visuals
Tips to improve social media and digital marketing strategies
Visuals garner more attention and audience engagement than text or other forms of content. Instagram, as a platform focused on visuals, is a perfect place for visual ads. There are different formats available to give a creative twist to your images and video content. The autoplay feature of the Instagram video makes them even more attention-grabbing. 
A very young user base 
A vast majority of Instagram users are aged below 35, and among them, a considerable portion is basically millennials. Since a young audience is more prone to trying new apps and games, for an app marketing campaignInstagram should be an obvious choice. 
Instagram offers a variety of ad formats 
Instagram also offers a variety of ad formats. Let's have a brief look at five different kinds of Instagram ads. 
Photo ads resemble a regular image post that allows comments, sharing and captions. 
Video ads automatically showcase your app activities and help to grab attention easily. 
Carousel ads, just like multiple image posts, allow similar browsing action with easy swipes.  
Instagram Stories Ads, which are basically vertical videos, offer a look and feel of a standard Instagram Story with a better scope of capturing attention. 
The Collection Ads comprise both Carousel and Video allowing to showcase different videos and images. 
Tips for Boosting App Campaign With Instagram Ads
Since Instagram is so popular among the marketers and advertisers of digital products, to market your app successfully, you need to ditch out the serious competition on the platform. That should be easy if you know the tricks and methods for running ad campaigns on Instagram. 
Research and Retarget Audience 
This Is What Makes Your Facebook Ad Copy Work
You can create brilliant and attention-grabbing ads but without the right audience it does nothing. You need to show your ad to the audience for whom the app is built. Since Instagram is owned by Facebook, you will have all the marketing tools and targeting options from Facebook and you can use them for your Instagram campaign. Some of these targeting options, Instagram metrics and audience research include Behavior corresponding to buying habits, device and OS usage, etc. Demographics corresponding to age, gender, location of the users and Interests corresponding to the connected pages and apps. 
On Instagram, you will have flexible options to schedule ads for your users. The first and standard option allows you to run ads throughout the day and the second or Accelerated option allows you to show ads in specific times based on user footfall or increased traction. 
Understand the Context
The most successful Instagram ads always show up in the news feed when users actually see something related to them. The successful Instagram ads always appear in the feed when users start expecting them. This means, if your ads match the user context, it can generate far greater traction and engagement. 
Make your people act! 
The ads have the invariable objective of business conversion and business can only be converted by making people take action. Fortunately, you have a variety of methods to persuade Instagram users to take action. For example, you have a common ad button like "GET" that boosts downloads of commercial apps since after clicking on the button users are easily guided to the respective App Store or Play Store. 
Other types of 'call to action' buttons that can increase downloads to a great extent include 'Install Now' or 'Learn More' buttons. There are as many as ten more 'call to action' buttons to allow brands to fit the business profile of a company. Lastly, to make people take actions make sure to join conversations by responding to comments and creating a buzzing place for discussion and dialogue. 
Creatively Express Brand Personality 
You need to connect to your users with a precise and memorable brand personality. It needs a lot of brainstorming, creative excellence and thoughtful campaigns that address user concerns. Make use of image captions with befitting images to create a brand personality. Strengthen the branding with dialogue and comments. Remember, users only find a brand interesting when it's human, likeable and user-optimized. 
Conclusion 
Instagram is a hot and trendy platform for young geeks and Smartphone flaunting Turks. No wonder, all major brands go all out to make a robust Instagram presence. If you can utilize the potential of this versatile platform, you can make serious gains in no time.