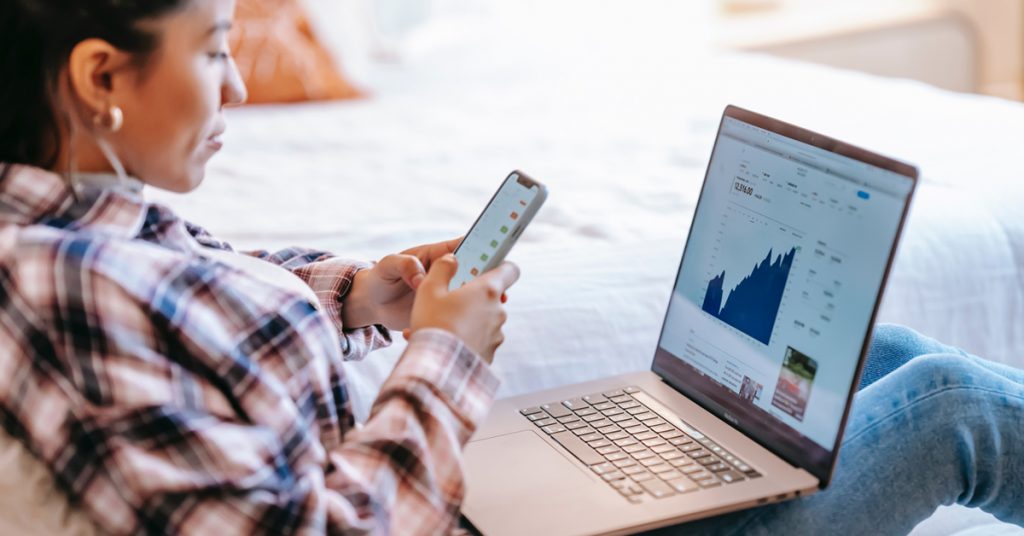 Mobile phones are an integral part of 85% of the world's population, that's the equivalent of 6.4 billion people owning a mobile phone. In the next 5 years the number of smartphone users is expected to grow to 7.5 billion people – almost everyone in the world will own a mobile phone at that point.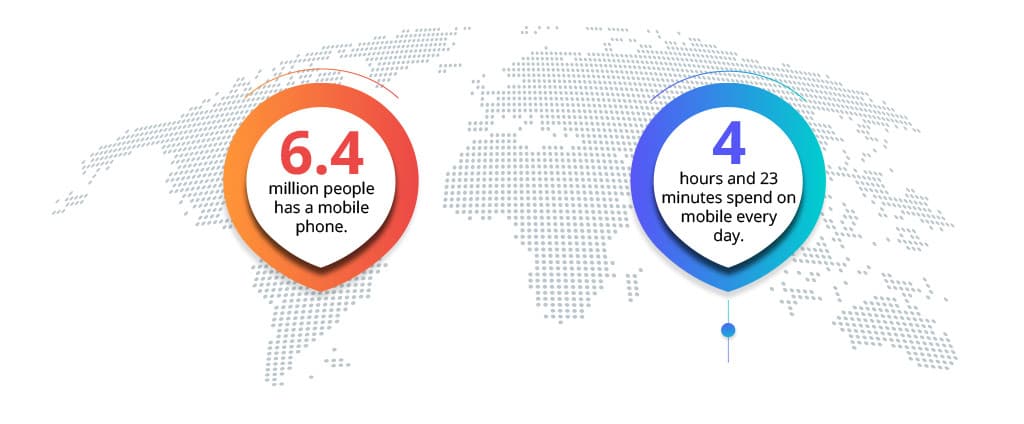 To no surprise, we're also using our mobile devices a lot throughout the day. A 2021 study from Statista show that the average time spent on our phones is 4 hours and 23 minutes, and that's every single day.
Approximately 90% of that time is spent using mobile apps, so it's safe to say that the market has never been more lucrative for all vertical businesses.
One of the hottest app usages is in the ecommerce market. The retail industry knows that this is where they should prioritize their sales efforts by offering an app that is both well-developed and cross-platform targeted for the largest market penetration (Apple and Google own a little more than 99% of the global market share).
To get a lead on your competitors you should follow these tips to increase your ROI and success rates.
The importance of a great in-app shopping experience
Customers are willing to invest in products and services on mobile. Last year consumer mobile app spending was at record-high 143 billion US dollars.
While it shows that there is a large money-flow in app purchases, the customer also expects a smooth customer journey from the beginning to the end. That means your app must be developed with the utmost care and attention to detail.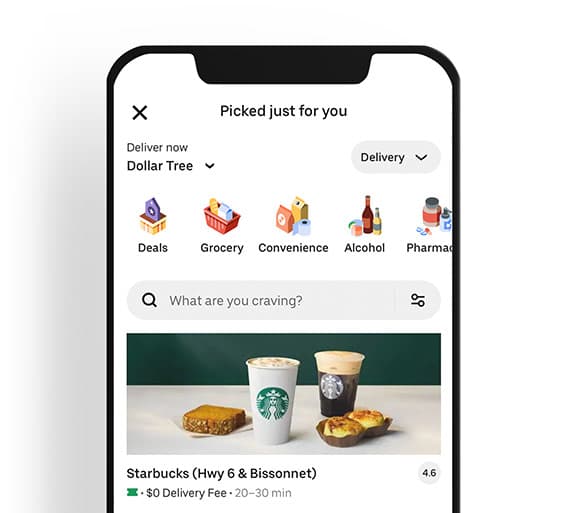 Imagine going to a regular store to buy food. If the first thing you see when going to the restaurant is unkept with weeds growing, paint flaking off the building and a parking lot full of potholes, you are likely to get the impression that the restaurant is only doing the bare minimum and you're likely to go somewhere else.
The idea is exactly the same for apps. If you don't offer a flawless app that responds quickly, is easy to navigate, offers pleasing UI/UX design, a safe way to pay with high encryption technology and does not crash or act unexpectedly, your customers are likely to abandon ship and go to your competitors instead.
So make sure you don't skimp on the budget or the importance of building an app that meets all the quality-driven requirements it needs to meet the expectations of the customer.
If you do this, you'll experience increased customer loyalty, repeated sales, higher ROI, and free marketing by happy customers referring your app to friends and family.
So what exactly do you need to prioritize when offering the next big ecommerce hit to launch in the app stores since Amazon? Follow the tips below and you'll know exactly what to do.
Perfect your App Store Optimization (ASO)
You may already know about Search Engine Optimization (SEO). That's largely used to push websites to the first page of search engine results. The world of SEO is utterly complex and getting ranked high nowadays requires a lot more than using meta tags like the old days. Google and Bing, the largest search engine providers in the world, also change their algorithms for ranking on a regular basis, making it a full-time job to be seen.
ASO is similar to SEO, though not quite as complex to set up and manage. The importance of good ASO is however just as important as good SEO as it will assure you are found in the app stores, downloaded by the most number of users and thereby ranked higher on the app store charts.
There are about 6 million apps available in the most popular app stores from Apple and Google, so there's already some competition out there. However, most don't utilize ASO successfully.
Your main focus should be on:
1. A unique title
Think about a unique name for your app, so you don't risk more seasoned apps being pulled up instead of yours when people are searching for it. The name should be telling of what customers can expect from the service/product you are selling. It shouldn't be too long and preferably easy to remember.
2. Low competition and high quality keywords
Generate a large list of relevant keywords. There are tools out available where you can input the category of your product/service and it'll suggest keywords to you. A good starting point would be 100 keywords that you can use to narrow down to the most valuable to use for your app description and other ASO related content.
Descriptions are one of the most important places to use your keywords, so use them wisely. Avoid using generic words like "weight-loss" for a healthy cooking app. Instead use keywords like "Nutrisystem based" or "women 50 plus focused" that are more descriptive and precise for your app's demographic.
3. Keeping the length of your text shorter than the allowed character count
When you write titles, descriptions and other app related content, stick to the limitations of the app stores so you don't risk it being cut off with ellipses (…).
Apple allows for a maximum of 30 characters for the title and subtitle. But you can't even trust that number. If you search on an iOS device with a smaller screen, only 19 characters in the title are readable and 25 characters for the subtitle on the search results page. So try to keep your content short and concise.
Google will let you enter up to 50 characters in the title with no subtitle option. However, it's best to keep the title less than half that at 20 characters, so it doesn't get cut off on the app listing pages.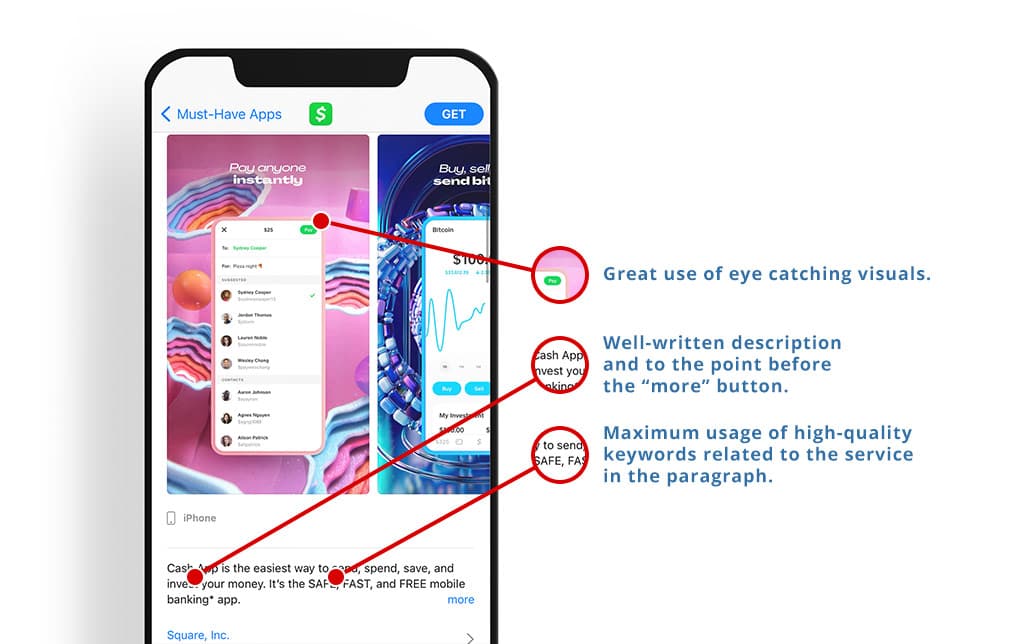 4. Content of quality
You may have to hire a copywriter to help you out conveying the meat of your app in an exciting and telling way.
In both Apple's App Store and Google's Play Store you have 4,000 characters available for the descriptions. That's a lot of room but don't allow for rambling or repetition as it will fatigue the reader and give them less motivation to download your app.
Focus on writing the most important key points about your app in the first few sentences. Even though you have 4,000 characters available, most of it is only viewable after the app users has clicked a "read more" button.
If you do decide to write the content yourself, make sure to have your text proof-read by one or more people. It's easy to skip words when you proof-read yourself as you already know the content and skip ahead while reading.
Also keep in mind the audience you are targeting. If you are selling kids shoes the tone should be different than if you are selling luxury vacations. The demographic is completely depending on the product or service you are offering.
Use high-quality visuals to entice
Don't underestimate the power of great screenshots and videos to showcase your ecommerce app.
You should pick the very best screenshots that show how much it'll improve the app user's life or how easy it will be to dive into the customer journey, be it someone looking for a new home, electronics or maybe the top rated services within niche markets either locally or offered by focusing on low cost.
Videos elevate the viewer's value by demonstrating key features in a short amount of time and it's proven that people are more likely to remember videos than a picture or text.
Dress your ecommerce app in an attractive user interface
We used the analogy before of comparing your app to a brick and mortar store. As important for a retail store to present itself being clean, organized, well-lit and using a carefully selected color palette to present itself, the same goes for a successful retail app.
If you look at the most popular ecommerce apps like Target, eBay, Groupon and Adidas, you'll start to notice how much thought has been put into the design.
They all have easy-to-read fonts, crisp product images, brand consistent color palettes, and beautifully designed iconography to present their products in the most appealing way. You should do that too.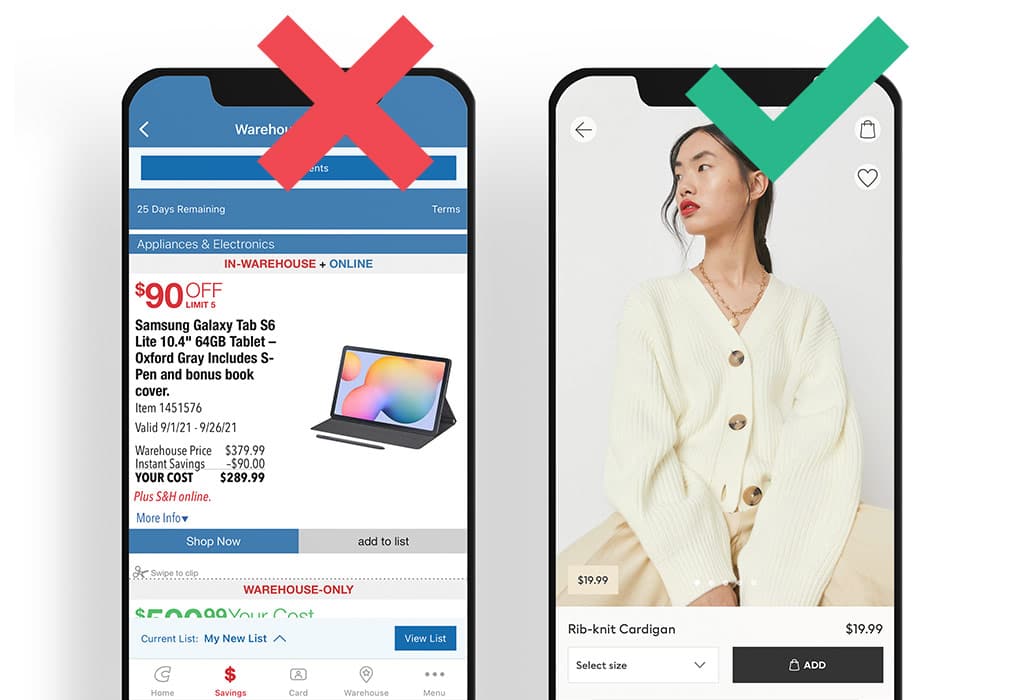 Costco (left) has too much information, too many font sizes and the design is generally made for print not an app UI. H&M (right) gets it right with a large appealing image focusing on the product for sale and an intuitive way to make a purchase.
 Remember to stay on brand, so everything has to match the feeling you want your customers to get from your offerings. An application made for kids will likely include joyful imagery, bright color palette, rounder or hand-written fonts. A mobile app made for a senior living-assisted facility is more likely to make use of larger serif fonts, toned down color palette and large buttons.
Pay attention to the customer journey with an intuitive user experience (UX)
You don't want to lose a sale because your customer got lost in the journey to make a purchase. Good UX design has a clearly defined path all the way from start to end.
The first screen should focus on displaying your store's most important selling points. If you are selling a lot of products, make sure to have them categorized and easily accessible. Have as few button clicks as possible to meet a customer goal. That goes for any customer goal throughout the app.
It's also advisable to have a search bar on the first screen to make it easy for a consumer to find the item or service they want.
There's also UX differences between Android and iOS apps, so you may want to consult with a reputable app agency or developer to make sure that your app is customized for each platform. What an Apple user takes for granted and can easily navigate may be completely foreign to an Android user.
Use beacon technology to its fullest
Beacon technology isn't a brand-new feature, but very few retailers are using it despite the huge advantage it has over ecommerce apps not using it.
Beacon technology is available on both iPhones and Android powered devices. They are a piece of hardware in the phone able to talk to beacon points installed in retail stores. When the mobile user gets within a certain range of the beacon point a notification can pop up on the customer's phone and alert them about a discount, limited-sale or other offer.
Imagine going to the mall. In the parking lot the customer will get a notification from Cold Stone Creamery about today's special and a 10% off coupon with an expiration date of that day.
While the customer may not have planned to make a purchase at Cold Stone Creamery, the phone notification will make them consider it. Since it's within a short distance of an already planned trip and with a discount targeted incentive, the chances of making a sale just increased significantly. Adding the time limited deal also creates a sense of urgency, further improving the possibility of closing the deal.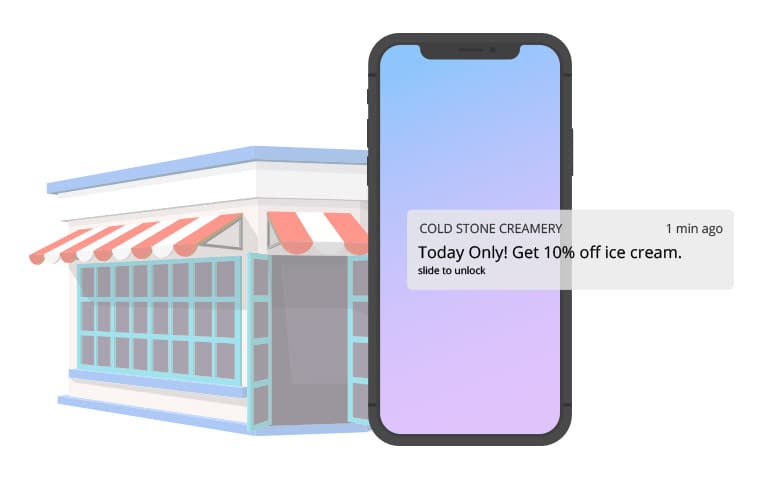 The department store Macy's is one of the largest retail adapters of beacon technology. They installed it with great success in most of their 800 stores across the US. It has been especially useful around Black Friday where shoppers were offered a chance to win 1 million US dollars by going into their local stores.
Increase customer interest by offering special deals
Even if you are not going to offer beacon technology like Macy's did, you should still cultivate customer interest and retention by offering on-going incentives. It could be daily or weekly discounts, alerts of upcoming sales events, rewards for having new customers sign up, free shipping on certain days, special perks, or exclusive content.
You should keep your app customer's attention by sending out these regular incentives to strengthen your brand and increase the retention rates. At the same time, you have to be careful not to overdo the amount of notifications you are sending. Too many notifications and your customers are likely to turn off notifications from your app completely and in the worst case scenario uninstall your app.
Use social media to your advantage
The importance of social media is unquestionable. To increase knowledge of your app spread the news on social media platforms.
Social media providers are all different, so you need to research which one is the most used by your audience before spending any marketing budget.
To pick the best platform you need to know your audience. How old are they, what is their gender, where are they located, which problems are they trying to solve etc.
Armed with that information, you are one step closer to knowing if you should advertise on Facebook, LinkedIn, Instagram or maybe use an influencer.
An influencer is a person with a large number of followers. They live off of advertising for businesses and the conversion rate tends to be higher than with regular social media, because their followers already are invested in their ideas and opinions.
If you go the route of an influencer, just be sure to pick someone aligned with your business culture so as not to alienate existing or potential customers.