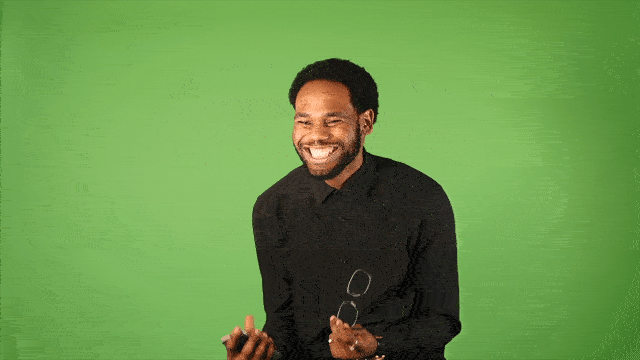 Without a doubt, digitalisation is an integral part of the modern world. Everything got easier with it: flight bookings, planning doctor visits, looking for a job, and, obviously, shopping. One day, all these things became faster, more comfortable and easy. We live in a fast-paced, technology-driven world, where progress and innovation continuously change our lives.
Technology simplified the way we communicate and interact with each other. Nowadays, more and more companies use bots and automate initial interactions with their customers. We talk to chat-bots, receive automated emails and come across automation almost every day.
However, there's also a negative side to it. Most of the time, automation ruins the customer experience. No matter how introverted a person is, everyone seeks a personal touch in our experiences with a business. Everyone wants to be heard and appreciated, including your customers. So, it's no wonder that 96% of marketers claim that personalization of customer experience enhances relationships with clients and increases customer loyalty.
Benefits of Content Personalization for E-commerce
It is almost 100% guaranteed that a closer connection with customers will improve your sales. Sounds great? Then let's learn how to personalize customer experience to boost your sales!
1. Develop Customer Profiles
Though we look for consensus, each of us has a slightly different understanding of this word. To be able to provide personalized customer experiences, you need to know who your customers are. Here are three main steps that will help you understand your customers.
Motivate Your Customers to Share Their Data
For sure, Google knows more about its users than they do about themselves. But people still don't get excited about giving up their data voluntarily. Unless this act will be genuinely rewarded, of course. According to a recent survey, 90% of consumers agree to share their data if it benefits to make shopping cheaper or easier. So, to gather more information about your real customers can give them a discount or special bonus. For instance, you can offer free delivery in exchange for having created a detailed profile. There is a big chance that it'll work. And if not, you will lose nothing.
Sit Down With Sales
Employees working in sales meet your real customers every day. They speak with them by phone, recommend products, and listen to their complaints. They know them. All you need to do is ask. To get the real picture of your clients, your sales team will have to be honest and straight. Embellishment or misrepresentation won't help.
Create Your Perfect Customer Profile
Having a clear understanding of your customer profiles is the most important part of delivering personal service. Here are the questions that you must know the answers to if you want to provide personalized customer experience:
What's his/her age?
What are his/her interests?
Where does he/she live?
What language does he/she speak?
How much money does he/she spend on your products/services?
When the information is gathered, create an ideal customer profile. It will help you understand what features of your product/service matter most to them, what they want to receive, and how much money they are willing to spend on it. What is more, it will give you an idea of the messaging that might appeal to them.
2. Create a Customer-Focused Culture
As you already know, every customer wants to be heard and understood. Train your employees to show empathy and deal with customers' emotions the right way. Teach employees to be a friend to their customers. Your customers are all different, and it's true that not everyone wants to have close interactions with salespeople. Yet often people need help or advice, especially if they are alone in the store. They can have doubts.
The salesperson's main role is to catch this opportunity and make a connection. Stop being deliberately polite. You have to show your customers that you care about them and their opinions. Teach your employees to find the right moment to become a friend to their customers and show them that they are valued.
Customers come knowing what they want, and may ask where they can find it. Pointing to the place is an option, but not the best one. It is known that about 70% of customers abandon a business because they don't feel the brand cares about them. Make sure your sales crew members are escorting clients to the products they are looking for. Though some don't like it when salespeople are hanging around, it's better to stay close for at least 2 minutes. Always show your customers you value their time and are ready to help them at every stage.
3. Use Customers' Feedback to Improve
5 Proven Tactics to Boost Your B2B Sales
Feedback (even if it's negative) is the most valuable information you can get from your customers. Feedback helps you find your strengths and weaknesses. You can use this information to improve the quality of your products and boost your sales.  
Encourage your customers to write reviews. Reviews are incredibly important. Based on them, people make decisions to become your clients. It is an advertisement we can't take full control of, but we can try.
Start with asking your satisfied customers to write a review. As simple as that, just ask. If you do it by phone or ask personally, you'll double your chances of getting a "yes." Most of the customers will gladly help you. If they're happy with your product/service, getting them to write a review won't be hard.
"A vast majority of satisfied customers will never tell you that they're happy with your product. Unhappy customers, on the other hand, will definitely let you know. You should react to negative reviews in a timely manner, otherwise unsatisfied customers will start spreading negative word-of-mouth," says Adam Simon, owner of LegitWritingServices essay writing services review site.
When a bad review appears, try to get as involved as possible. Show your sincere interest in fixing the situation. Specify the details and investigate. Act fast. As soon as you clarify the situation, respond to the unsatisfied customer online. Such feedback shows your potential customers you are not afraid of non-standard situations. You are seeking improvement. Be present and active. It's the most professional reaction to a bad experience.
Make Changes
Reviews are different. Of course, you can't make changes based on each one of them. You definitely shouldn't take action on every single negative review you read. Besides, you can't contact each client that left a review, and that's okay.
Now, many reviews with the same complaint are a solid reason to make changes. You have to take them seriously and improve your processes. This way, your clients will realize you hear them, so they can count on understanding and getting relevant offers. Make sure to let disappointed customers know about the issues they complained about. It might bring some of them back.
4. Personalize Emails
10 Effective Upsell Persuasion Tactics You Can Borrow From Amazon
Email personalization has many benefits. It is a great way to increase open rate, CR, increase sales and boost revenue. In 2016, IDM and Adestra conducted a survey among marketers and asked them what benefits they obtained by implementing email personalization tactics.
As many as 82% agreed that emails with personalized headings helped achieve a higher open rate than those without. Other than that, most of the marketers linked email personalization to higher email CTR, increased sales, a decrease in unsubscribe rates and overall higher customer satisfaction.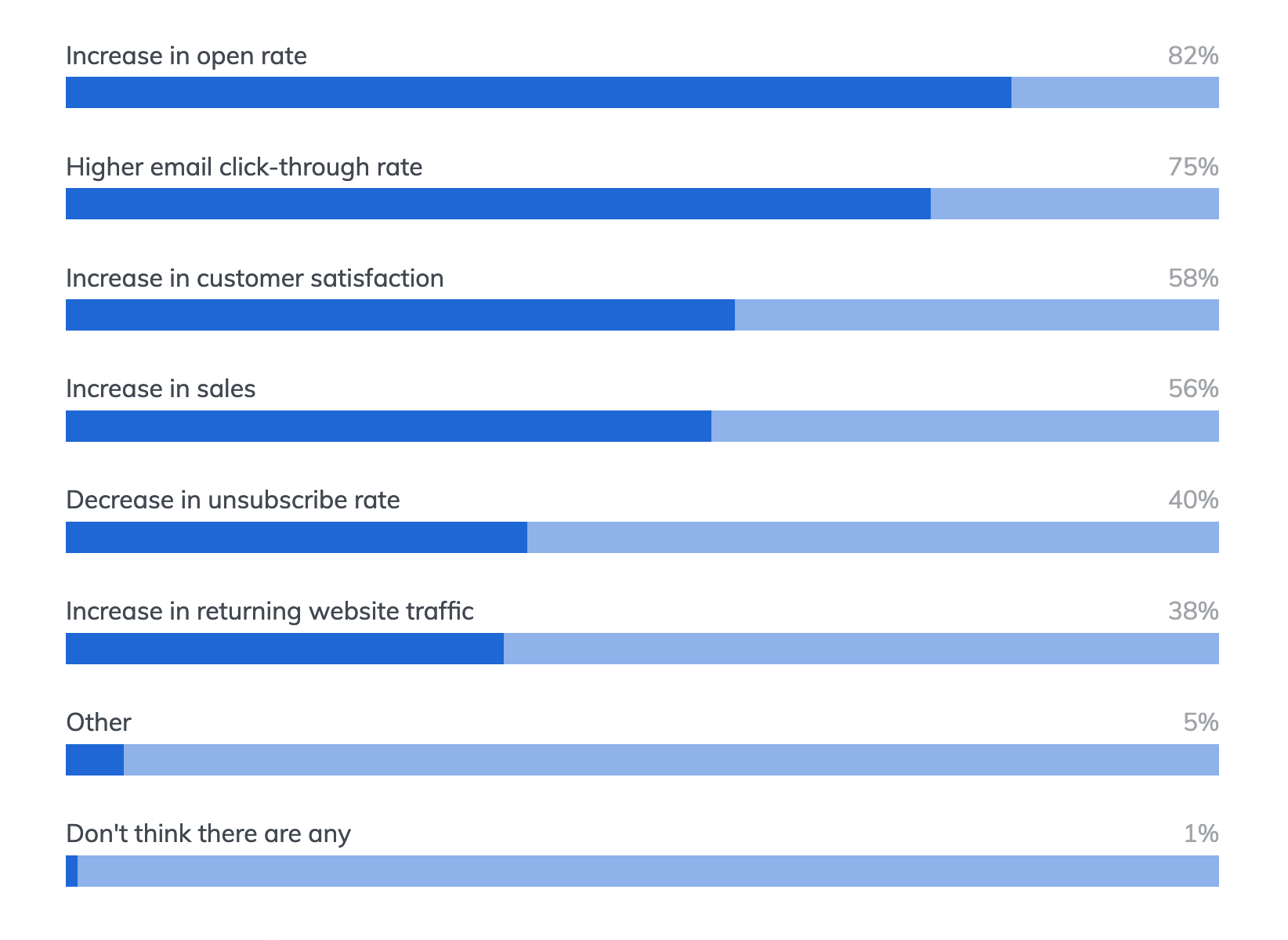 Receiving relevant messages makes customers happy, and happy customers bring more money in. However, the broader the message is, the more spammy it looks. Divide your customers into different groups and adapt to their needs. Send different emails to different customer groups.
Send emails for relevant occasions like holidays or weather-based events; 
Find out the best time to send an email to your audience;
Use your customers' location to promote location-based offers.
Promote products or services that you're sure that your clients might be interested in.
Doggyloot, a pet retailer, started to send different emails to their customers (owners of big dogs and those who own a terrier were getting personalized messages). Such campaigns increased the CTR of their emails and overall revenue by 410% and 13% accordingly! An aspiration to know your customers better leaves your competitors far behind.
Properly tailored and personalized emails bring more than half of revenue. So, it's definitely worth investing some time in it. Today, people value support, understanding, and attention to their needs more than anything. If you offer customers relevant products, it's good. But it's not enough to become a trustable brand. If you want your clients to become loyal, be useful for them for free.
A local pizzeria can send its customers information about Italian festivals in town. A bicycle store can invite clients to bike races. Take your relationships with the customer to a whole new level. Offer without asking something in return.
5. Use Multiple Customer Communication Channels
Gone are those days when we were getting all information through newspapers and television. Today, if you want to attract someone's attention, you have to be everywhere. Creating cross-channel customer experience improves customer experience. Use a live chat, digital marketing solutions, be available via phone, email and social media. Let your customers choose the most convenient way to contact you.
Your channel choice depends on your target audience. Yet, it is still better to use many channels. Brands with efficient multiple channels marketing retain almost 90% of the customers. And those who prefer one channel only reach the 33% mark.
For instance, you can create a business account on Quora and start answering questions about your brand and your niche. Not only it will improve brand visibility, but will also provide another, more personal way to reach you.
That being said, you are not limited by websites, social media, and email marketing. Try troubleshooting guides, customer forums, and video tutorials. And yes, use good old phone line support, too. It always makes sense.
In marketing, personalizing is a new luxury. It is valuable, desired and rare. Everyone wants to get it. So, become a provider. And be ready to reap the harvest.