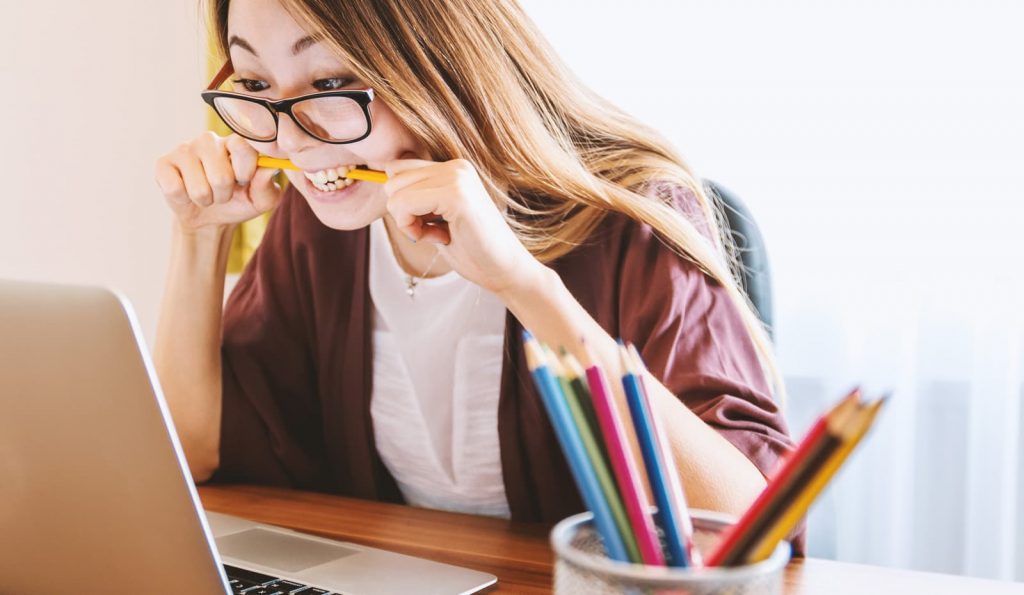 Amazon is the top shopping site in the United States with 150.6 million mobile users.
89% of customers said that they are more likely to buy products on Amazon than any other ecommerce site. 23% of online shoppers even head to the Amazon store to find product inspiration.  Thanks to positive user experience, the tech giant has accumulated 103 million Amazon Prime subscribers. 
How has Amazon gained the top spot in the ecommerce industry? The site's success may be attributed to persuasive upsell tactics that influence customers to stay on the site and add items to their carts. 
The homepage is a haven of personalised product recommendations and tempting deals. You may head to the site with an intent to browse, but adding items to your cart seems inevitable.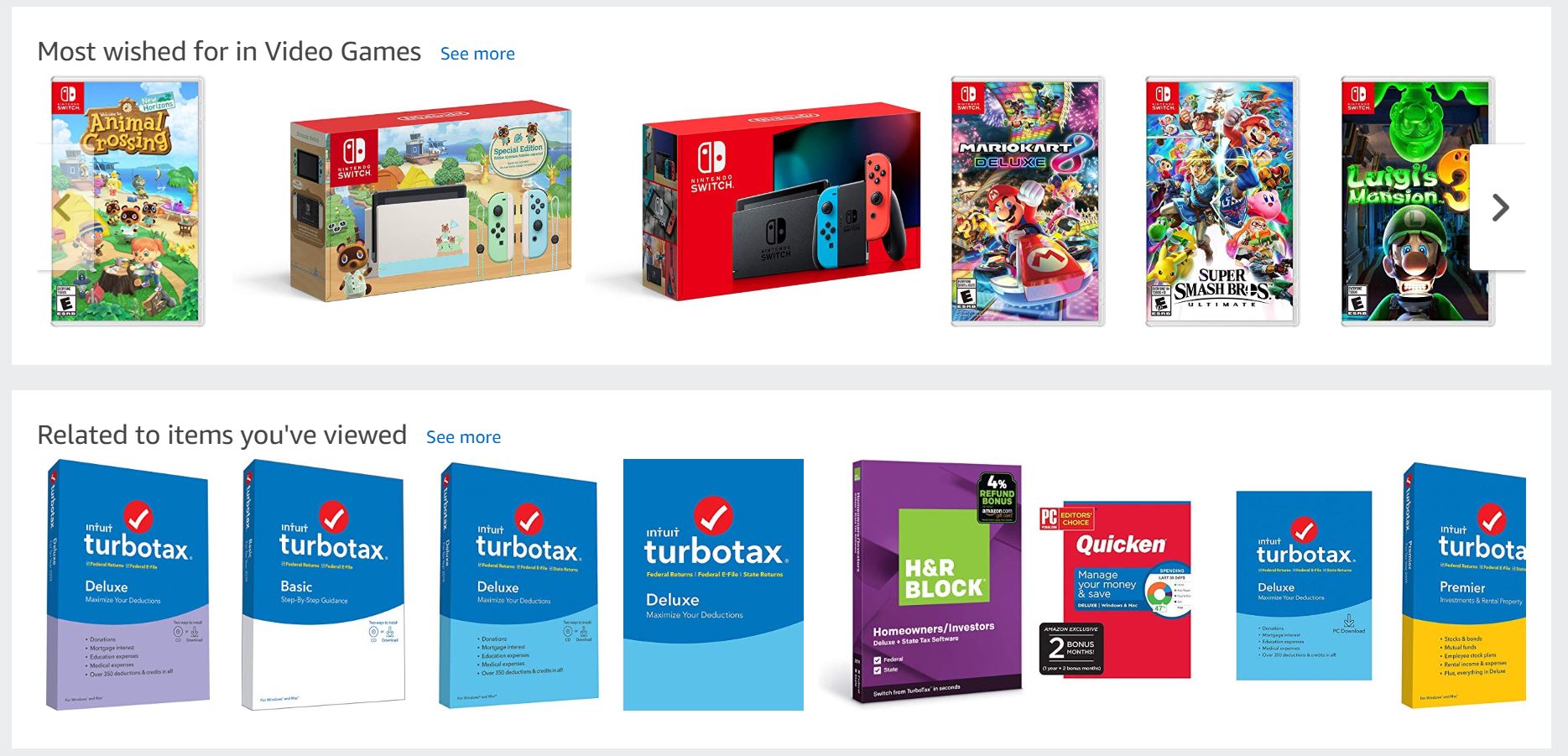 What are these persuasive upsell tactics? How can you get customers to keep adding items to their cart?  Here are some tips that you can borrow from Amazon. 
1. Use personalised product recommendations
A look at Amazon's homepage reveals several types of product recommendations. 
Visitors can find categories like "Recommendations For You", "New For You" and other cool products based on their purchase and browsing history. Rather than making the effort to find products, Amazon is able to direct customers to products that they will likely love. This leads people to add more items in their shopping cart. 
In fact, a Salesforce study found that shoppers who selected recommendations were 4.5x more likely to add items to cart, and 4.5x more likely to complete their purchase. Plus, customers who didn't engage with recommendations convert at 1.02%, but this number increases to 288% after a single interaction. 
It's easy to add recommendations in your store with the right plugins. But don't forget to leverage social data or individual preferences to make personalized suggestions. Leverage AI solutions or recommendation engines, to generate findings based on your customers' shopping patterns, wish lists, past purchases and browsing behaviour.
Some ecommerce stores are able to take this to the next level by using 'socially enhanced' recommendations. This lets sellers identify social groups or key personas based on the shopping behaviour of their customers. As a result, they can automatically provide customers with intelligent suggestions and increase the number of items in their shopping cart. 
2. Create product bundles 
People want to get more for less which boosts the appeal of product bundles.
Amazon usually suggests items that are frequently bought together with the product. The sale price is slightly more expensive. However, getting the bundle deal is a lot cheaper than buying the items separately.
If you bought a laptop, wouldn't you be happy to add a laptop sleeve and mouse along with your purchase? Wouldn't you be tempted to buy more items if it means receiving free shipping? The deal seems hard to refuse so people add all the three items to their cart. 
Behavioral economists know that bundles also trigger FOMO—Fear of Missing Out. A bundle deal may help them save on other essentials so they seriously consider buying a bundle of products. 
3. Getting product photos right 
Amazon's product photos highlight the items in the best way possible. 
Product photography is an important factor in the upselling game. Weebly reports that more than 75% of customers surveyed believed that product photos were crucial when making their purchase decisions. 
While we want a product photo to look appealing, make sure it looks close to the real thing too. A study found that 22% of online product returns are because an "item looks different than the photos."
In the image below, they have a high-quality photo of the product package and the snacks inside. The clear picture of the package serves as a guide for customers who are finding a specific product. Plus, these items are organized in an aesthetically pleasing way which may trigger a customers' hunger.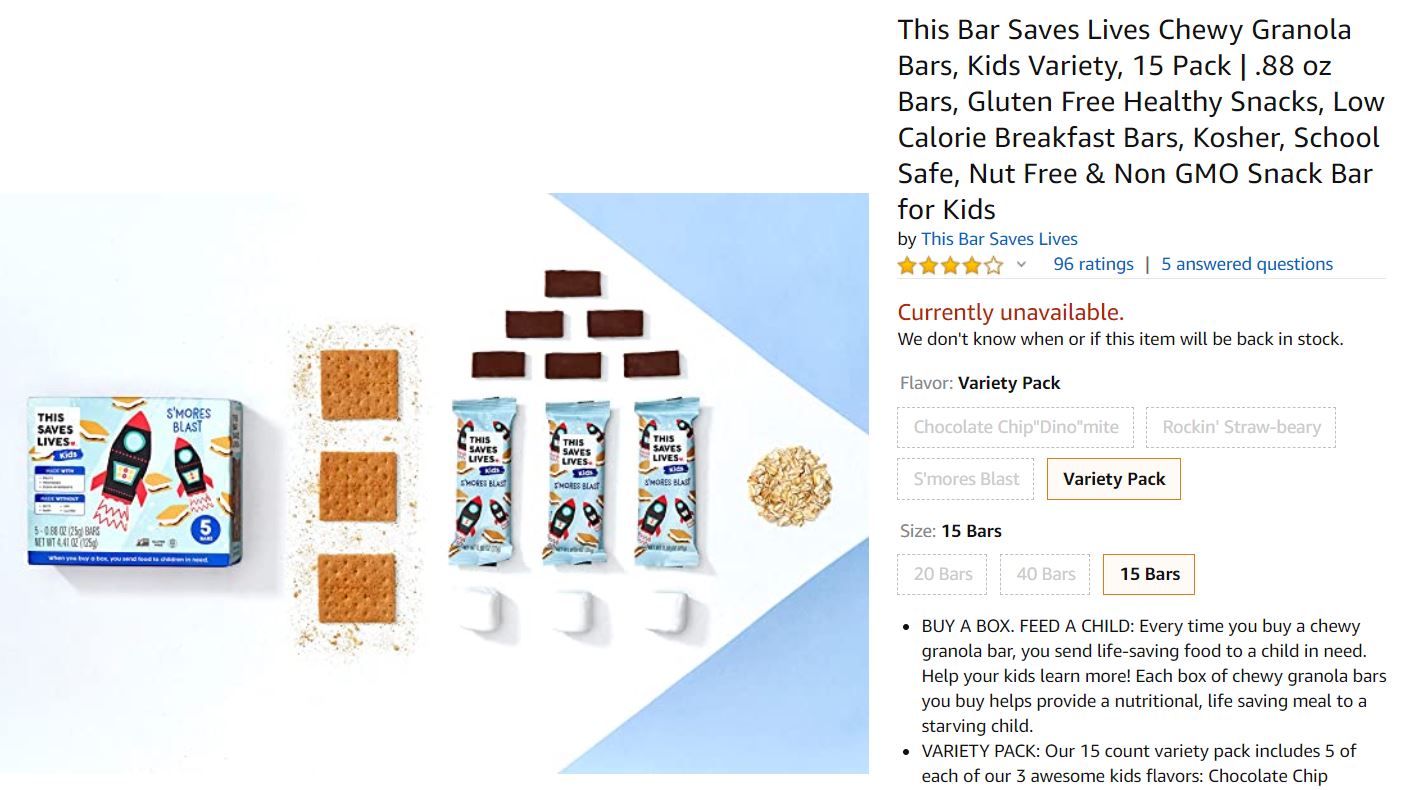 The signature white background in Amazon's product photos has become so memorable that it's been dubbed as the "Amazon effect". A white backdrop directs the focus to the items sold.  However, planning and experimentation on lighting and styling are crucial to make the photos look sharp and clear. 
Take a look at this product photo of the Samsung UHD TV. Shoppers can place their cursor on the photo to get a closer look at the screen's quality. This lets consumers make informed decisions on products that they plan to purchase.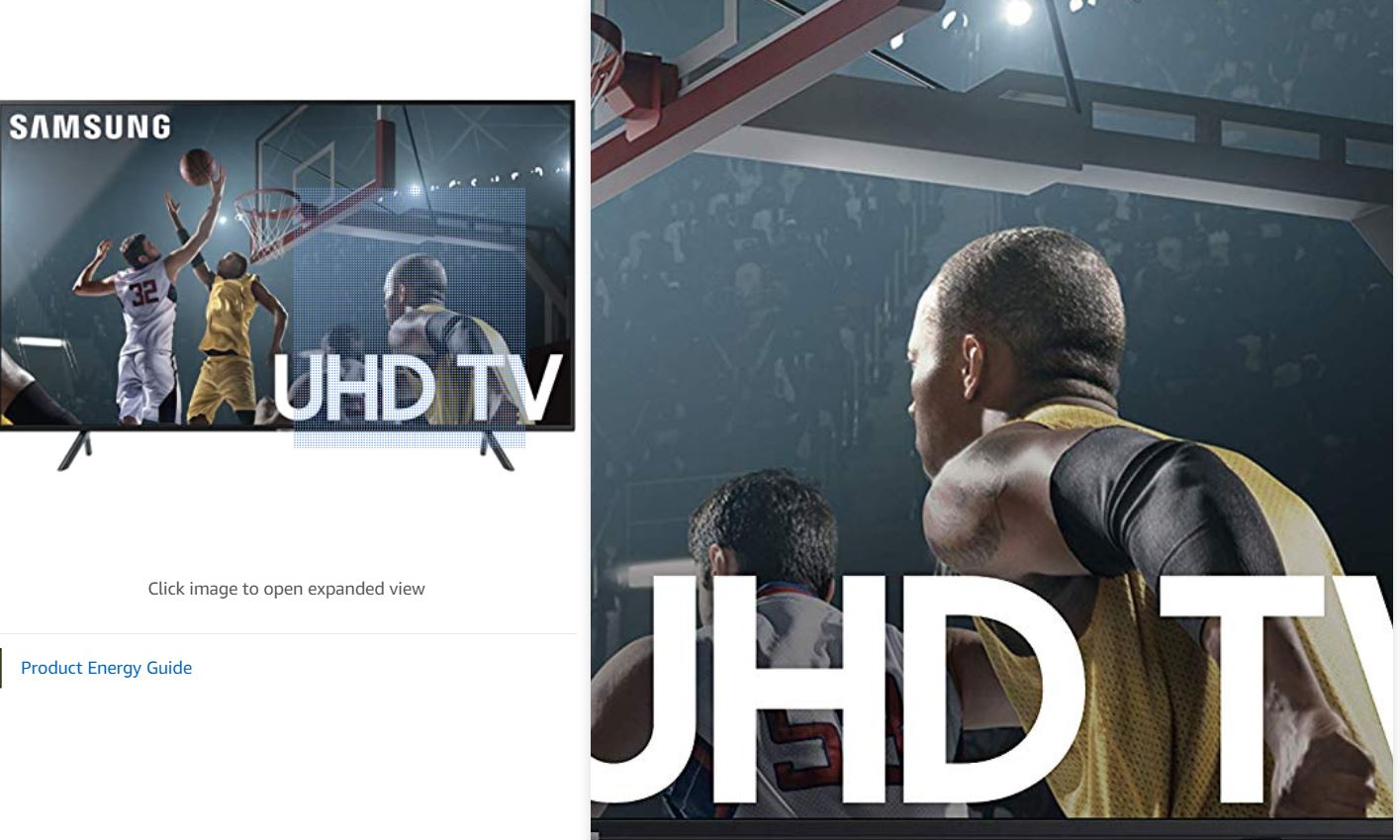 4. Create Urgency 
Customers who act fast are ideal for many ecommerce businesses. But how do you create a sense of urgency and get customers moving along the sales funnel? 
Amazon lets customers know when stocks are running out for a specific item. 
In the image below, the reminder "Only 20 left in stock – order soon" reminds customers to act fast. The lesser stocks there are, the greater the urgency. They also include the date and time that they'll receive the item if they buy it within 23 hours.
The limited stocks and limited time leads shoppers to assume that the product is valuable. And since the item includes a 25% off discount, shoppers rush to grab the deal. Otherwise, they'll miss out on this compelling offer.  
If stocks don't make it, shoppers may still add the item to their wishlist. They'll eagerly wait for stocks to be available. 
5. Upsell best selling products 
There are a lot of tactics for upselling products. But what are the most effective products to upsell?
Upselling does not just involve offering a complimentary product. It should involve deals that are beneficial to customers. 
For example, Samsung could upsell a television with higher resolution at a slightly higher price. Some customers won't mind spending a few more bucks on a premium product with improved features! 
That said, here are some tips for choosing products to upsell:
Products with high star ratings – Customers are attracted to products with higher ratings. In fact, 87% of American customers want a business to have a minimum star rating of three or higher (out of five) before they are encouraged to make a purchase. A star rating is a form of social proof that ensures customers will be satisfied.
Avoid unpopular products – The recommendations section isn't the best place to upsell products that are not popular. It won't encourage customers to place an additional item in their shopping cart. 
Best Selling products – Your bestsellers are tried and tested items that people love based on sales. Hence, incite shoppers' curiosity by featuring a best selling item that will surely boost their interest. 
Amazon has a bestselling page that features the top three items based on sales in categories like toys, electronics, camera and video games. 
The high number of reviews and star ratings trigger a shoppers' curiosity. Not every product can satisfy thousands of customers, so they check out items with the highest customer satisfaction.
If you're buying a gift for family and friends, the bestsellers' page can provide insights on the best products to purchase. 
6. Upsell via subscription 
You don't have to upsell a bestselling product every time. 
A subscription model ensures that your business will get regular sales and boost customer retention. Some companies have made this transition through offering subscription boxes.  
In fact, more than half of online customers surveyed (54%) said they signed up for a subscription box service. The appeal lies in the unique experience and convenient delivery that it offers. 
Amazon offers subscription boxes for beauty products, food, lifestyle products and toys. They also feature deals for Prime members opting to buy their first box.

The company also upsells faster and more convenient experiences for customers through Amazon Prime. Subscribers can enjoy fast shipping options such as two-day delivery, same-day and 2-hour delivery.
Other perks of Amazon Prime include exclusive deals, eligible items, grocery deals, access to Amazon Original films and free games. 
7. Offer discounted prices 
You can use flowery words to upsell an item, but there's nothing more convincing than numbers. 
Share how much users will save by buying their products. If there's a 50% off discount, show the original price and the current discounted price. Of course, customers love the feeling of getting an item for a lesser price because they love to score bargains.
The data also proves that coupons and deals are expected to boost an ecommerce store's profits. BIA/Kelsey suggests that small businesses estimate 17.7 percent of their total business in the next 12 months will be a byproduct of promotions like discounts, deals and coupons. 
Amazon has a "Deal Of The Day" page that features the best bargains which are organised based on their popularity. The sale price is highlighted in red and the original price is slashed at the bottom.
For example, their top deal is a Samsung Galaxy Note 9 at 40% off. Customers can save $400+ by checking out the current models. A small countdown timer is placed on each product to incite action because it's available for a limited time only.
In addition, the star rating and high number of product reviews boosts the item's credibility. If customers are unfamiliar with a product such as the Vitamix Blender, they'll try it out thanks to the 4.5 star ratings and 1920 user reviews. 
8. Offer freebies 
The idea of providing a free product seems intimidating for businesses. 
After all, you need to make money and sell your products, not give them away for free. You're running a business instead of a charitable organization. 
Surprisingly, freebies are a worthwhile investment. Offering a free sample leads to sales increasing from 600% to 2,000%.
Freebies can even be used to do the following:
Introduce the product to potential customers. 
Boost loyalty, repeat purchases and retention among existing customers. 
Increase shopper's knowledge about your products. 
While these are positive benefits, they still require an initial investment. You need funds to give freebies and marketing material that will lead customers down the sales funnel. 
To upsell their subscriptions, Amazon provides a 30-day free trial. Amazon Prime has a 30-day free trial where customers can watch award winning shows, free games, free songs and fast deliveries.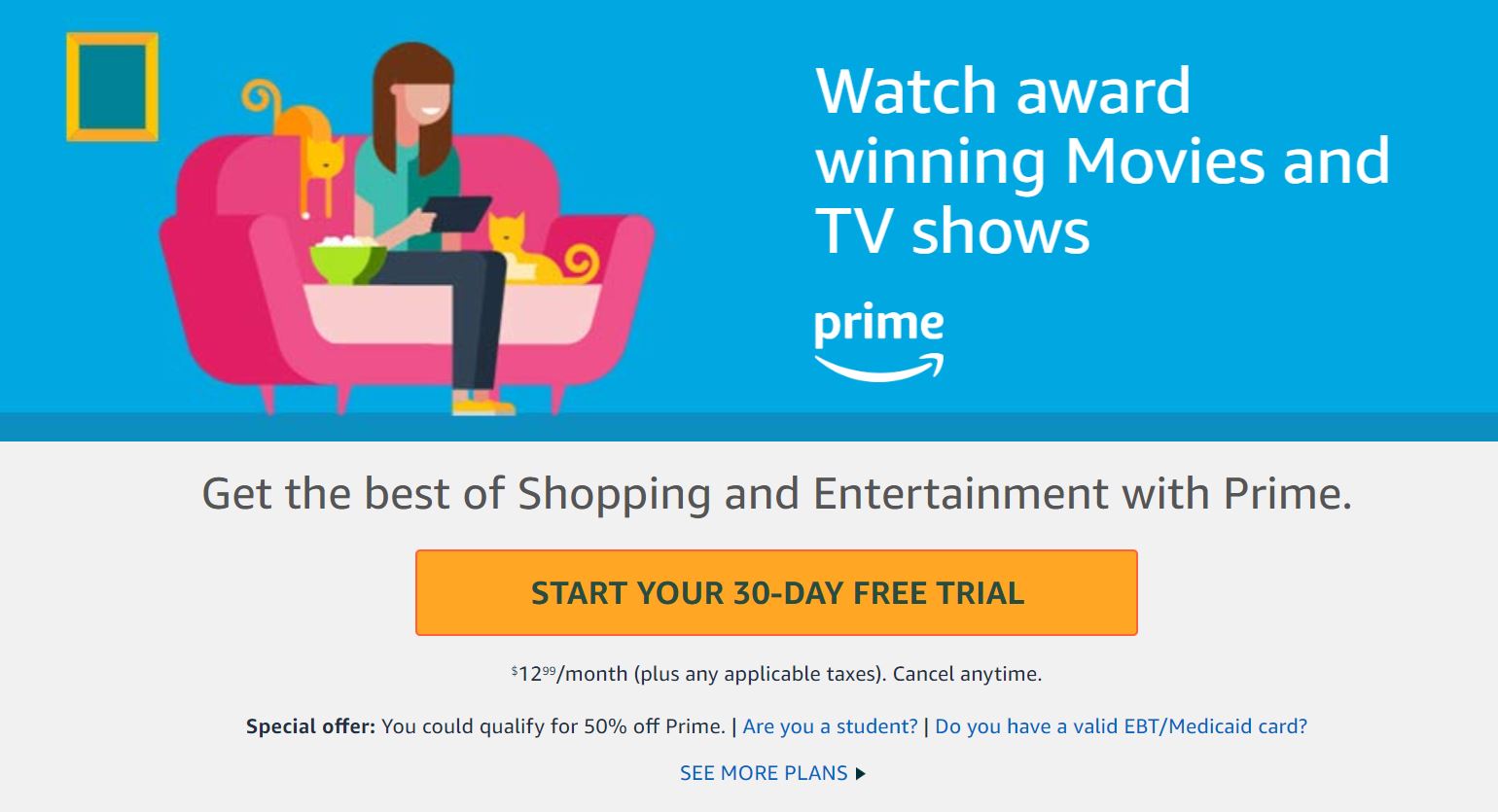 Amazon's Kindle also encourages customers to opt for their Kindle Unlimited deals. Customers can opt for Kindle Unlimited to get a 30-day free trial to enjoy unlimited books or audiobooks on multiple devices.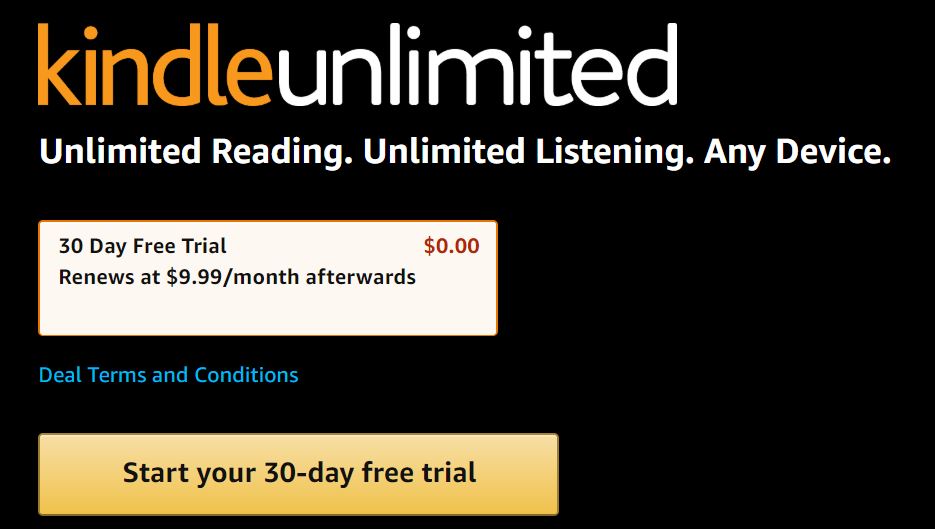 Amazon also offers cheap reads and low priced reading options. Some books are available for free for a limited time. This encourages bookworms to try their Kindle services and access more than 1 million titles.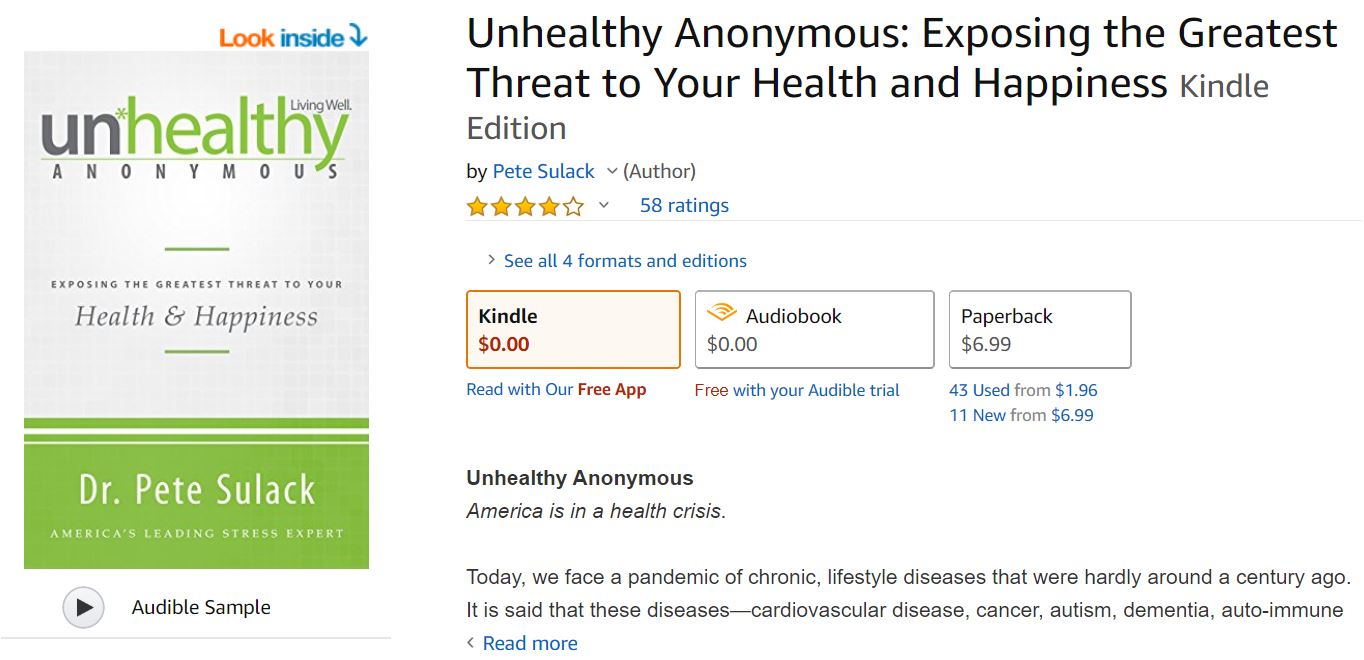 These free trials and free samples become an actual purchase because of the rule of reciprocity. When customers get a free sample, they are urged to give back. They may feel compelled to purchase the product or another item in the store in exchange for the free product or service. So, consider leveraging freebies in your ecommerce stores and successfully reap the benefits. 
9. Use color psychology 
According to Printful, customers make a snap  judgement about a product within 90 seconds. This is more crucial in ecommerce stores where shoppers don't have physical access to a product. So, 90% of a shopper's judgement is based entirely on color.
Having said that, the color scheme for upsells works in Amazon's favor. 
The product description has a blue text. Behavioural economists believe that people are likely to click blue links because it is associated with trust. It gives shoppers the confidence to purchase from an online store.
The price stands out thanks to the red text color. This is associated with courage and willpower which may indirectly lead influence customers to place an order. 
In contrast, choosing the wrong color can have dire consequences. While Amazon has established a design that works for them, you should look at color theory to understand how to make people's visual tendencies work in your businesses' favour. 
10. Upgrade suggestions
Amazon has hundreds of product listings on their website so how can you find the best product that will match your needs?
Once you've pinpointed an item, you can view the "save or upgrade with a similar product" section to view slightly cheaper or more expensive upgrade options. You don't have to hunt for identical product listings on ASUS' page because the site does it for you.
For expensive tech such as monitors, Amazon also suggests a 3 to 4 year warranty for an affordable price. They also recommend adding products that may grab your interest.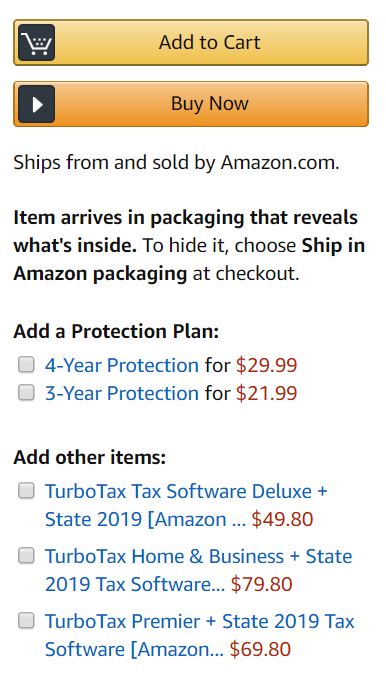 11. Compare editions 
Tech gadgets may have different editions per product. 
Some phones offer a 64GB storage or a 32GB storage. To help readers make an informed decision, Amazon has comparison tables that lists important information like price, ratings, display, resolution, storage, CPU, RAM and more. This provides you with an opportunity to upsell slightly pricier models with improved features. 
Here's a comparison table for the Amazon Fire tablets: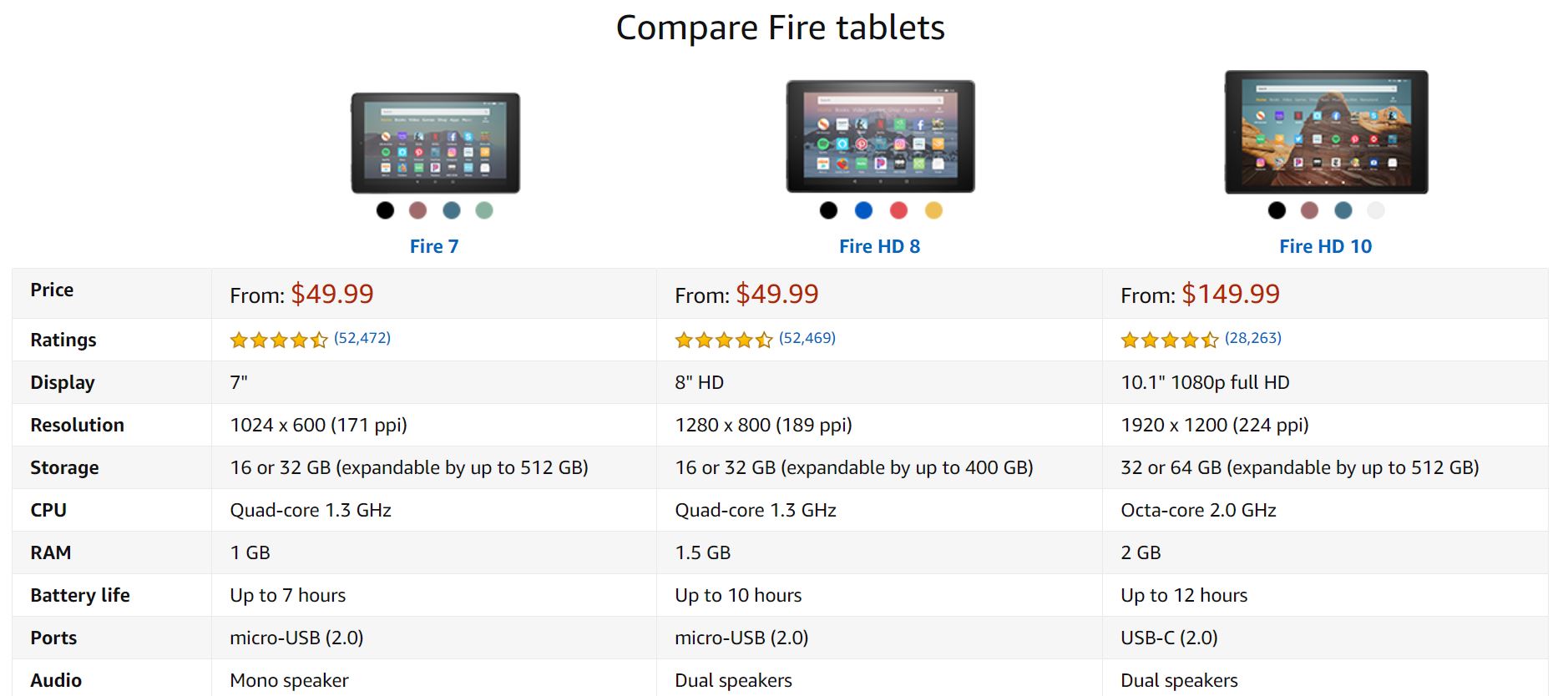 The comparison table lets Amazon upsell Fire HD 8 which has the same price and more RAM. Meanwhile, customers that have cash to spare can opt for Fire HD 10 which has advanced features like a higher resolution, improved display and more battery life. 
A comparison table lets shoppers know the full range of editions of the product. This helps consumers make informed purchasing decisions.
12. Enable Q&A's 
The ability to ask customers questions is an important part of business. 
In traditional brick and mortar stores, customers could easily communicate with staff to get their questions answered. After all, customers want to iron out the details to ensure your money is well-spent. In fact, 69% of smartphone users stated that they were more likely to buy from businesses with mobile apps or sites that can answer their questions. 
While technology has led to the transition to messaging apps and live chat, Amazon has implemented an easy solution to the Q&A dilemma. Their product pages have a Q&A section where customers can ask questions. The queries are arranged in terms of relevancy which is determined by the number of upvotes that it gets from consumers.
Customers can easily browse product questions to find the answers they need. In some cases, this may be a lot faster than waiting for customer service staff to entertain you.  
How will you upsell your products?
Let's recap. 
Here are some of the upsell persuasion tactics that you can borrow from Amazon:
Use personalised product recommendations
Create product bundles
Get product photos right
Create urgency
Upsell best selling products 
Upsell products via subscriptions
Offer freebies
Use color psychology
Compare editions
Enable Q&A's
Upgrade suggestions
How to Use Video to Get More Conversions
Amazon has reached the top of the ecommerce industry thanks to persuasive upselling tactics. The sight of personalized recommendations and bundles make them consider adding more items in the cart to boost their conversion rates. 
5 Steps To Shoot Perfect Christmas Themed Product Photos
Through discounted prices, freebies and recommended bestsellers, shoppers end up considering more purchases. Make sure to upload high-quality product photos that accurately portray what viewers can expect. Since online shoppers don't have access to the physical product, they'll rely on photos and product descriptions for assessments. 
What are some persuasive tactics for upselling products? Let us know in the comments below.