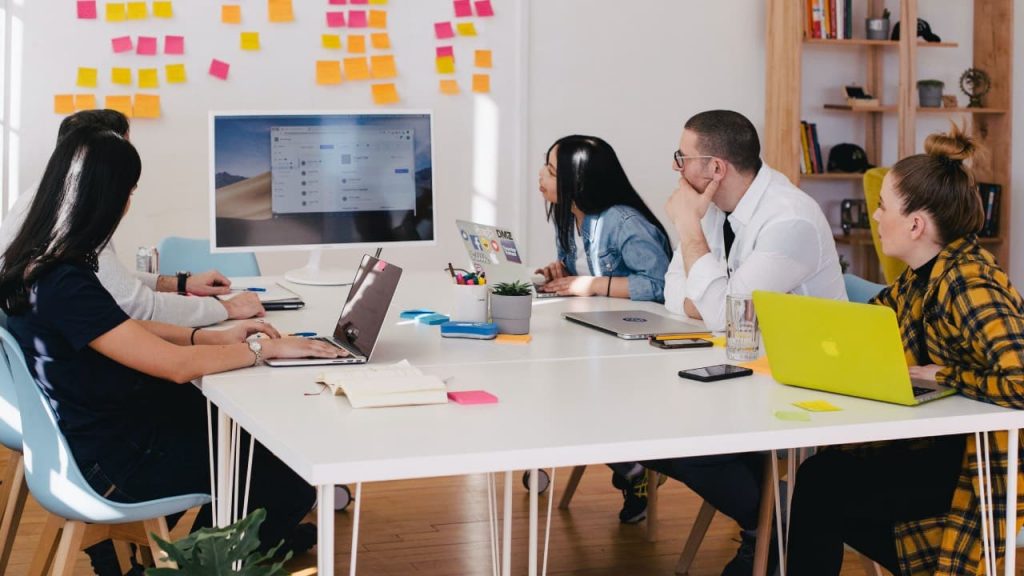 96 percent of B2B marketers or 96% of B2B marketers say that account-based marketing (ABM) is critical to their success. Undoubtedly, a solid account-based marketing campaign created plenty of raves in the B2B world.
Unlike B2C companies with millions of customers, B2B companies have a smaller customer base. Still, every client could be worth thousands or even millions of dollars. So, it's vital to build the right offers before, during, and after a sales transaction. 
With ABM, you can close more sales and get more value from the sales cycle. This post will walk you through everything you need to know about how businesses can use account-based marketing to their advantage. 
Let's dig right in. 
What is Account-Based Marketing? 
Account-based marketing, or ABM for short, is personalized campaigns that address particular accounts and buyer personas. These accounts aim to come up with high profit potential or strategic importance. Usually, you're not measuring the mass of potential customers you can gain, but only a part of specific accounts. 
Although both inbound and outbound marketing is under the marketing department, ABM is between marketing and sales. The goal is knowing what these accounts are, according to a specific and well-defined criterion, and providing relevant content. 
The goal is to promote the buyer's journey of the company using the correct information. Although account-based marketing starts in the awareness phase or before, accounts can also be relevant during the consideration and decision phase. 
Advantages of Account-Based Marketing
Having a highly targeted approach in ABM provides numerous benefits for inbound and outbound marketing. 
Here are some of its advantages:
Personalized, targeted engagement. Personalized content converts better in email marketing and other channels. Since ABM campaigns are tailored to the needs and characteristics of the target and the organization, the probability of success is usually very high. Customer experience is also better because of these personalized campaigns. This leads to a high return on investment via personalization. 
Use of resources efficiently. Avoid putting efforts into "bad" leads that are unlikely to convert.
Smaller target groups also provide a targeted evaluation and optimization of campaigns. That's because KPIs aren't calculated or viewed randomly. However, they can be explicitly evaluated for every account. A more personal approach also makes it possible to create long-term relationships and boost customer loyalty. 
However, ABM can be less suitable for smaller companies aiming to build reach. A target group is also vital, and ABM targets bigger companies as customers. 
Moreover, the expected turnover should also justify the expense of ABM. Business models that provide lower profits per customer are better off with traditional outbound marketing. 
The Importance of ABM in B2B
Account Based Marketing has evolved from a sleek, cutting-edge approach to a highly popular and trusted strategy. In fact, many marketers have realized its importance and started using it. 
In a study conducted by Oracle and Argyle in B2B marketers, 48% of the respondents think that ABM is a highly effective tool and marketing strategy businesses can use. 
Aside from that, 52% of the respondents say that this strategy works hand in hand with numerous marketing activities and resources of an organization. Since this strategy only focuses on key accounts, you can make your marketing campaigns more personalized and targeted. 
Doing so enhances your conversion rate and boost your abm marketing campaigns in the long run. 
Benefits of ABM for B2B 
Here are some of the benefits that having a solid account-based marketing strategy can help B2B businesses: 
1. Marketing and Sales Alignment
82% of B2B marketers say that ABM has significantly enhanced sales and marketing alignment. The thing is, in most companies, sales and marketing teams don't get along very well. Any disputes from sales and marketing teams could hurt your efforts to achieve growth and success. In the long run, this also leads to missed leads and opportunities. 
Are you looking for tested and proven ways to boost your B2B sales? Well, ABM syncs your sales and marketing teams working together, hand in hand, to come up with account plans. The cross-team collaboration eventually leads to better and more open communication. When both teams work hand in hand, your ABM activities support each other. 
2. Provide Relevant Messaging For Better Competitive Advantage
Because ABM requires you to do extensive research on your customer, teams have a lot of business knowledge. In today's highly competitive marketplace, customers expect more relevant offers.
It means a company that utilizes account-based marketing has a more relevant messaging and better competitive advantage. When you adopt an ABM strategy for your business, you can reach out to your customers in their preferred channel or approach. This means you're committing a relationship to an account and a level of intimacy often not gained in traditional marketing. 
When you implement an ABM approach, competitors will have difficulty getting and keeping your target audience's attention. 
3. It Helps You Enter New Markets
Thinking of launching a new product or even expanding your offerings? Developing that market is instead a huge endeavor. 
Many B2B marketing and sales teams utilized an account-based marketing strategy to penetrate new markets. However, looking for the right contracts from the right companies in a new market can be challenging, especially if these teams don't have access to the type of information to help them come up with data-driven decisions on who to target in their ABM campaigns. 
Let's say that you're selling a high-end software solution. Rather than taking up the blanket approach of pursuing small businesses and enterprises, you can target accounts that have the highest need and budget. You can easily penetrate new markets and convert these accounts through the combined efforts and resources of your sales and marketing teams. 
4. Generate More B2B Leads
Since ABM allows you to take a more specific approach, you must study the accounts you're targeting carefully. Doing so makes it easy for marketers to plan marketing activities. 
ABM also allows you to create lead-generation strategies to tailor marketing campaigns for high-value accounts. By focusing on quality outreach, ABM allows you to create a set of consistent activities that improve relationship building, not just in the short term but in the long term. 
5. Create Better Content for Campaigns
As you expand your business, you want to reach as many people as possible, with as much content, and in the shortest possible time. However, this type of approach eventually leads to a waste of resources and time. 
High-value content is content relevant to your target demographic. An ABM strategy now allows you to define specific targets and offer personalized content. 
You can create thorough, personalized content by knowing your accounts and stakeholders. Also, developing an ICP or Ideal Customer Profile allows you to recognize and segment your most valuable accounts and even target newer ones. 
A good ABM strategy also helps you create content that inspires action. ABM isn't just about crafting content based on the needs and goals and your prospects and customers. At the end of the day, it's all about driving those prospects into action. 
So, whether you're creating content for your email and social media platforms to drive engagement, you must make sure you have a clear call to action. Having a clear CTA lets your customers know the next steps to take in buying your products. 
6. Quicker Sales Process
The final decision process usually involves several parties and can slow down your regular sales and marketing processes. Fortunately, account-based marketing allows you to harness this. 
It's unique because it allows you to nurture key decision-makers and relevant prospects. This, in turn, streamlines and accelerates the entire sales process. 
7. Allows You to Create Data-Driven Decisions
Account-based marketing has many advantages, including enhanced communication between your sales and marketing teams. As you can see, marketing is usually a numbers game. However, your sales team might feel that they only want a couple of qualified leads that they want to close. 
By knowing how vital B2B stakeholders are, ABM will provide you with a framework for your sales and marketing teams. This allows you to decrease the sales cycle and optimize upselling and cross-selling possibilities. 
8. Cost-Efficiency
Directly marketing to accounts that your company has identified can be highly cost-effective in the long run. From a financial standpoint, ABM makes a lot of sense because companies know who their ideal prospects are going to be. 
In other words, ABM allows you to focus your marketing efforts on important accounts to maximize revenue. Because of this highly focused approach, you can better use your most essential resources: the time and effort you put in and your money. 
9. Create Customer Journey Maps
In a nutshell, this is a visual representation of customers' interaction with your brand. It shows how customers are moving through the different stages of their relationship with you and gives you insight into what they need to move to the next stage. 
By creating a customer journey map, you can identify gaps in where your customers are and where they want to be. By doing so, you can make more relevant content and products that meet their needs. 
10. Come Up With Personas Based on Behavioral Data
One of the best ways to know your best-fit accounts is to develop customer personas based on behavioral data. 
Behavioral data allows you to identify specific characteristics of your best customers and create buyer personas. You can develop lead-scoring models based on persona attributes and account behavior. That way, it's easier for you to predict the best outcomes in your sales funnel. 
Doing so also allows you to develop detailed profiles for every persona based on what they do or don't do. This enables you to understand better where they are in the buying process and the challenges they face as they move from one stage to the next. 
Who Should Be Using ABM?
Again, ABM's a highly targeted and detailed approach that doesn't leave out any loopholes. This needs enough time and resource distribution.
Thus, only some businesses out there can implement it successfully. You have to ask your team a couple of questions to get it right. Here are some things that you can ask: 
What's Our Usual Customer Base?
Do you have big accounts on your target list? Then, ABM is a perfect strategy that you can use to target them. But your focus should be more on high-volume, smaller accounts. Usually, it's not the best option if it requires a significant amount of employees and resources devoted to every account. 
How Much Customer Data Do You Have?
Ideally, it would help if you had an extensive database to execute your ABM strategy successfully. If you have target markets that are too varied or you don't have enough customer data, then ABM could be challenging to implement. 
Ways B2B Businesses Can Take Advantage of Account-Based Marketing
So now that you know the basics, here's how B2B businesses can take advantage of ABM: 
1. Pinpoint High-Value Accounts
Usually, account-based marketing takes away the uncertainty. Since you're targeting your current customers, you know that you can give them value and create relevant offers. 
This starts as soon as you implement account-based marketing since it's one of the first steps to identifying customers with the most value. Maybe they bought a lot from you previously. Or they have expressed an interest in your upcoming products. It could also be that they're loyal brand advocates.
2. Make Your Target Account List
Eventually, your sales and marketing teams will need to have some consensus on key stakeholders. One of the first steps is to identify those who can influence making the final decision. Usually, there are committee members that you need to engage, persuading them to take action. 
It's also worth noting that individual contracts hold more weight in the context of the whole account. You have to know the needs and concerns of every buying committee member. The primary goal when engaging every stakeholder is driving a consensus in ultimately making a purchasing decision. 
3. Create Personalized Content to Drive Engagement
Another important ABM strategy for B2B companies is creating content that inspires action. ABM isn't just about coming up with content based on the specific needs of your customers and prospects. It also comes down to driving them to take action. 
Whether you're crafting personalized content via email or social media platforms to drive engagement, you have to ensure that you have a clear call to action. Having a clear call to action (CTA) from the get-go lets your customers know what next steps to take in buying your product. Want to know more about how you can boost your conversions through content? Check out the four ways for you to get started here. 
4. Execute the Campaign Through Channels or Touchpoints
Account-based marketing is effective since it lets you engage best-fit accounts instead of waiting for qualified leads to come to you. What channels will you be using to reach these accounts? 
Here are some of the things that you can use in your ABM campaigns: 
Email 
Direct Mail
Social media
Website
Video
Search engine ads
Display ads
Infographics
Webinars
Virtual events
Ebooks
Whitepapers
When you've chosen your crucial account marketing channels, the next step is to develop targeted content that resonates well with your audience. You can come up with marketing assets for different personas of your buyers, the size of the company, deal sizes, verticals, and sales cycle stages. 
In the same way, you can even get more personal by coming up with one-to-one messaging for every account. 
5. Measure Your Campaign Success
In the same way, you can achieve success via your campaigns. It would help to evaluate where the account is in the funnel and how this changes the course of your account-based marketing. 
Do you get better conversions? Do you have to track how long sales take to generate through various accounts? How do you come up with these numbers? What is the closing amount, and does it align with your planning? Make sure that you monitor the appropriate KPIs and, as much as you can, adjust your campaign accordingly.
Over to You
So there you have it. Account-based marketing allows you to tap into the right tools and technologies that help address key issues most B2B marketers or businesses might encounter when connecting with potential customers- from marketing and sales alignment to personalization. 
We also hope you now have a solid grasp of ABM, why it works so well, and how you can adequately implement these tactics in your business, driving success. 
It's also worth noting that, in many ways, B2B companies are one of the best places to implement ABM marketing. That's because B2B customers are hardly one-time customers. Meaning their revenue can generate thousands, even millions, yearly. 
Aside from that, ABM can bring in more revenue from these types of customers if you can give them the kind of experience they want. So, follow these tips, and you'll be well on your way to success.