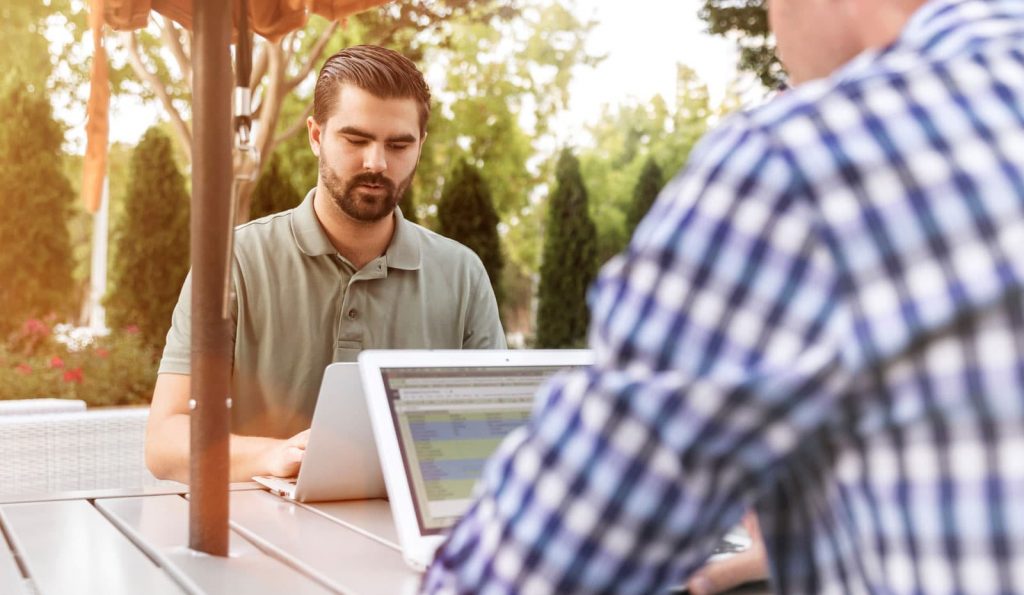 The great thing about LinkedIn is that it's geared towards professionals and people who own and run businesses. However, this also makes marketing yourself or your organization on LinkedIn a bit more complicated. 
Tips to improve social media and digital marketing strategies
Whether you are promoting an event or your company's fresh new timesheet app, what works on other social media platforms won't necessarily work on LinkedIn. For example, "influencers" on LinkedIn don't have the same clout that they have on Instagram. 
Sponsored posts, which are commonplace on Facebook, don't yield the same results when transplanted to LinkedIn. 
This doesn't automatically mean that LinkedIn marketing is an exercise in futility. In fact, because of its primarily B2B nature, LinkedIn can potentially give you twice or thrice the reach and effectiveness of other social media platforms. 
You just need to know what to do and how to do it properly. Here are some LinkedIn marketing hacks that you absolutely have to start applying now. 
1. Ensure that your Business has a Consistent Presence
The first step to establishing a presence on LinkedIn is getting a custom URL. It might seem like an insignificant step, but getting a custom URL that matches your organization's name will help drive it up the search result rankings. 
This is particularly important for B2B or professional services, where you need to separate yourself and your business from others of the same name.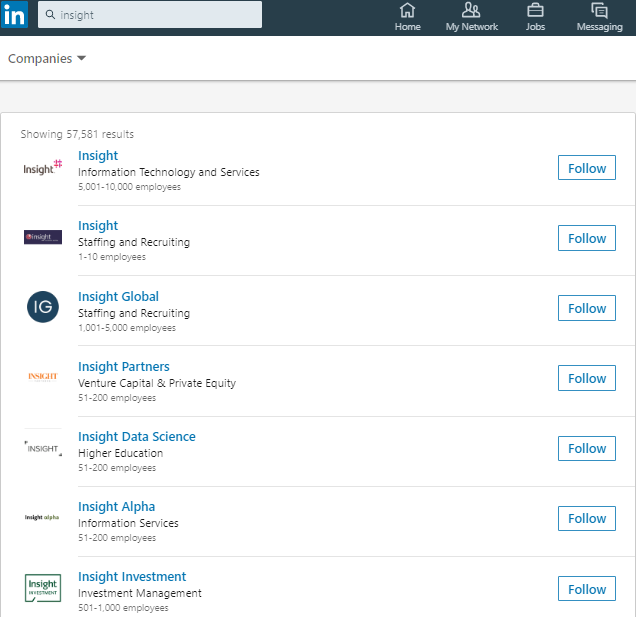 For example, the top result in the search for "insight" above has a custom URL of https://www.linkedin.com/company/insight.
Now that you have claimed your organization's identity as a custom URL, it's time to focus on your company page. It's important to make your LinkedIn content consistent with what's on your company.
This is not limited to content, either — the imagery and colors should be the same. The summary section should also match what's on the "About Us" page. 
The LinkedIn page itself should be updated regularly. LinkedIn users associate an active page with a thriving business. On the other hand, nothing turns off potential leads more than a page that was last updated in 2015. 
The keys to maintaining your organization's relevance on LinkedIn are consistency and frequency. Your messaging must be consistent, and you must post frequently. Otherwise, your followers may forget that your business exists.
2. Connect and Comment
Top 15 Ways To Market Your Products On A Social Media Platform
It's easy to dismiss LinkedIn as a sort of Instagram for professionals. You could see a lot of users bragging about the last sale they made, their new product that's coming out next month, or the latest discovery in their laboratories. 
This is enough for many LinkedIn users to keep scrolling down instead of engaging other users. 
What will make you stand out on LinkedIn, though, is establishing connections. And by this, we don't just mean clicking on the "Connect" button. If you have a list of people you'd like to connect with, and most of them are not in your network, connect with people in their network first, then engage with them. 
The odds of having your connection request being approved improve significantly if they see that you have connections in common.
Of course, the work doesn't end with getting into people's connections lists. By "connecting," we mean real, actual interactions with people. For example, if you stumble upon a post that interests you, don't just like it; leave a comment. 
Compliment the one who posted it. The comment section is where a lot of action takes place. One comment may just be the start of a long, fruitful discussion.
Connecting and commenting have the potential to drive business your way, or to open the doors to new professional opportunities for you and your network. 
3. Post Content that Everyone can Relate to
Just because LinkedIn is a professional network doesn't mean you can treat it like a dump for your jargon-heavy content. If you want engagement, you need to post content that people can understand. Readability counts a lot when you want to gain shares, likes, and comments. 
Let's face it — if you post an article about marketing that uses a lot of marketing terms, it will only reach people who work in marketing. 
Sometimes, even marketing professionals won't touch that kind of content. So don't be that person who always tries to impress others. Other professionals can see right through the jargon and will not hesitate to call you out for it.
6 Essential Tips to Enhance Your Business Writing Skills
It's also worth keeping in mind that many people use LinkedIn at work, as an "acceptable" distraction. As such, it's better to use a light and accessible tone. LinkedIn is different from other business writing.
Instead, post content that even your parents could comment on. Talk about a typical day at work. If you own a business, tell how you started it, why you decided to start it, and the difficulties you encountered while running it.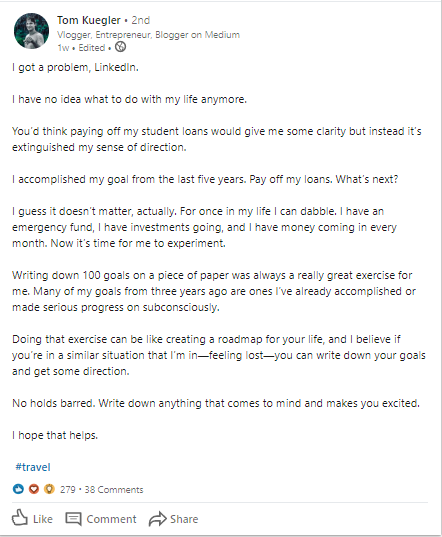 Your content doesn't have to be purely business-related. It could deal with anything, from the behavior of online trolls, the difference between airline classes, or humorous incidents you've been involved in while managing a project.
A touch of humor is always welcome as long as it doesn't offend anyone's sensibilities.
You can also search LinkedIn for the top trending stories of the day. If a trending topic is something you really have an opinion about, by all means, write something intelligent about it. 
Just remember not to make it all about yourself, and by no means should you turn it into something that sells a product. 
To sum it all up: post content that is both relevant and relatable. The simpler your writing is, the more people will read and share it.
4. Give your Organization a Human Face
Your organization is more than just the sum of its parts. Your employees are people, too, with opinions, experiences, and stories of their own. 
If they already have LinkedIn profiles, make sure that their photos are work-appropriate. Their job history should also describe what they do within your business, and their professional connections should  be relevant. 
If your employees don't have their own LinkedIn profiles, encourage them to create one. You can sponsor a LinkedIn day where you can have a professional photographer take profile photos. Your HR staff can help your employees set up their LinkedIn accounts. 
This can help your employees post photos, self-summaries, and work experience using a standard and consistent format.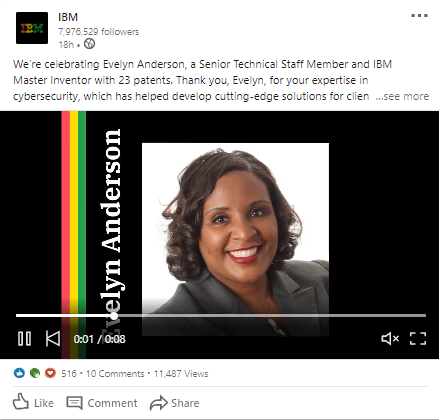 Once your employees are on LinkedIn, feel free to feature them on your posts. Post a short interview accompanied by a graphic that shows their face and a brief quotation. 
Trust us, your employees will appreciate the feature and share it with their own networks, giving your company account exposure to a diverse set of people. 
Your employees are not just people who happen to work for you. Their stories are also part of your company's story. Let them tell their stories and give your business some semblance of humanity.
5. Be Active in Groups
If LinkedIn is one of the main channels you've picked as part of your business development strategy, one great way to reach their target demographic is to join relevant business LinkedIn Groups. This is an excellent opportunity to know what your potential audience is talking about.
It's also a chance for you to interact with other business owners, offer business advice, and find people who are looking for jobs.
In addition to posting and commenting on posts, LinkedIn Groups lets you message other group members even if you aren't connected yet. To understand its importance, you should know that Linked InMail, the proprietary messaging platform used by LinkedIn, charges $10 per message. 
Messaging other group members is free and could lead to your next lead or new hire. 
You can also create your own group where you can moderate the content. Join as many groups as LinkedIn will allow, then look for potential group members on the Members page. You can filter the search results according to job titles or experience then invite them to join the group you've created. 
Creating your own group lets you do two things.
First, it lets you curate your content and ensure that you deliver information to people who matter. You get to demonstrate your expertise, gain valuable insight from members' comments, and amplify your message.  
Second, you can control the flow of information. You can set the group to private. If you're really paranoid about sharing information, you may choose to invite only those who don't work for competitors. 
Be careful not to post direct sales pitches or spam. It's the best way to make people leave the group. Just post relevant content, and you'll be fine.
LinkedIn Marketing – Connect and then Build Relationships
At its worst, LinkedIn is just another social media network where you can find people who brag about their achievements. 
At its best, LinkedIn is a gold mine for new business and job opportunities. It doesn't matter if you're a business owner, recruiter, rank-and-file employee, C-suite executive, or a graduate fresh out of university. 
Making the right connections and turning them into relationships will help you achieve your goals. 
LinkedIn marketing is one of the best platforms for growing your professional networks, finding new business, and establishing thought leadership in your sphere. 
Using these LinkedIn marketing tips will be very valuable in building your personal brand and that of your business.