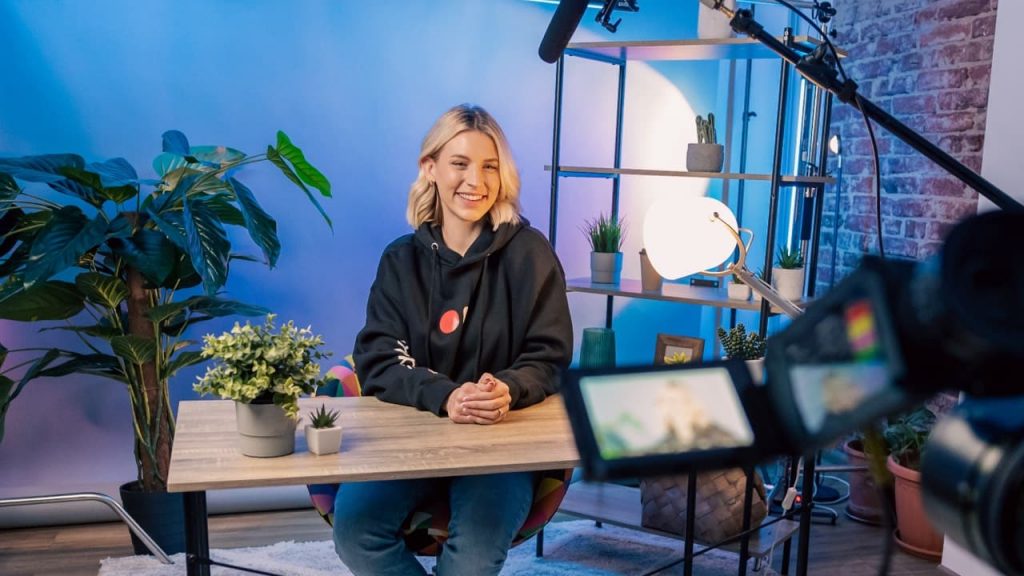 SaaS industries have seen exponential growth. For a while now, the SaaS marketing space has become overcrowded. Not only that, but also SaaS marketing sports some of the most interesting digital marketing campaigns, making the need to stand out even more pressing.
The vast majority of consumers purchase from a brand they recognize and trust, as the statistic above shows. However, there are more than a few technical difficulties when creating your brand's identity. Most of those difficulties stem from the fact that sometimes SaaS marketers need to be made aware of how their audiences would like to interact with them.
A SaaS brand identity – and SaaS branding as a whole – is something a little more complicated than having a "build it and they will come" attitude. Of course, you'll need a product that's more up the industry's alley and could cover a real need, but then, you'll need something that makes you stand out as well.
And what is better for standing out than crafting a unique story that will boost your audience's interactions and help you become a household name? A good story can transform a SaaS product – which is something that could become pretty boring pretty fast – into a much-needed everyday tool.
SaaS Branding: Definition and Benefits
As a Saas brand, you know what you've got to offer to your audience, and prospects already know what they'll be looking for in any SaaS brand – including yours. However, this is not enough for you to stand out.
Many marketers are too concerned with numbers and trending keywords. And while both these elements are an integral part of a SaaS marketing plan, branding is what will make your efforts stand out and make you an authority against your competitors.
Creating a strong brand will help you provide solutions for your customers' pain points – even those they didn't know they had. After all, your SaaS product is there to resolve a real problem and provide an experience through the product.
Genuine interactions, easy-to-use tools, and beautiful product pages are only some of the things SaaS branding entails that make the brand itself original. 
Branding offers elements that allow users to have an emotional response and relatable connections to the brand and identify it down the line. Meaningful connections, on the other hand, generate better Customer Lifetime Value (CLTV) and can move leads further down the SaaS funnel.
But let's get a little more specific.
As we can see in the graph above, the SaaS customer journey has some specific stages. SaaS branding can get you from the Awareness stage to the Advocacy stage in a seamless manner. Here's how:
Awareness: This is where you start telling users your story. And this story is what will help users understand what your brand is about and keep you top-of-mind. That way, you'll boost your traffic and followers on your social media platforms.
Consideration: This is where users will start thinking of your brand as one of the solutions to the problem they may be facing. For SaaS businesses, the problems may be more complex than what an eCommerce brand or a dropshipper might face. However, the general idea stays the same: You're offering a solution and a type of experience, not a product. Branding will help people consider if they want the solution you provide over the one a competitor provides.
Decision: This is the stage where you've managed to convince your audience that your product is the one that can give them the experience they're looking for. Strong SaaS branding will give better conversion down the line, as users tend to purchase from brands they can connect with.
Retention: You need repeating customers with a high CLTV to keep your SaaS brand up and running. The retention stage is all about providing solutions to the problems users might be facing with your product through your branding process. A strong brand identity equals lower churn rates.
Advocacy: It's easier for repeaters to refer your SaaS brand to their peers when your brand identity is strong and apparent through all of your marketing efforts. 
All of the above shows how valuable and relatable SaaS branding efforts can give you a competitive advantage and a better overall presence. This can boost all your efforts. You have better chances of building an email list that is impactful and creating email marketing campaigns that lead users to a purchase, or creating inbound marketing campaigns by sharing the same core values as your desired audience.
Strong branding also increases organic searches, as your audience will have your brand in mind when searching for the experiences you offer. It also lowers the PPC budget, as the efforts you're going to be making to attract leads will be mostly through brand recognition.
SaaS branding is, after all, about telling a story. Now, let's see the type of story you're going to create to attract the right crowd at the right time.
Defining Your SaaS Brand
As a SaaS marketer, entrepreneur, or solopreneur who is just building their brand, the fact that you know what your product can offer goes without saying. But do you know how to market what your product does?
Suppose you're an email marketing and marketing automation platform looking to attract users. In that case, you need to think like one of your prospects. You know what you're selling, but do your users know that your platform sports one of the most robust email template builders out there?
Selling just for the sake of selling will only do you a little good. Sure, you will have a great start at revenue, but what else is there? It would help if your brand had a purpose and asked all the right questions.
Your SaaS Brand's Purpose
Let's circle back to the email marketing and marketing automation platform's example. The functionality of a tool like that is to help brands reach their audiences easier and maintain an open dialogue between the brand and the customer.
But this tool's purpose is to redefine how a brand communicates and boost trust and loyalty between brands and users.
Understanding your SaaS brand's purpose is the first step you need to take when it comes to SaaS branding. So, define your cause. The reason you've worked so hard for your tool to come to life. Ask yourself "Why would someone trust me?"
After that, ask yourself "What is my mission in my niche?". This is where you'll need to focus after understanding your purpose. At this stage, your objectives will define how you'll interact with your preferred audience.
Your answer is right there. The goal is to find the answer that attracts the crowd you've worked so hard to entice. Don't bother with what your competitors do at that stage; just try to filter down how they interact with your audience. Study the way they connect with their prospects and break it down into bite-sized pieces. After that, take your insights and turn them into lucrative content and catchy subject lines.
So, be as consistent, clear, and authoritative as possible. Gain the users' trust. That way, your mission statement will be clear as day all through your content.
Finding Your SaaS Audience
After answering the core SaaS branding questions, you'll be all set and ready to start attracting the right audience. This is where you can start crafting your buyer persona by analyzing data.
Consult your sales and support teams, check your analytics tools, and use your social media interactions to understand the types of experiences users aim to create when using your product.
After that, analyze your data and understand what the pain points of your buyer personas are. Use all types of data you may need.
But how can you be sure that you understand your users and create accurate personas? This is no easy feat, especially when you're basing your ideal customer's "portrait" on data you've gathered using some third party or tool.
This is where you will need to become a little more creative. A questionnaire, a survey, or a social media poll can help you gather data straight out of the source and analyze them. 
Perhaps take a leaf out of Buzzfeed's book and go like this:
Customizing the newsletters users would like to receive is one way to understand your buyer personas and the category each user falls into. You can also create a loyalty program and boost it by allowing users to pick their rewards.
Don't forget that being a brand who cares about the users' experience with its product might just be the most powerful lead generation tool for any SaaS business.
Asking your users to give you the data they'd like you to know about in a non-intrusive way will help you create email marketing campaigns that matter, personas that are spot-on, and, eventually, increase your CLTV and revenue.
SaaS Branding: Name, Tone, Visuals
Your brand's identity matters quite a lot when creating your SaaS brand's marketing plan. And a clear identity starts with a recognizable and unique SaaS name.
Of course, naming your brand is a creative process, but this doesn't mean that it's just that. You need a name that will be memorable, indicative of your product, and good enough for your audience to remember you by.
Your SaaS brand's name should be easy to pronounce and memorable without being tacky or a direct nod to your competitors. You also need a name that has an available domain name.
After that, you need to decide on the tone of voice of your SaaS brand. Are you funny? Friendly? Carefree? Trustworthy? Your tone of voice is what will attract the right crowd at the end. Your tone of voice needs to be adjustable enough to fit in all social platforms you're going to frequent, be it Facebook, Twitter, or LinkedIn.
This is going to have a lot of impact on your sales, so be sure to really understand your crowd before deciding on your tone.
Your tone can shape the way your visuals work. Your name dictates your tone, and your tone dictates your visuals. A solid visual presence can make your brand memorable and help you create relatable content that users can connect with.
Make sure to have a few things down when creating your SaaS brand's visual identity:
Select the right typography for your purpose. You need to be on-brand, not just have pretty visuals.
Choose your brand's colors correctly. Are you fun, energetic, and always on the move? Pick red. Are you calm, collected, and thoughtful? Go for blue or green tones.
Create your logo. Don't be too abstract. As with the name, your logo should be something memorable.
Use your core elements on all of your visual attempts. Your videos, infographics, and reports could use your trademark colors and visuals.
Try to avoid blending in. Use your competitors' methodologies when you're creating your SaaS branding strategy, but with a twist that will make you stand out. If, for example, your competitors use pastel colors, you can use them too, but with a little something to make your brand pop.
Creating Spot-on Content
When communicating visually with your audience, you need to create content that is spot-on and relevant. You need your content to be able to elicit an emotional response from your audience, something that could make them think of you as an authority while making you memorable.
And while your visual identity and your name can go a long way, you need to create content that will be able to support all of your efforts. SaaS branding needs content to continue evolving and making a household name out of your product.
Content marketing tells your brand's story by keeping you relevant through all stages of your ideal SaaS customer's funnel. You can create ebooks for those who need more technical information, guides and videos for people who need more hands-on experience, or infographics for people who get a kick out of checking out bite-sized information.
Create content that is personal and will get users to open a dialogue with you. Be personal. Act like a human being and not like a faceless brand. Create email marketing campaigns using automation recipes to help your emails seem like a natural continuation of the user's action.
Write pieces of content that will give you the air of an authoritative brand. Have people higher up in your SaaS brand's hierarchy write blog posts, talk on podcasts, and create content that will make a difference. A CEO writing their brand's content pieces is one of the best blogging strategies for showcasing the range and depth of your SaaS brand.
However, creating spot-on content is only possible by consulting your brand's guidelines. So, ensure that the content you're creating aligns with your brand's guidelines. So, understand the subjects users want to read about, create educational content that solves questions, and point to your product indirectly. 
Whatever you do in terms of content, create a narrative that will help you stand out. That way, your brand will be one your audience can trust and work with.
SaaS Branding: What Not to Do
SaaS marketing is a field that's quite complex. But marketers can do a mighty fine job if they manage to avoid some of the most common SaaS branding mistakes.
 First of all, it would be best to take your time and reflect on your objectives and how you can use them to reach your audience. Don't rush. Doing so will force you to create a SaaS branding strategy that won't correlate with your audience. Not studying your audience is the second mistake marketers tend to make when creating their SaaS brand.
The third mistake to avoid would be to not address the audience's pain points. Getting a resource out there and having your blog noticed by a wide chunk of your target audience is what marketing can help you with, but overfocusing your efforts on blog posts and infographics about your products and not about the experiences those products provide won't do you any favors.
The last mistake SaaS marketers sometimes fall for is that they don't align team efforts and rely heavily on buzzwords. The whole point of marketing is to attract customers who need something different. Of course, this doesn't mean that you should skip keyword research and SEO efforts. But basing your SaaS branding on keywords alone won't help you create a trustworthy, authoritative brand down the line.
The Takeaway
Strong branding efforts will make your SaaS brand shine in the most crowded niche. And even if you don't have the data at first, you can always understand your audience by communicating with them directly.
Technology, after all, is a niche where efforts continuously evolve, and having all of the resources in the world is something that could make or break your efforts. Do your research, attract the right crowd and make sure your content and visuals are all directly correlated with your niche and can speak to your audience like it's nobody's business.