The credibility of your website and the conversion rates you consistently see are intricately connected. If your visitors find your website untrustworthy, if they question your expertise and don't find you either a credible source of information or a credible provider of goods or services, they are unlikely to convert.
While there are numerous ways to boost that credibility, not every tactic will work for every brand. It will come down to what your audience expects to see in your niche and industry and how well you're able to communicate your message to them. 
Let's take a look at eight ways to boost your credibility and increase your conversion rates. 
Prove It with a Resume
One of the best ways to demonstrate your credibility and expertise is to use cold, hard facts to prove to your customers that you know what you're doing. 
By sprinkling relevant information across your pages, you can effortlessly establish yourself as a brand people want to do business with. Use relevant, impactful terms on your homepage and on your product pages. List your references and relevant experiences on your about page. Make sure each member of your staff is represented and that you actually say why someone would want to work with them. 
You'll notice most brands just slap on some general terms and say something witty about each of their team members. While trying to make everyone sound relatable is okay, you also want to show they are great at what they do. 
Take a look at this post on the best mattresses without fiberglass. It was reviewed by an orthopedic surgeon and written by a sleep expert who has worked as a physical trainer. The resumes of these two people instantly make the article itself more relevant and valuable.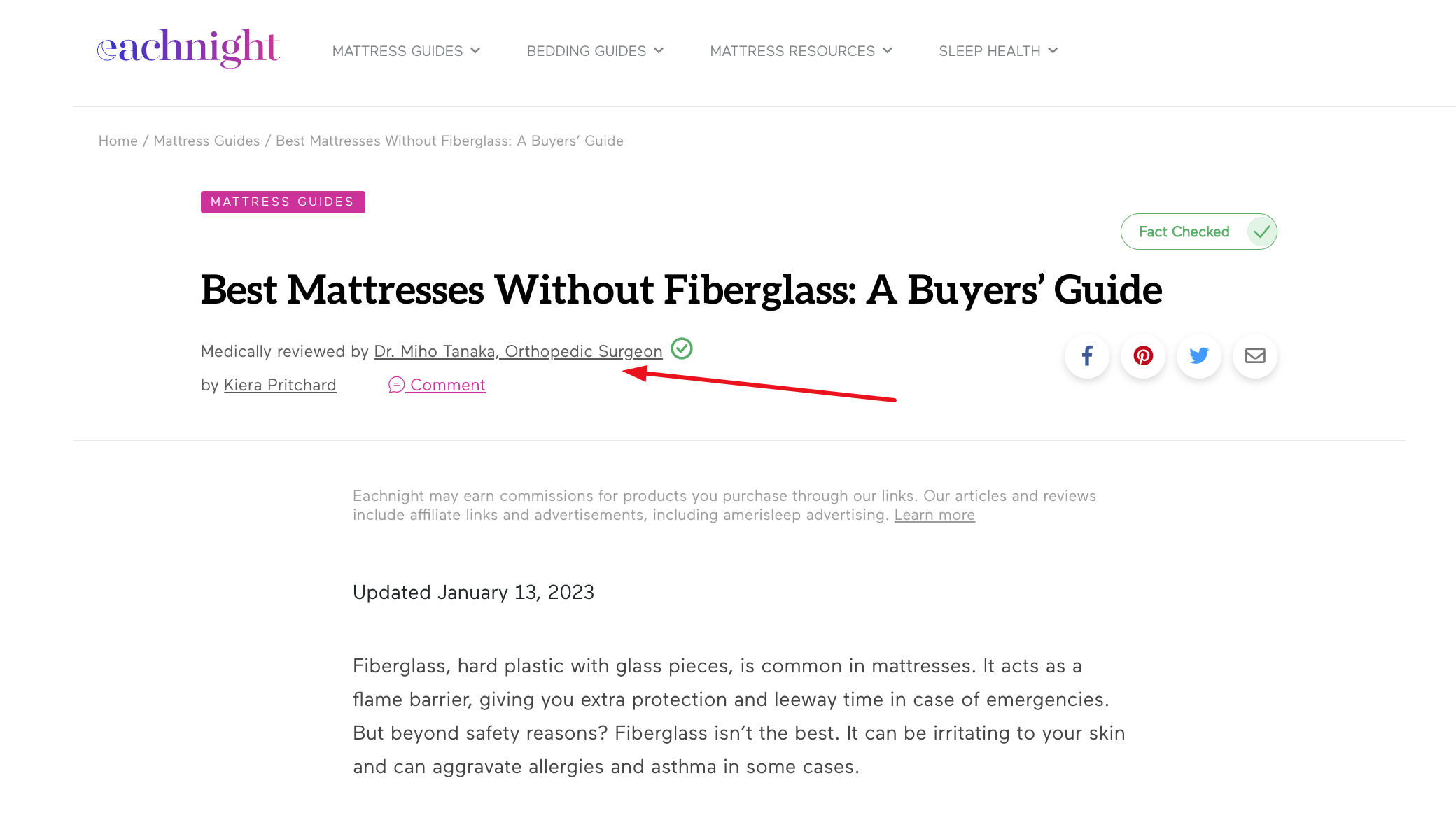 The brand has also created individual pages for their authors, so you can at any time check their bios and decide whether you want to place your trust in them. 
Lean on Expert Testimonials
Similarly, you can also ask experts to provide testimonials and endorse your brand. This does not mean that you yourself are not an expert. It means that someone else from your industry, someone who is either your competitor or exceptionally knowledgeable about what you do, thinks you are doing a great job. 
You don't have to go after someone who is an actual celebrity. All you need to do is select someone whose own resume speaks for itself and whose credibility has already been clearly established. 
Take a look at Menlo Coaching. They have asked Charles Biblios to briefly recommend their business. Chances are most of their audience may not know who he is, but a quick Google search, plus the fact that he is referenced as a CEO, will do most of the talking.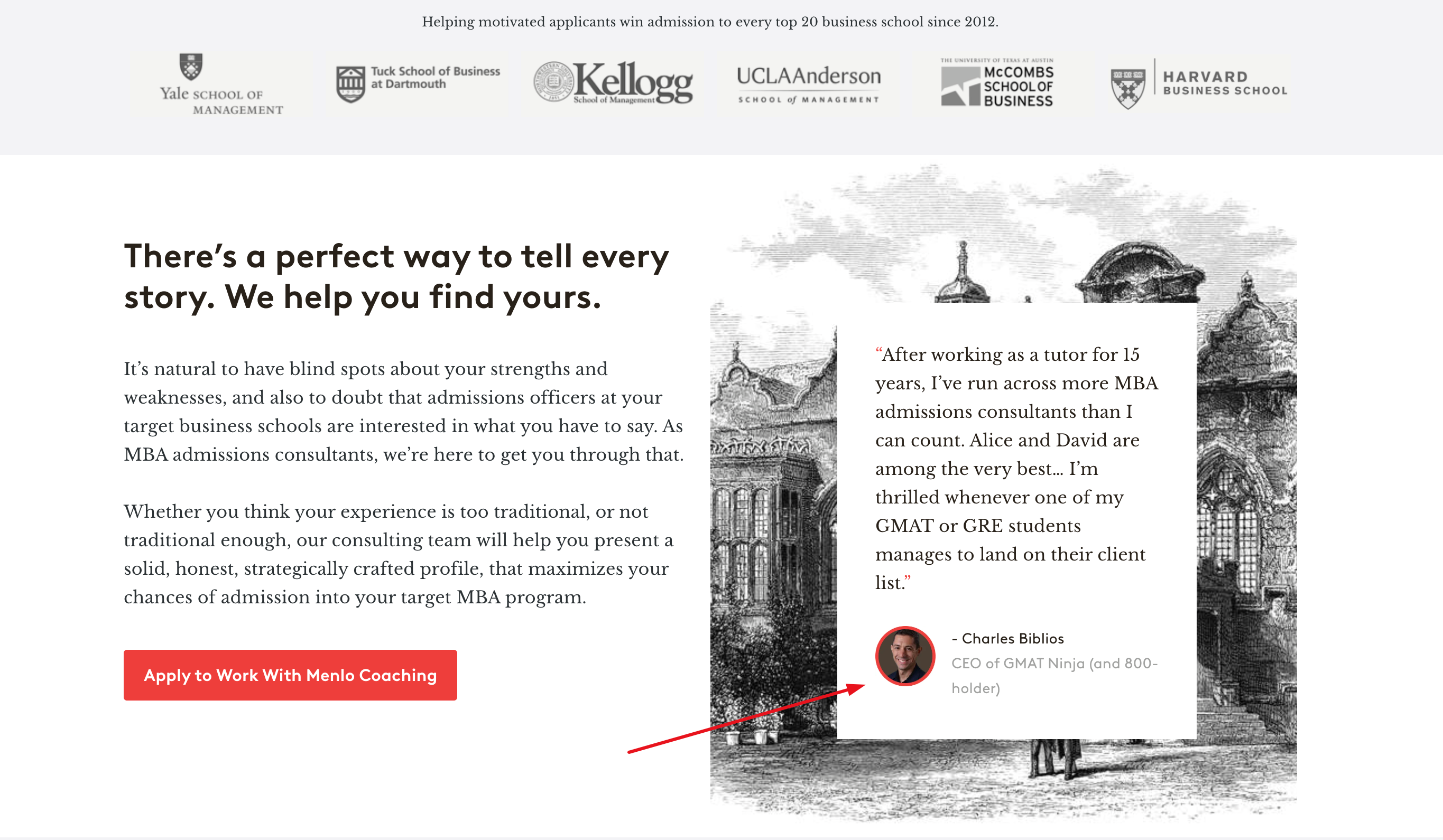 Showcase Your Major Customers
Another way to do it is to feature your major customers or clients on your pages. If your leads know that you've worked with, for example, a household name, a small business owner who is similar to them, or even someone they've worked with themselves, you will become more trustworthy. 
The simplest and most commonly used way to do this is to list the logos of your major clients. Try to make it sound like you aren't bragging, though. Also, include smaller, perhaps less well-known customers as well, whom you especially liked working with, for example. 
Thankbox has a good example of the implementation of this tactic on their Online Group Retirement Card page. They list some of the huge brands that have used them to send online group cards. In their case, this demonstrates how easy and effective their product is. If Cannon, who presumably has very large teams, likes using their solution, then your, perhaps smaller team, will enjoy it as well.

Put a Face to Your Happy Customers
You can also choose to display your regular customers. The ones that aren't huge brands, aren't industry experts, don't come highly recommended. Just the people who have liked doing business with you, have achieved something you are promoting, and have just left you a really nice review. 
Your goal is to display the faces of these people. You want to make your brand easier to connect with, taking it from faceless corporation to human. 
There are countless ways to do this. You can include or omit reviews and testimonials along with the photos, feature your products in them, or just show the people. Ideally, you want their name there too, at the very least, and some sort of recognition that they've enjoyed working with you. 
For example, BarkBox has made good use of the fact that their customers are super cute. They feature some of them on their homepage, enjoying some of the brand's toys. It's super simple but very effective.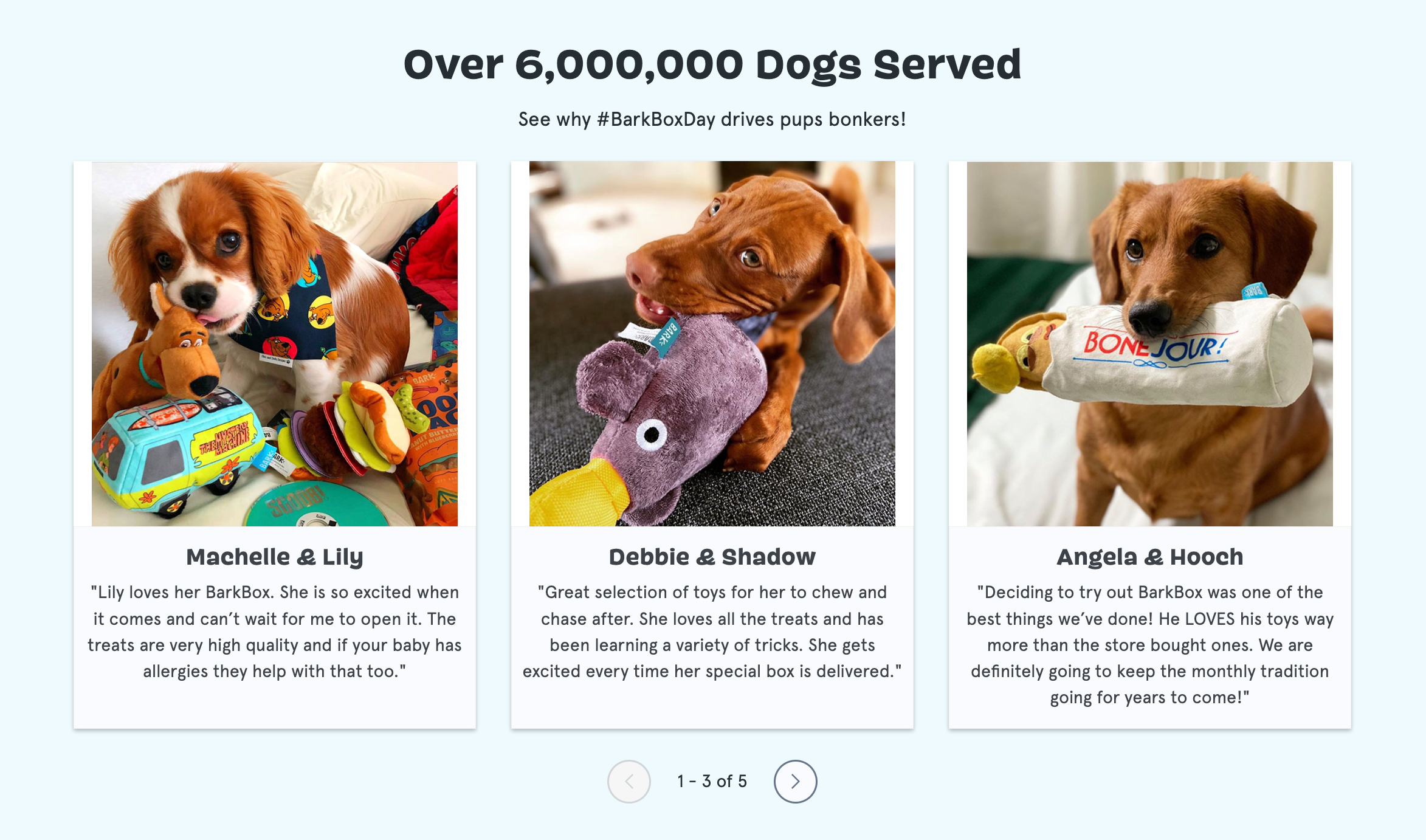 Shower Customers with Information
The more information you're able to provide to customers, the more likely they are to convert. If you provide minute details about a product or service, you will instantly appear more credible. You clearly know what you're talking about if you're able to go into such extreme detail. 
Note that you still need to find the right balance. You don't want to go overboard and start boring your audience, drowning them in unnecessary information. What you do want is to help them understand what a product or service is, how it can solve their pain points, and what its value is. 
Let's take a look at the Career Sidekick homepage. Above the fold it gives you a very short description of their key services – getting more interviews for a job and thus getting you hired.

You then get an even more detailed description, highlighting who their service is for, what they can help with, and a list of their most relevant articles.
Use Icons to Convey Complex Information
Speaking of detailed descriptions and finding the right balance between providing too much and just the right amount of information, consider using icons instead of words to convey what is most important about a product or service. 
Icons are a much faster way to digest information. Instead of reading a description, a customer will understand at a glance what the key features of a product are. It also makes the page more visually appealing and lets you add a nice break to it. 
ATH sport has done a nice job with their Grass-fed Whey product page. They tell you that the product is gluten free, that it is paleo and keto friendly, and that it contains no GMOs. They also tell you all of this much more efficiently than I just did, typing out that entire sentence.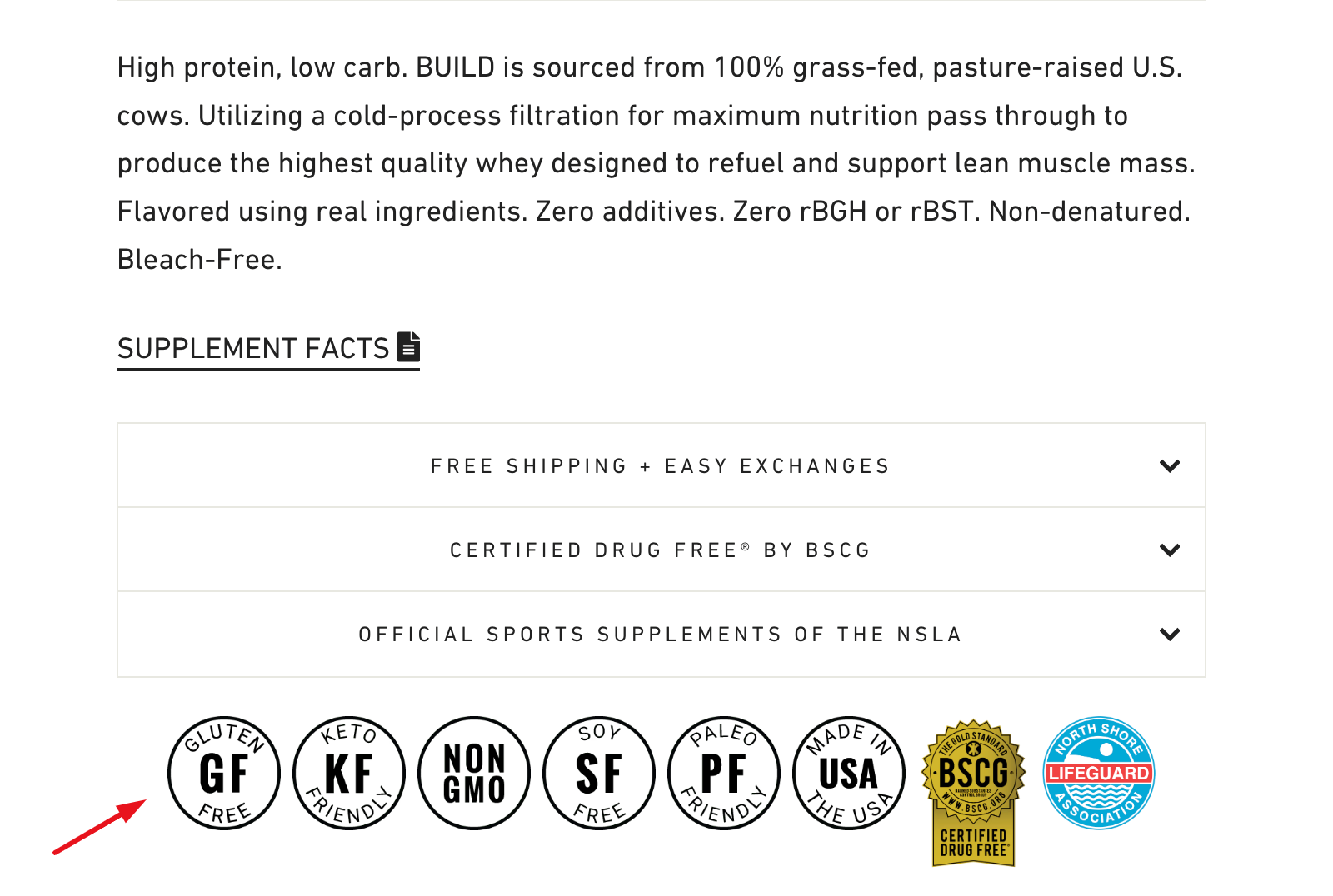 This page element ensures no one will miss the key facts about your product or service, elevating your credibility. 
Create an Easy-to-Understand Privacy Policy
In order to be able to trust you, your customers need to know what you are doing with the information they give you. If they at any point feel unsafe or that their data may be used for purposes they don't like, they will not convert. 
This is why writing a very clear and easy-to-understand privacy policy is very important. Don't use complex terms that only legal experts will understand. Just explain, in the simplest words possible, how you collect data, how you store and secure it, and what you do with it. 
Take a look at Best Buy's Privacy Policy. It is without a doubt one of the best ones out there, written well, easy to digest, reading like a conversation, not like a ton of legal mumbo jumbo.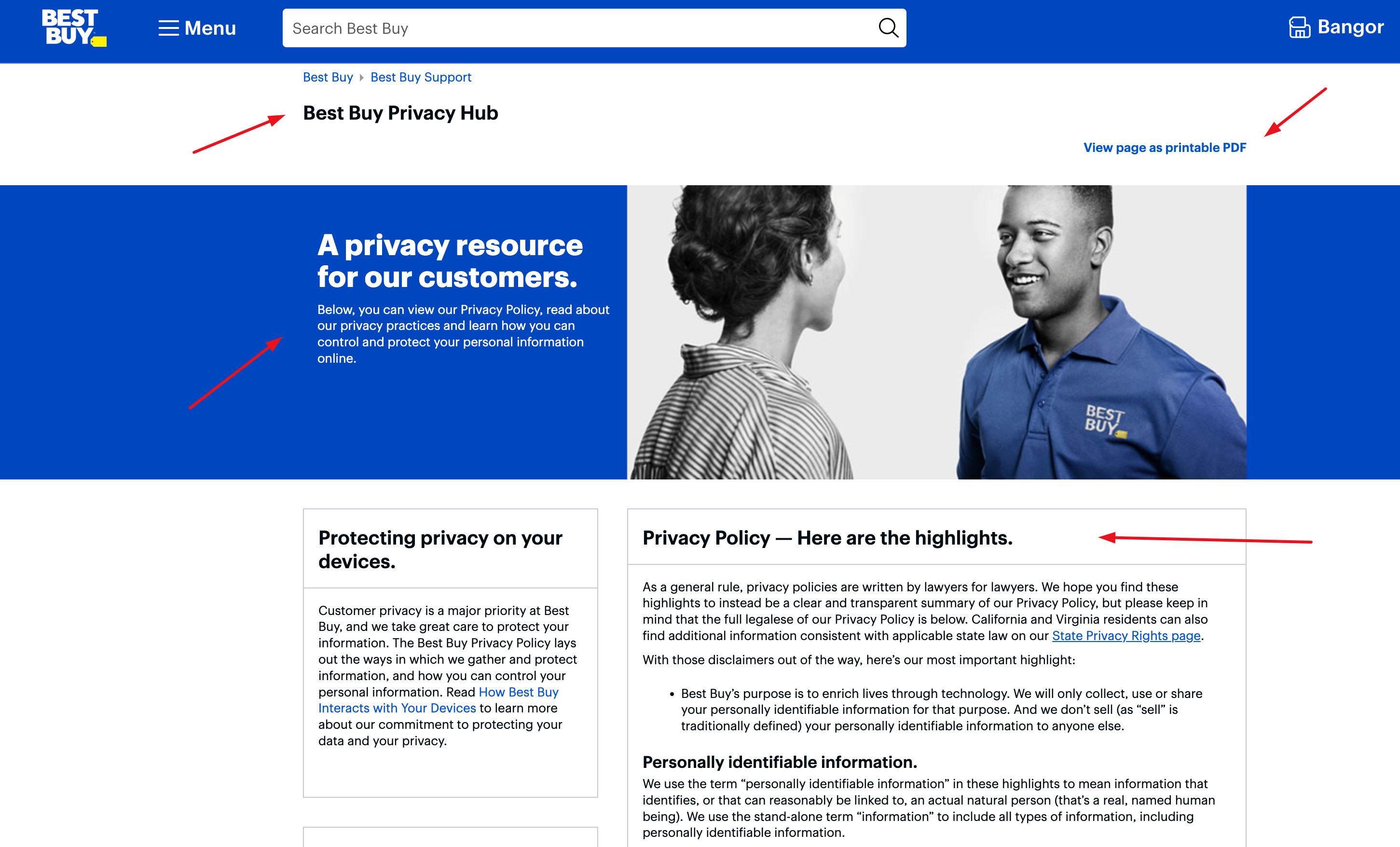 Make It Fast and Reliable 
Finally, let's briefly touch upon another important point. If your website is not secure and does not load fast, customers will bounce very fast. This is why you need to focus on the following:
Ensuring loading speeds are low on both desktop and mobile devices
Adapting page design to screen size and orientation
Considering thumb and finger placement on mobile phones
Preloading important elements on a page and deferring those that don't show up immediately
Creating a simple navigation system that is easy to use and understand
Creating unique buyer journeys for different stages of the sales funnel
Using a top-notch SSL 
There are other best practices you should also bear in mind — this is just the tip of the UX iceberg you should absolutely take the time to implement. Customers no longer have the patience to wait for your amazing content to load. If you are not giving them information in a matter of seconds at most, they will go elsewhere. 
Wrapping Up 
Before you start dismantling your website, take some time to analyze what it is your audience wants to see from you. Then check out what your competitors are currently doing. You may find a gaping hole in their strategies that you can fix with your own, attracting more of your shared audience.