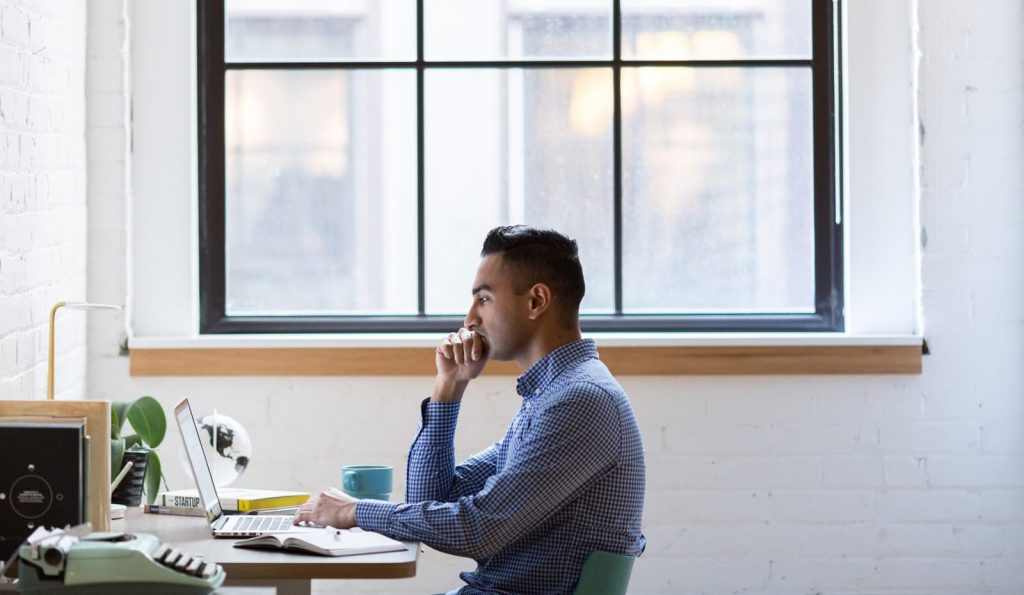 The coronavirus caught the world unprepared and all of us are affected by it, no matter which industry you work in and what type of job you do. It challenged the world to quickly adapt & use all available technological solutions so we can survive this period as safely as possible. One of the best things businesses can do is let their employees work from home if possible, and many have taken this path. 
Remote work isn't really anything new – there are people out there that have been doing it for years, but now nearly all office workers have to adapt to this new style of working for health & safety reasons, and to many of them, this is a huge lifestyle shift that comes with great challenges. Some are struggling to balance home life with work, and some are seeking out ways to be more productive working from home when it seems there are so many things that can distract you – kids, laundry, pets, Netflix and the list goes on. So how can you continue working from home, successfully collaborating with team members, staying sane and being your most productive self? We've gathered a list of tips & tools that will help you to easily adapt to this lifestyle if you're only starting out now.
Make a schedule for yourself 
Just like you'd do if you worked at an office. This means you have to wake up at a certain time every day, wear actual clothes (also on the bottom part of the body!), exercise, eat solid food and go to bed in time. That way doing work from home will feel more like actual work and it's easier to stay motivated when you do these simple tasks that make everyday life feel like everyday life. Also, if you can, make yourself a designated workspace at home, where there are fewer distractions and for God's sake, don't work from bed – it's a trap. However, occasional power-naps could actually help boost your mental performance. *wink* 
Set an alarm to your normal waking up time, schedule in lunch time, coffee breaks, calls, time for after-work activities and everything else you need to do in a day. Going with the flow is not a good strategy when there's work that needs to get done and other people that rely on you.  
Also, set a time when you stop working – just like you'd do when working in an office. In fact, not being able to unplug after work is the biggest issue for remote workers, so make sure you're not making this mistake, especially during these uncertain times, when mental well-being and self-care should be a priority.  
Use online tools to help you working remotely
As mentioned before, there are lots of people worldwide working remotely and have been doing so for many years now – some proudly call themselves digital nomads, and some just prefer working from home over going to an office every day (In fact, 4.7 million of US workers worked remotely even before the pandemic), so there's plenty of technological solutions available to support this lifestyle. Here's a list of some that might come in handy to you:
Communication
Skype
Slack
Facebook Workplace
Video calls
Zoom
Google Hangouts
Skype for Business
Task & Project Management
Asana
Trello
DeskTime
Microsoft Teams
Basecamp
Ideation
Cloud Storage 
Google drive
DropBox
OneDrive
To make sure you're nailing your video calls, watch this video from Vanessa van Edwards about 15 ways you can make your video calls better to make sure you're confident and prepared for your next call.
Share & communicate even more than you'd do normally
Communication is key to successfully lead a remote team. We oftentimes underestimate how important communication has been when working physically together because it just feels so natural and we don't think of all the small details that we express about certain tasks and projects that are actually vital parts of them.
Remember that, when you communicate with your team members digitally, it's more important to go in-depth with explanations and requirements because they simply cannot read your mind and details might go unnoticed if you miscommunicate and sometimes a simple call or a message can replace hours of emailing or redoing the work.
Always give feedback to encourage employee development. Also, using screen sharing as often as needed for visual communication might help a lot.  If you share a lot of information with your organization, you can use Capsulink's smart links to get real-time analytics on how many people are reading it & how the information is spreading. This ensures that you know how many people actually receive the information, which is essential when working remotely since you cannot have a real-life meeting. The pulse survey helps to manage a remote team in an effective and efficient way. It has proven beneficial for scaling work processes because it provides valuable data about the overall state of your business by allowing you to see what's going well or poorly at any given time.
Another tip to having a successful e-meeting is making an ice breaker for the attendees to warm them up. Online meetings can seem awkward at first if you're not used to them, so this will only help everyone feel more engaged and free, which is an important factor when creating a space that encourages collaboration and open communication. These ice breaker activities can be simple games or questions. For a fun and short team-building activity, you can play a GIF Battle game, by copying this trello board.
For more remote team building ideas, watch this video about what Zapier does with their remote team. 
Plan everything
When you work from home, it becomes much easier to procrastinate and do anything else but work since nobody's watching you, as it would be in an office. That's why it's important to keep an eye on how you're spending your hours. To prevent wasting time, start every day with a to-do list, schedule in video calls or anything else that needs to get done that day. That way you'll add more structure to your day and maybe even gain more motivation by ticking off the tasks from your to-do, which we all know, is oddly satisfying. Also, be very clear about deadlines with your colleagues, so they're on the same page and you all can work as each other's accountability partners. Set clear and achievable goals and always clarify what you need from others.
Remember – those who fail to plan, plan to fail. 
Also, you can plan fun events to make work more social and fun for everyone, e.g. Miro has Friday happy hours on Zoom. It's an awesome way to keep the spirits alive during these uncertain times and nurture virtual friendships.
Take regular breaks
It's easy to get sucked into work and forget about taking regular breaks when there are no colleagues next to you inviting for a coffee or chatting about their weekend plans with you. Based on a CoSo Cloud Survey, 52% of remote workers say they're less likely to take time off. Some may even feel guilty for taking breaks due to a higher pressure to perform better, but regular breaks are far more beneficial to our productivity and physical health than you might think, so set yourself reminders for about every hour to take a short break, whether that includes doing light exercises, stretching, making yourself a cup of coffee, calling a relative or watering a houseplant.
Get your mind off work from time to time and you'll see that it impacts your work and wellbeing in a positive way. Also, remind this to your coworkers – if you have a longer online meeting, suggest allocating time for breaks so it doesn't turn out in a 3-hour meeting where everyone just feels exhausted in the end. It will help everyone think more clearly, make better decisions and be more creative. 
Practice good remote work etiquette
Make sure that you're including some elements of fun into your daily work lives (like the icebreaker and team building activities mentioned earlier), encourage people to communicate openly and give feedback. Also, set certain communication expectations for people in your team. For example, set a rule that all documents are sent via email, yet all casual discussions can be held over Skype or Slack (you can even create a separate channel just for fun non-work related discussions), whichever you prefer to use. Also, another thing you can implement is making collaborative notes so everyone is literally and metaphorically on the same page and nobody feels left out, not even the very introverted people in your team who might not feel comfortable to speak up. You can use special tools like Slite or Notejoy for it, or just create simple google doc and customize it to your needs – whichever you prefer. Here's a simple example of a meeting notes document you can recreate in a couple of minutes: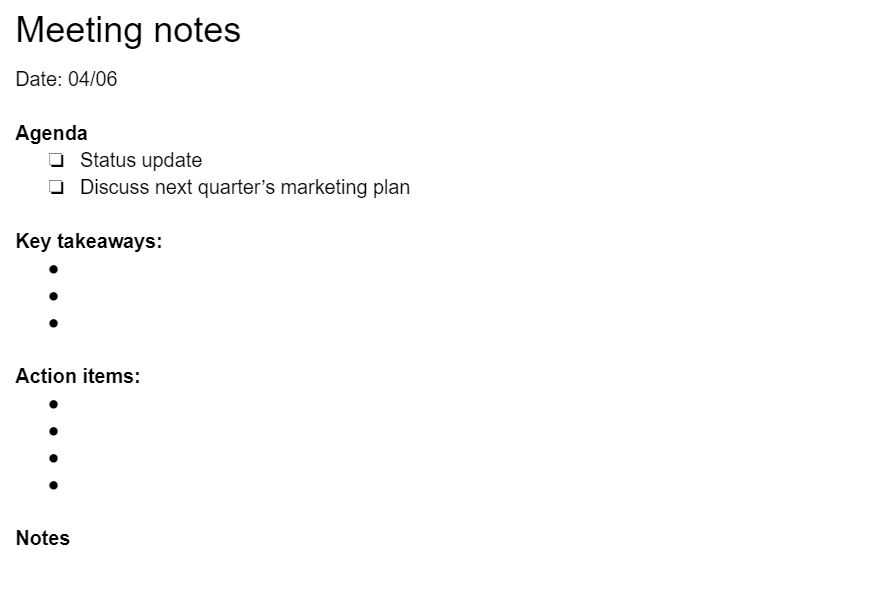 Also, set certain rules for video calls e.g. respect the speaker, turn off notifications, keep phones on silent, don't do anything else on the side during a call. An online meeting should feel just like an on-site meeting, even though you might be at the comfort of your own home. 
Use free time to study and improve yourself
Let's be real – there's nothing much to do during a lockdown so your after-work plans probably don't include anything exciting. However, you shouldn't let this time go to waste – use it to improve your skills or learn something new that will help you in the future when this pandemic is over. Some of you, unfortunately, might even have less work at the moment because of the recession it has caused, but don't let it stop you.
There's so much you can do to improve your situation – learn a new language, coding, editing, graphic design, cooking, read books on self-development and think of your future goals. This might be a scary and very uncertain time in your life, but it's up to you to make the best of it. 
Here's a list of some websites and apps which you can use to learn new things:
Modern day technology gives us great advantages to work & progress even during uncertain times like now, and with so many people shifting to the remote lifestyle, there are definitely going to be more better solutions in the future. 
Working remotely might certainly not be what absolutely everybody enjoys, yet there are ways you can help your team & yourself ease into it if you've never worked remotely before. At the end of the day, stuff needs to get done and it's a matter of how well you communicate, how proactive you are and what you're willing to learn to make it work. Working remotely is the safest option at the moment, so make sure you're being a part of the solution and helping society during these hard times as much as you can. Stay at home and stay safe.