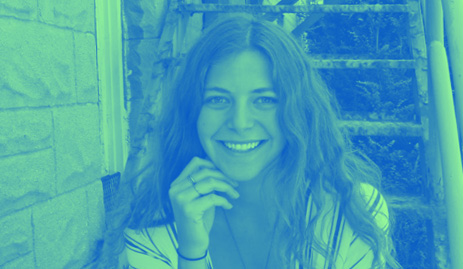 Christina Voll is a freelance digital marketer who specializes in organic and paid social and email marketing. She helps startups grow using content marketing and is continuously learning new things every day about her niche. Christina also works on a side hustle – a platform that helps local businesses connect with freelancers in less developed countries. You can read more about Christina on her website and her Linkedin profile.
1. Tell us shortly what was the big breakthrough moment in your marketing career?
I think we can all agree that the moment you get your first client as a freelancer (and they follow-up and actually pay you) is one of the most surreal experiences. That moment happened to me when I was 18 still in my second year of University. It was an instant reassurance that I can actually make a living in this field and it filled the gap between where I am and how to get there. Although that was big, the breakthrough was when I ended up managing multiple clients AND getting results for them. For example, I ran an email campaign with a 95% sign up rate. My client was as thrilled as me and that was a really amazing experience – it made me see my job as an opportunity to help people get closer to their visions and that in itself was so rewarding!  
2. What has been your biggest digital marketing fail (and what did you learn from that)?
When I worked as the head of Digital Marketing for a creative agency we made some funny mistakes. It was a great atmosphere because we were a startup and were actually all friends, so it made working together really nice. The web team and marketing team worked closely together and we thought it was fun to stay up until 3 AM every weekend for 1 month to try and create an app to automate the things that we didn't want to do, like social engagement, posting, etc. It was amazing once we programmed scripts to do all of this. It saved us hours of work and grew some account 700%. But, unfortunately, this only worked for about 1 week until the interface of the programs we were using changed and we were back to square one. We laugh at the instance now, but it was not so fun at the time since we worked really hard, all for virtually nothing in the end.
3. What's your TOP 1 advice to other marketing specialists?
I would say to try new things. No strategy is ever going to work all the time. The marketing industry is changing so fast and if you don't keep up you will not be successful. Working for a growth hacking agency out of Israel, I've learned to treat everything like a cause and effect case to improve your content strategy. Gather analytics, interpreting them correctly to see what is working and not working. If something is working, great, do that and try a new thing that could work even better. If something isn't, don't keep fueling that fire. Scratch your strategy and try something different until you hit the nail on the head. Play scientist more often than you think, and try to really put yourself in the shoes of the consumer and see how THEY feel. If you think marketing is just about buying and selling, you will only sell your products, you will not make an impact or a difference. Human connections and relationships evolve, change and come in all forms, and so should marketing strategies, after all, at the end of the day you make the sale because the consumer has a connection with your brand or product.